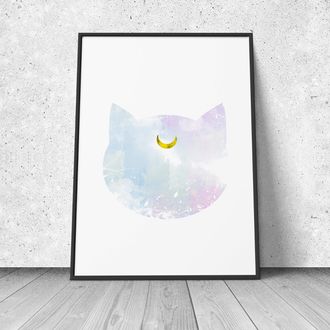 School's out for summer, so embrace your inner child this week with all things kawaii!!!
As far as superhero stories go, Sailor Moon is the perfect intersection of girl power meets cutesy. While you're probably too old to hang up a poster of the Sailor Scouts in your apartment, this watercolor print winks toward the series. Featuring the outline of one of the two main cat characters, Artemis, its shades of blue and purple, along with the signature gold crescent moon, are a minimalist take on the cartoon feline. It's grown-up enough to add to any room without feeling silly.
Sailor Moon Inspired Watercolor Illustration, $15 at Etsy.