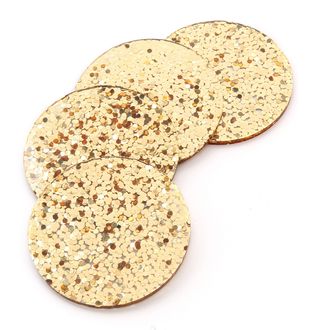 As cool as you pretend to be, sometimes you want to just give in and embrace all things girly, sparkly, and, well … basic. This week celebrates that desire with absolutely no regrets.
Coasters are home accessories for grown-ups — a sign that you finally own furniture valuable enough to worry about stains. But even if your coffee table is more Ikea than Restoration Hardware, you'll enjoy using these sparkly Kate Spade coasters. Filled with gold glitter, but covered in resin so you won't have to worry about them shedding gold bits, they can add shine to any surface. Plus, they're the perfect prop to any overhead Instagram shot — paired with a glass of rosé, obviously.
Happy Hour Glitter Coaster Set, $35 at Shopbop.