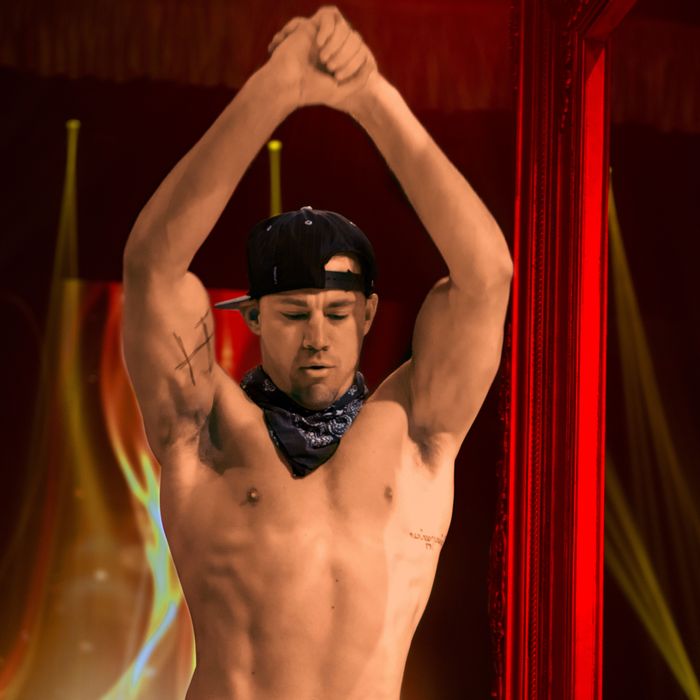 Photo: Claudette Barius/Warner Bros. Entertainment Inc. and Ratpac-Dune Entertainment LLC
Magic Mike XXL has finally hit theaters, just in time for Fourth of July weekend (God bless America). This movie has a little something for everyone:  if you want a road-trip film, it's got you covered. If you want a strange female-empowerment movie, it tries very hard to be that. And, of course, if you just want to sit back and enjoy some unadulterated, booty poppin', groin-thrustin', cheesily themed dance sequences, this movie's got you covered.
While XXL could have used about 70 percent more dance sequences (Jada Pinkett says it best in the movie: "a little less bro-time and a little more showtime") the dance sequences that were included are perhaps some of the best an audience is going to see this summer. From a whipped-cream explosion to the very best possible use of Cheetos, here is a definitive assessment of all of the key dance scenes from Magic Mike XXL.
Channing Tatum's Weld 'n' Hump:
This dance was already a crowd favorite because it featured prominently in the trailer. An easy high score, really, because it combined some ol' standbys: Channing Tatum, tank tops, "Pony," and Channing Tatum in a tank top dancing to "Pony." Plus: Sparks flew from Channing Tatum's crotch in a sensual homage to Flashdance, and he literally screw-drove some nails into a plank of wood. Handy and randy.
The XXL Crew's Drag Queen Dance Off:
I suppose this was some sort of crucial Brobonding plot moment, but as each guy got up there on stage for his little solo moment, it really just became more and more evident that Channing Tatum is the only one in this movie who can dance. I added half a point because of Tatum's expert Vogueing, but gave a major deduction because he had pants on.
"Big Dick" Richie's Grocery Store Awakening: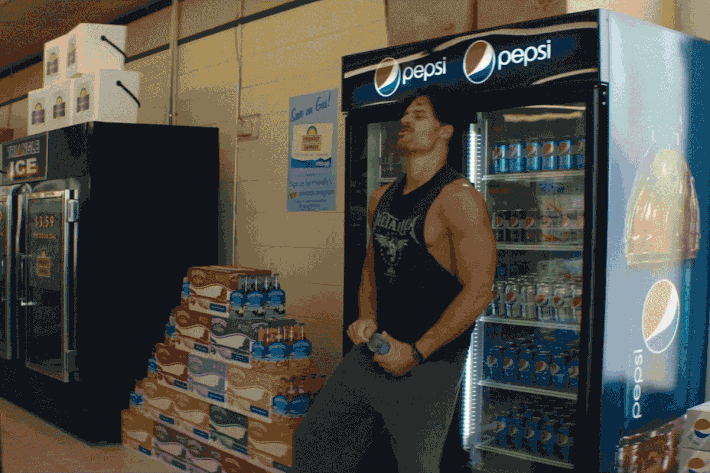 Years ago, in the depths of my pre-teen loins, I knew that the Backstreet Boys hit "I Want It That Way," was the most sensual song ever written. When Big Dick Richie (Joe Mangiello) finds his rhythm as a dancer, that early impulse was confirmed. The man showers himself with Cheetos and bottled water, then grinds on a drink case and a convenience-store floor. After this you'll never be able to see a 7-11 the same way again.
Michael Strahan's Kinky Massage:
Michael Starhan was featured as a key dancer at Jada Pinkett Smith's Stripper Brothel. As a former NFL player, Strahan knows a thing or two about the proper rubdown techniques, and he put all that knowledge to good use by tossing a woman down on a massage table and working it out. Who knew Michael Strahan could hump things so well! Not Kelly Ripa! Point deduction because we didn't see his sexy gap-tooth smile. Bonus points because of that body.
Donald Glover's Empowerment Song: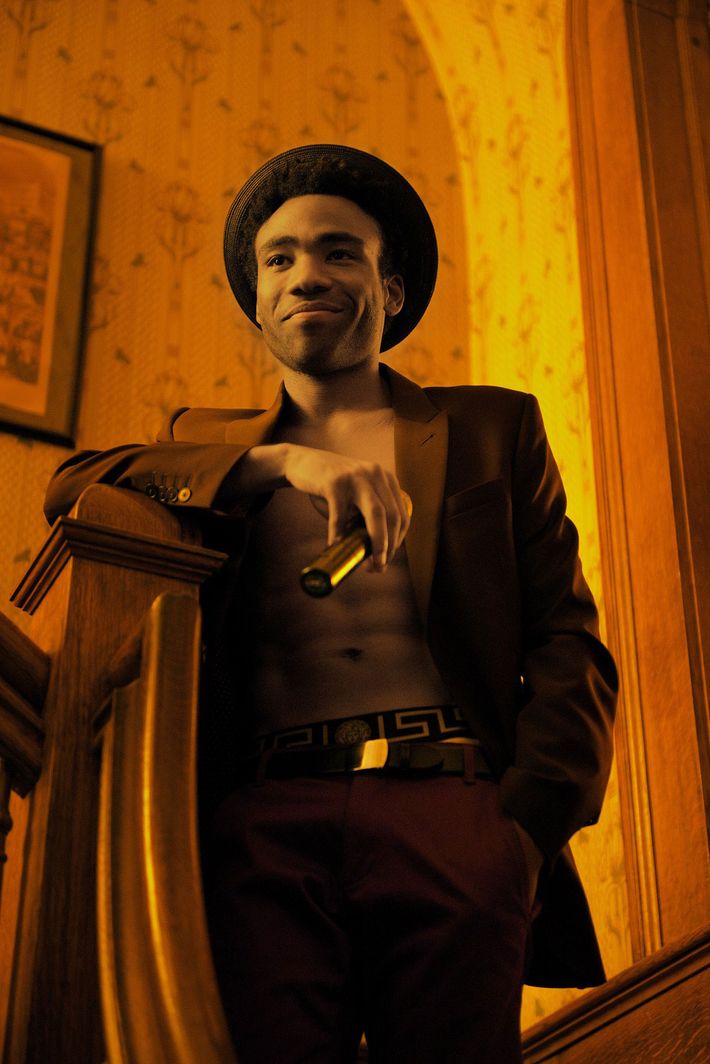 Months from now, I'll wake up in a cold sweat, wondering aloud, Why was Donald Glover in this movie? Why? It seemed he was the main vessel of the movie's strange underlying message: "Male strippers can change a woman's life." His big show-stopping number was not a dance but a slightly lame improvised song meant to remind one shy lady of her beauty and sensuality.  Sorry, Donald, you're not Stripper Oprah.
tWitch's Rain Dance: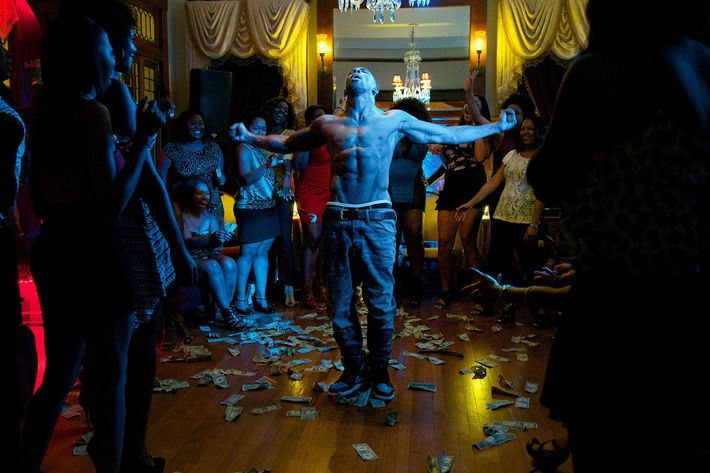 The Crown jewel of the stripper brothel  is the "tWitch," so he gets his own special spotlight dance to a "Sex You," by Bando Jonez.  You'll recognize "tWitch" from his gig on the Ellen DeGeneres show, where he DJ's with his shirt on. After watching this dance sequence, it is my professional opinion that  tWitch should consider only shirtless professions because his body is incredible, as are his dance moves, as his is the top of his butt which crests the waistband of his baggy denim jeans. What's that you say? I can't hear you for the sound of dollars raining down is too loud.
Channing Tatum's Dance of the Polyhumpers:
Channing Tatum needs a favor from Jada Pinkett Smith's character, Rome, so she makes him work for it.  If he dances well, she will grant his wish; if not, he will be condemned to death. (Kidding, that's what happens in my Game of Thrones/Magic Mike fanfic erotica). This dance comes almost directly after tWitch's Rain Dance, so I was a little less impressed with Channing's moves. He was saved by his ability to hump things well. Over the franchise, we've watched Tatum hump a lot of stuff (chairs, walls, tables, faces, the air) but he really outdoes himself by stacking women like they are Tetris pieces, and somehow, humping them all at the same time.
Matt Bomer Sings You Into Sex Heaven:
I've mentioned that Magic Mike XXL really wants women to feel catered to. It's a movie for the laaaadies. So several of the scenes focus on "giving women what they want," and "the transformative power of having a hired dancer grind on various parts of your body," etc. In one scene, Matt Bomer, who plays "Ken," uses the power of song and groin to help a repressed middle-aged woman find her vagina voice and reclaim her sexuality. He belts the classic ballad "Heaven" in her face, and then dry humps her for a bit.  Matt Bomer sure has a pretty voice.
"The-Tarzan-Can't-Dance Dance"
Stripper Elder Tarzan has no dance moves, but he does have an artistic soul. The crew decides to let him age with some dignity in this film. Rather than gyrate with the rest of them, Tarzan's showcase dance features opera, a silky robe, and a chance for him to show off his painting skills. All points are pity points. Although the glitter painting was quite impressive.
Tito's Whipped Cream Explosion: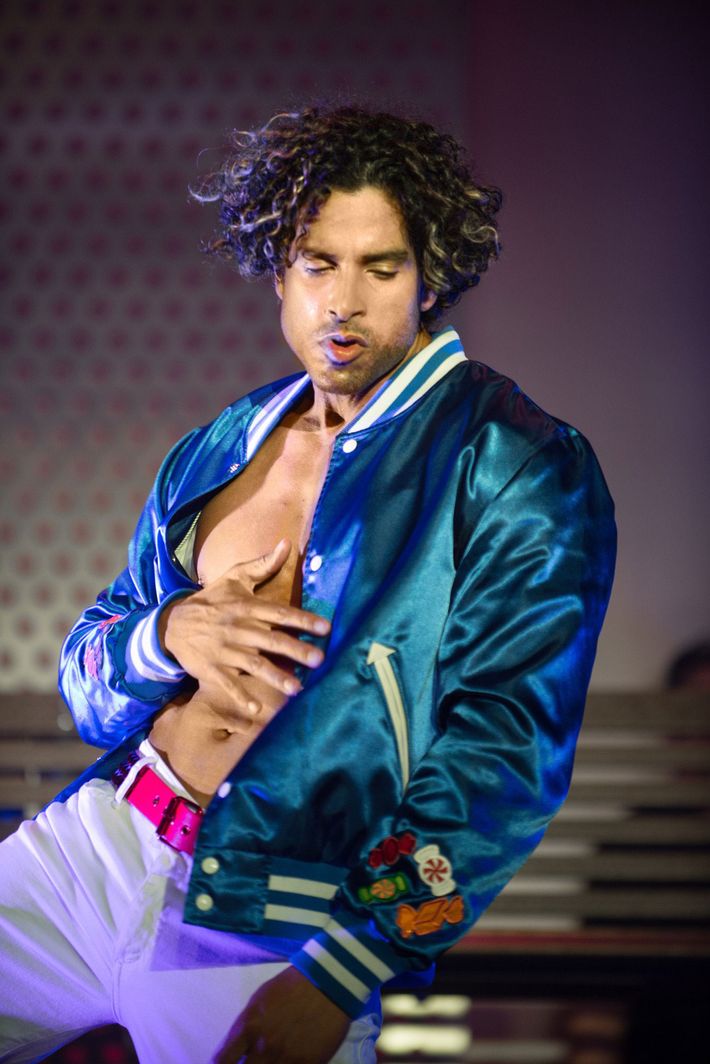 One of the characters, Tito, really  wants to open a yogurt food truck. It's one of the main plots. (Why.) Naturally he used his appearance at the Stripper Convention as a chance for cross-promotion. While the dance premise was promising—his choice of stripper jam "Candy Shop" by 50 Cent was ace. Unfortunately the climax of his Sundae-themed strip tease included licking chocolate syrup off of woman and then spraying them with whipped cream. Listen, those three women  selected their outfits with care, they didn't ask to spend the rest of their evening sticky, smelling of rancid milk.
Matt Bomer's Thrusting His Way to Broadway: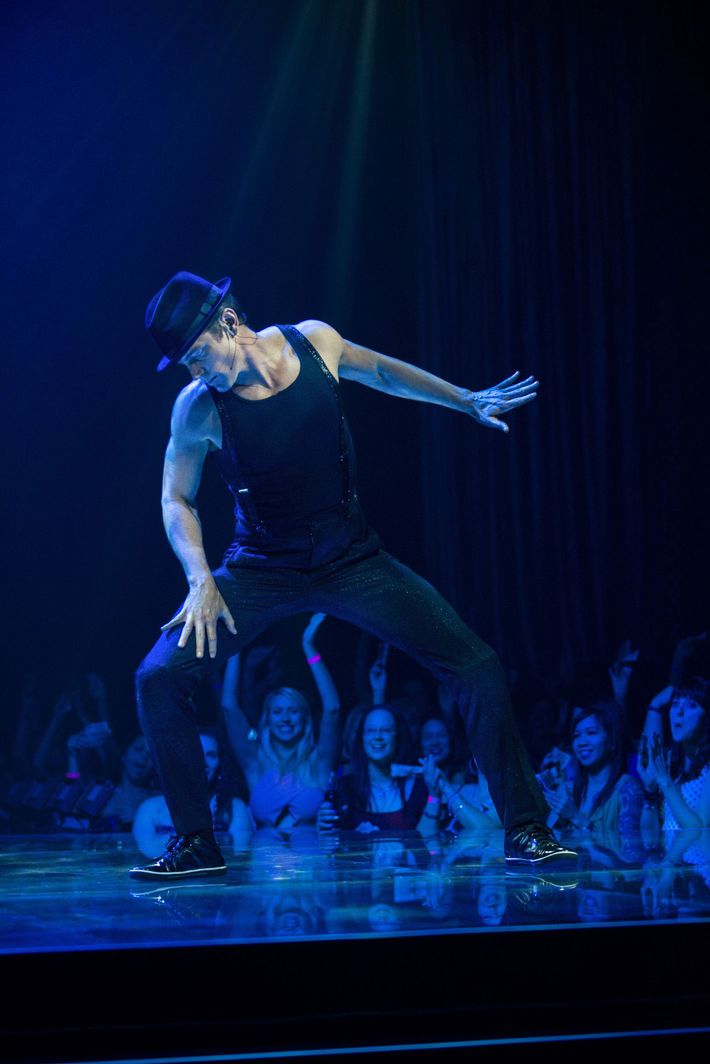 D'Angelo's "Untilted (How Does It Feel?)" is one of the sexiest songs ever to be moaned. Kudos to the film for realizing what a wonderful stripper anthem it would make. However, have you ever wanted to see a D'Angelo song interpreted by Bob Fosse? Neither have I.
Joe Manganiello 50 Shades-Inspired Marital Dance: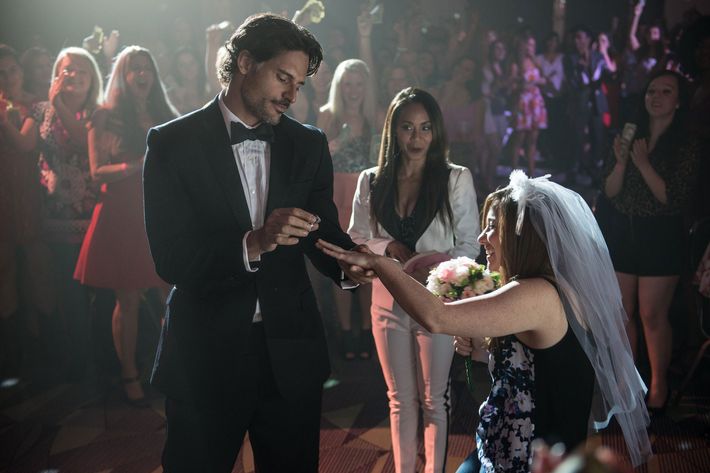 Joe Manganiello was really the break-out star of this sequel. His solo dance started out sweet, with a wedding themed striptease but quickly turned raunchy when he stripped down to his little booty shorts and rode a woman on a swing to a Nine Inch Nails' "Closer" and I passed out from the overwhelming sexual power of that man's groin.  Bonus points because I passed out.
Thrusting Groins, Unite!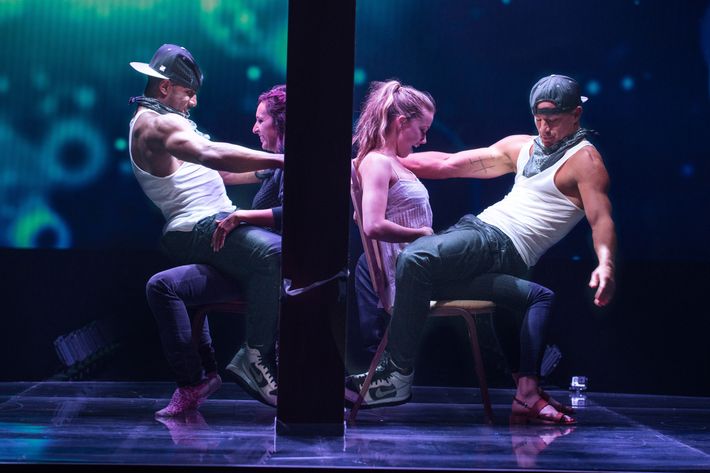 When Channing Tatum and tWitch — the film's two best dancers — joined forces, it was like Captain Planet uniting rings with the Planeteers, except all that power was used to propel the most powerful thrusts this world has ever seen. The two of them tossed women around like small boats on the ocean; they simulated oral sex; they humped innumerable booties. It was heroic. There are no more words, only soft moans.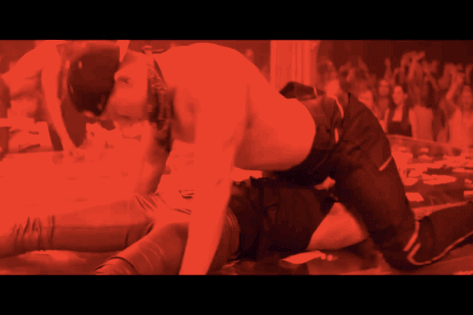 Final Rating: 13 dances, 3.9 Fists + 1 explosion.