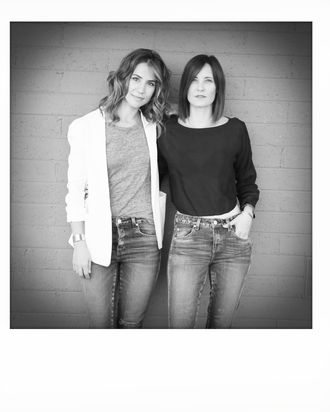 Photo: Courtesy of Amo Denim
When it comes to rattling off all the basics every woman "needs" in her closet, a pair of well-fitting jeans tends to top the list. But why is it such a struggle to find ones that are actually comfortable and flattering? That's the question Misty Zollars and Kelly Urban, the designers behind the year-old label AMO Denim, are seeking to answer. "We wanted to create something we couldn't find — a real pair of jeans, not jeggings, that were designed from a women's point of view," explains Zollars. "It's important — we know what it's like to wear a pair of jeans and what [makes us feel good]." The result: a debut collection consisting of five vintage-inspired styles that has been picked up by the likes of the Line, Revolve Clothing, and Intermix.
The idea for their own label came about 11 years ago when Zollars and Urban met as designers at True Religion. They eventually went their separate ways, with Urban going on to become Current/Elliott's design director. At the start of 2014 they decided to go into business for themselves and founded AMO, which comes from the Latin root word for love. They wanted to take the frustration out of jean shopping and create flattering pieces that work on multiple body types. "We have a little printed message on the inside of our pocket that says, 'You are loved' — you see it every day when you wake up and think, I am loved and I'm putting my favorite jeans on today," explains Urban.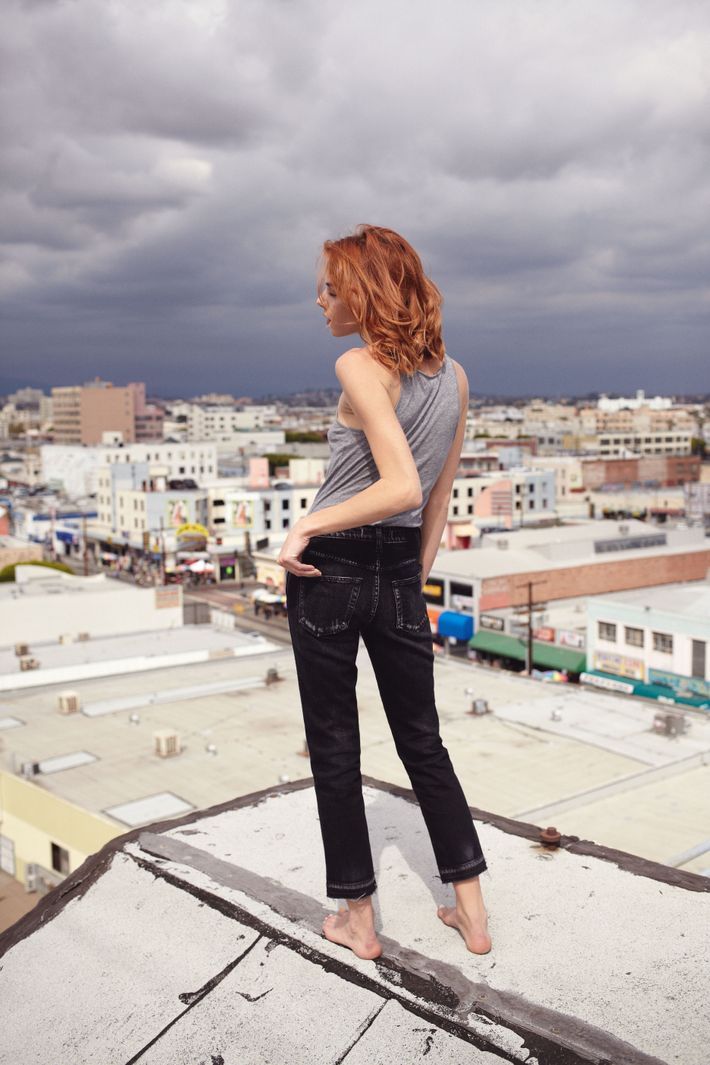 While their price point is on the high end for jeans (they're around $250 a pair), what sets AMO apart is their ability to make good on their claims about flattering silhouettes — the duo tested their jeans on friends, not just on fit models. Says Urban, "I feel like I have love handles and big thighs, while Misty thinks she has curvy hips, so we knew we had it right when we could both try on the same style and say, 'Wow, I feel great in this.' Every high-waisted [style] I've tried on makes me look like I have pancake butt and I never owned a pair because I figured unless I was a size 25 I couldn't wear them. So we took these challenges, and like surgeons, we got in there down to an eighth of an inch."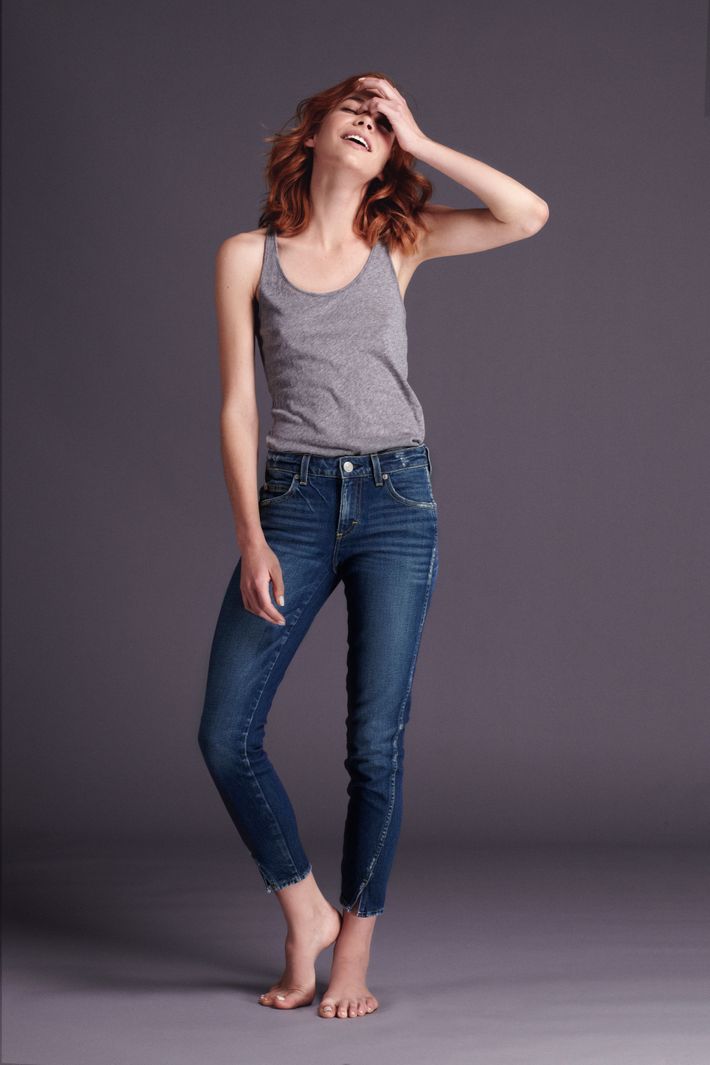 Their extensive research paid off. "The Babe," AMO's high-waisted distressed style, is a Cut favorite with its throwback five-button fly silhouette. It is cut to skim the hips and the hem is purposely undone to give a lengthening effect to the leg. Its cropped, skinny counterpart, "The Twist," is aptly named with a twisted side hem and a 27-inch inseam that works on even the most petite women. And they even managed to make a pair of shorts that perfectly straddles the line between sexy without being overly revealing. "It's not a matronly Bermuda short, but it's also not a panty," as Zollars sums it up. Adds Urban, "The inseam is two-and-a-half inches, which doesn't sound that long, but most denim shorts are like a half [inch] inseam. It covers your butt and you don't feel like you're showing too much skin." After all, she points out, "Shorts shouldn't just be for 20-somethings or teenagers."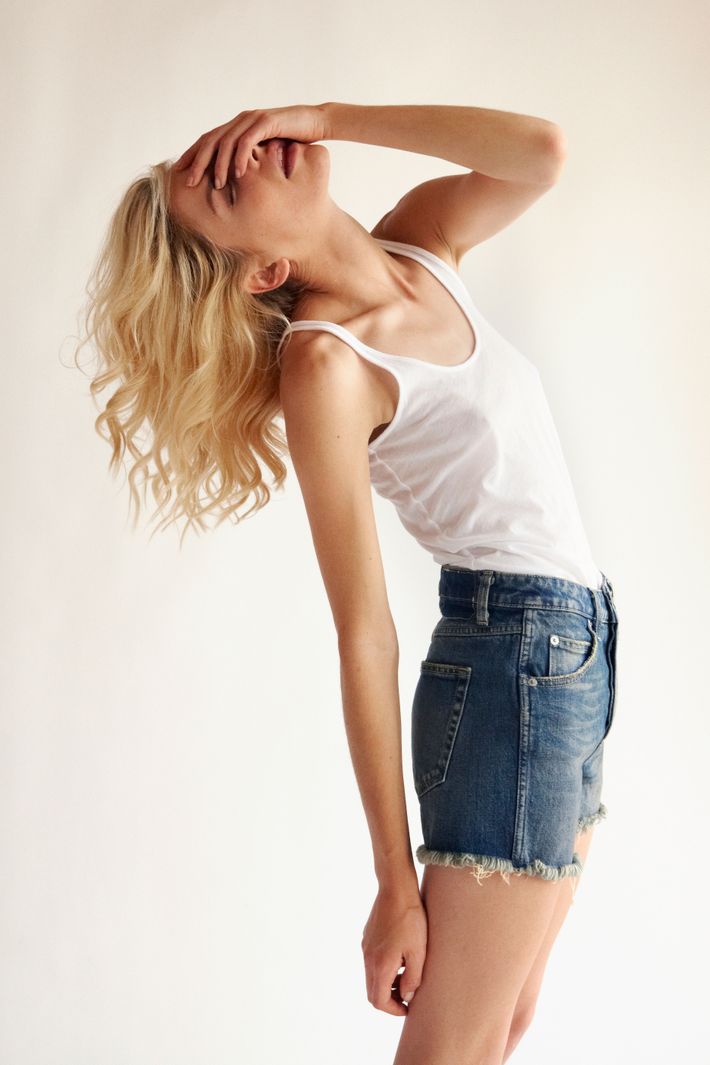 The duo answered our Taste Test to gauge some of their fashion and culture preferences.
Peanut or regular M&Ms?
Kelly Urban: Peanut!
Misty Zollars: Peanut!
Polaroids or Instagram?
Both (in unison): Polaroid!
Acid-wash '80s jeans or the revival of JNCOs?
M.Z.: Acid-wash '80s! 
K.U.: We both have our Guess acid-wash jeans [from that era].
Puppies or kittens?
M.Z.: Puppies.
K.U.: Even though it'd be like crazy around here [if they had puppies in their office].
Favorite drink?
K.U.: Margarita.
M.Z.: Wine.
Reality television or a bad romantic comedy?
M.Z.: I love every J.Lo movie. I find comfort in romantic-comedy J.Lo movies, like you have no idea. The Wedding Planner — I love that one!
Taylor Swift or Katy Perry?
Both: Katy Perry.
Your secret cheapskate behavior?
K.U.: We both recycle garbage bags. [Laughter.] Um, what else do we do that's weird and cheap like that?
M.Z.: Instead of paying for lunch we'll just drink a beer and eat a bag of potato chips … I don't know if that counts as cheap!