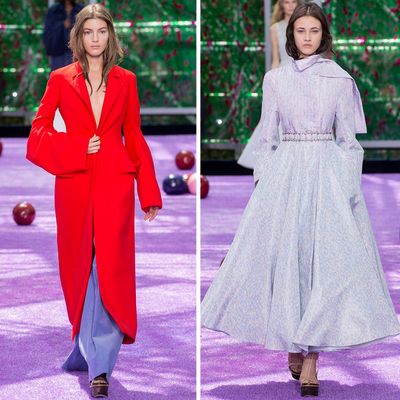 "A garden of earthly delights" was how Raf Simons envisioned today's Dior Couture collection, shown in the gardens of the Musée Rodin in Paris. The show was held inside a huge, geometric structure-cum-sculpture painted with pointillistic flower patterns — Insta-bait of the highest order. The prospect of a fashion oasis probably sounded good to everyone in the heat-struck city — in the audience, fans flapped with abandon.
Since his 2012 debut at the house, which famously featured a backdrop of a reported 1 million flowers, the Belgian designer has been fascinated by blooms. But this season, he took that inspiration to a pretty complex place. "I was intrigued by the idea of forbidden fruit, and what that meant now," the designer said in his show notes. He drew from two important eras of craftsmanship: Flemish Masters painting in the 15th to 17th centuries, and 20th-century French couture. Or, to look at it another way, the signature art forms of his homeland and his adopted homeland. His long, full skirts, nipped waists, and scarf necklines seemed like an allusion to the house's defining New Look, while a flaming red coat with bell sleeves and a dark blue velvet robe evoked the rich color palette of the Old Masters. His painterly inspiration also came across in floral and dot prints that looked like watercolors — the designer alluded to Impressionism and pointillism as influences.
Simons excels at creating designs possessing that much-maligned quality — prettiness — while imbuing them with something darker. This season, he reflected on "the idea of purity and decadence and how that is encapsulated by Dior's garden — no longer a flower garden but a sexual one." He achieved that juxtaposition best with long white gowns whose tissue-thin transparency belied their demure silhouettes, and floral dresses slit entirely up the sides and linked with skinny chain details — Titania meets Barbarella. Along with cagelike embellishments, these lent a knowingness to his chaste canvas.
Still, as springlike as it felt, this was still an autumn-winter collection. So we saw one-armed furry wraps, marled shrugs that also served as muffs, and oversize capes — including one in bottle green whose shape and volume called to mind Jan van Eyck's Arnolfini Portrait, in which a young woman's knowing expression and pregnant belly contradict her bundled-up attire. She might as well have been the poster girl for this collection.