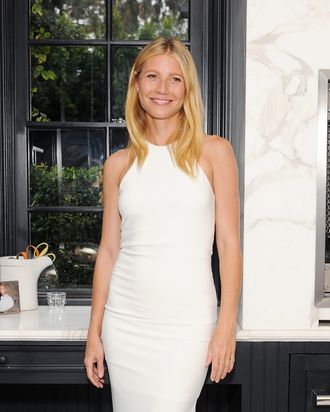 Photo: Stefanie Keenan/Getty Images for Windsor Smith Home
Yesterday, on Goop, Gwyneth Paltrow debuted a line of $1,695 hip-hop-themed clutches by Edie Parker. The collaboration, which consists of two acrylic bags with Biggie/Pac and Hov/Shady scrawled on them, raised more eyebrows than that time she suggested we all get our vaginas steamed.
Now, Goop has never been shy about her love of hip-hop. But this collaboration raises some questions: How deep is this love? Is it just the product of her very close friendship with hip-hop royals Beyoncé and Jay Z? Does a demonstrated knowledge of N.W.A. lyrics justify shilling absurdly priced rap-themed accessories to fancy white ladies? (No.) The only way to find out is to thoroughly investigate Gwynnie's public romance with rap music.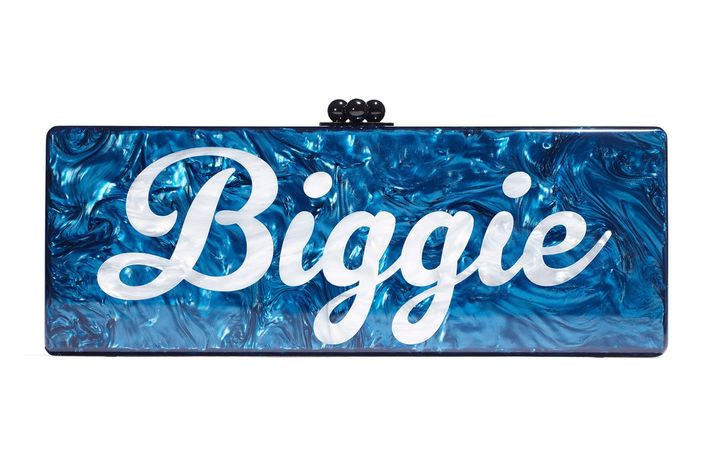 September 2006: A few years into their friendship, Jay Z invites Paltrow onstage during his concert at London's Royal Albert Hall to sing the chorus on "Song Cry," from The Blueprint. His concert was the first hip-hop show at the venue, making Goop part of a watershed moment in hip-hop history. I still can't take those bags seriously.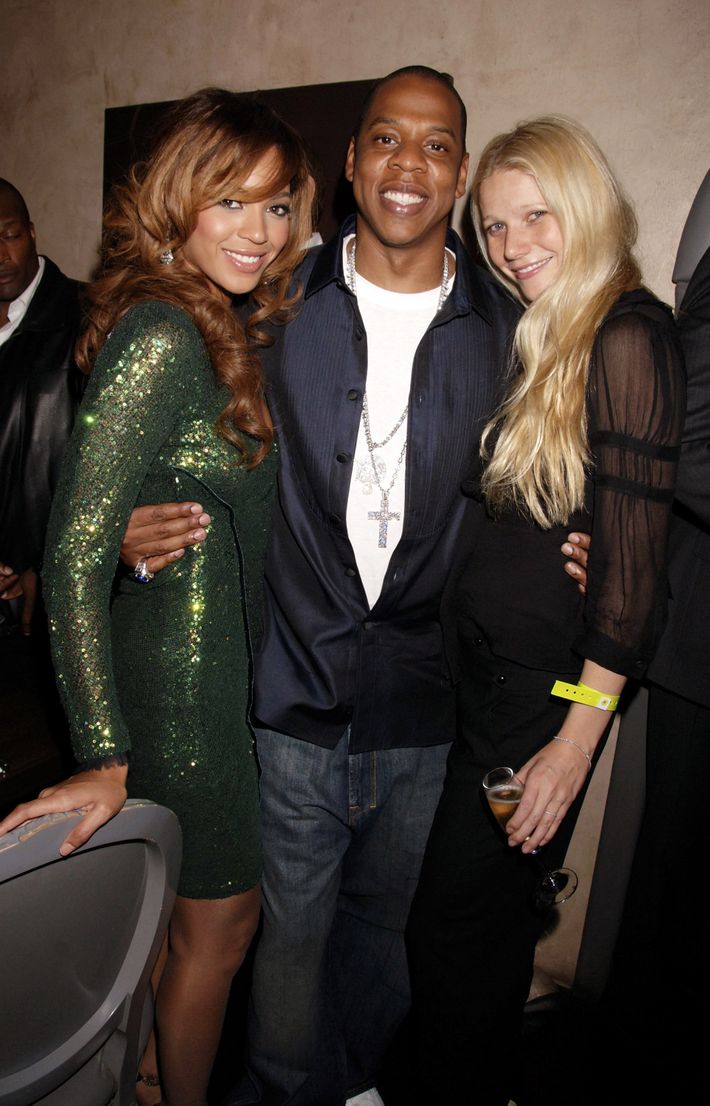 March 2011: While appearing on The Graham Norton Show, the Country Strong actress wants to prove that her rap game is equally strong. Norton gave the self-professed '90s hip-hop fan a little pop quiz, asking her if she knew about N.W.A.'s Straight Out of Compton. She responded by accurately rapping the first lines of "Gangsta, Gangsta." Those bags are still overpriced.
April 2011: Jay Z launches his lifestyle site, Life+Times, which is basically a hip-hop Goop. Paltrow promotes the site by interviewing her friend Jay Z on Goop. So Jay returns the favor by interviewing her on Life+Times. It's one big lifestyle circle jerk. In her interview, Paltrow explains how she got into '90s hip-hop and really drives home how much she loves gangsta rap:
I first was exposed to hip-hop when I was about 16 (1988) by some boys who went to Collegiate. The Beastie Boys were sort of the way in for us preppie kids. We were into Public Enemy, Run-DMC and LL Cool J. But then I went to LA the summer between my junior and senior year of high school and I discovered N.W.A which became my obsession. I was fascinated by lyrics as rhythm and how Dre had a such different cadence and perspective from say, Eazy-E, who I thought was one of the most ironic and brilliant voices hip-hop has ever had. It was an accident that I learned every word of Straight Outta Compton and to love something that a.) I had no real understanding of in terms of the culture that it was emanating from and b.) to love something that my parents literally could not grasp. But I was hooked. I can't remember what I ate for dinner last night but I could sing to you every single word of N.W.A's "Fuck Tha Police" or [Rob Base & DJ E-Z Rock's] "It Takes Two." Go figure.
Jay is very impressed by her extensive knowledge of rap lyrics and kindly ignores that she bragged about knowing all of the words to "It Takes Two." Even if someone started a GoFundMe to raise money so I could buy one of those bags, I wouldn't do it.
November 2011: Paltrow appears on Steven Stoute's Huffington Post video series, "The Tanning of America." (It's a companion to his book, The Tanning of America: How Hip-Hop Created a Culture That Rewrote the Rules of the New Economy.) Stoute asks, "Hey, how'd white America get so obsessed with hip-hop culture?" Paltrow tells her origin story, again, and also reveals how her 2006 Royal Albert Hall guest spot came to be (Jay Z asked her, it was her birthday). I'm insulted Goop thinks I'd spend my rent money on some plastic clutches with "Pac" written on them.
June 2012: Gwyneth attends the Paris stop of Jay Z and Kanye's Watch the Throne tour. 
She tweets her excitement:
Paltrow might have enough rap cred to try and sell those bags, but people were not pleased that she sort of dropped an N-bomb, even if the g's were asterisked and it was the name of the song. She reminded us to chill because it was just the name of the song:

Okay, but seriously, who is going to buy these bags? Who is her target audience?
August 2012: Paltrow curates a Summer Jamz list for Life + Times, recommending songs by French Montana, Frank Ocean, Kendrick Lamar, and more. She also suggested we all get down to "Climax" by Usher. What is Goop-y getting up to in her spare time if "Climax" is on heavy rotation?
In response, Rap-Up made Paltrow a playlist curated by some of her favorite rap artists. Was this playlist made out of mutual admiration or was Rap-Up like, Please, girl, let us educate you? We'll never know.
And a follow-up: What does Beyoncé think of these clutches?
October 2012: A video pops of Gwyneth (feat. Cameron Diaz) spitting an original rhyme inspired by Chelsea Handler's love life. Consider this her mixtape. It's still better than those bags.
November 2012: Emboldened by her "Chelsea Handler Mixtape," Goop declares it "Hip-Hop Week" and promotes three "explicit" songs. Was this an early sign of Goop-y things to come? Was she trying to prime us to buy that Shady clutch? It didn't work.
December 2012: Another cameo during a Jay Z performance, this time on New Year's Eve. Gwynnie shows off her enthusiasm by dancing to "Run This Town" like nobody's watching, even though it's Jay's New Year's Eve performance and a lot of people are watching. Almost as many people who saw the 2Pac/Biggie clutch and thought: Is this okay yet?
April 2013: While promoting It's All Good, she tells the Evening Standard that she likes to listen to rap while cooking her macrobiotic meals. "I'm like a bad mutha rapping along to every word as I cook." Think of how much takeout you can get for the price of the Hov/Shady clutch!
January 2015: Emcee Goop-Goop does something even worse than those bags. She goes on The Tonight Show With Jimmy Fallon and sings Broadway versions of Drake and Nicki Minaj. My heart broke, just like it breaks now as I realize I probably would carry that Hov clutch if Beyoncé told me to.
And here we are, in the present, living in a world where $1,700 rap tribute bags are readily available. At least Gwyneth hasn't announced plans to release her own rap album. Yet.