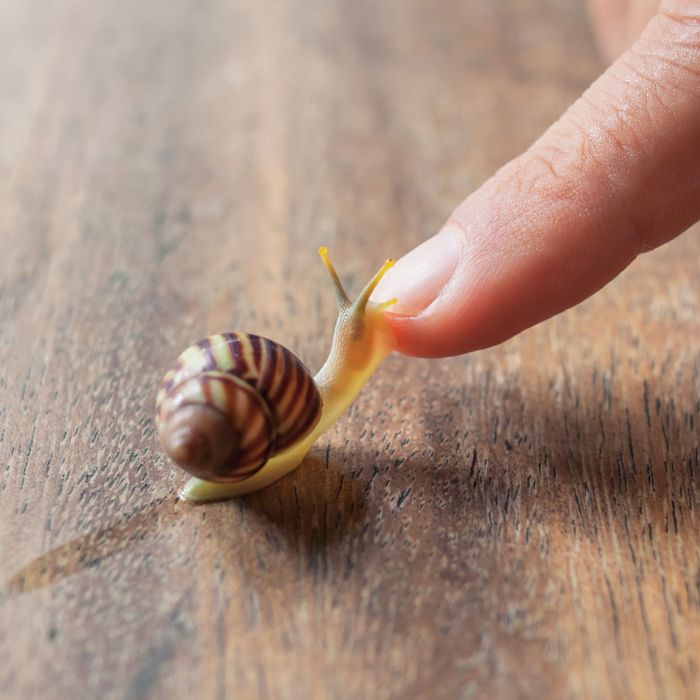 In the quest for transformational super ingredients that give skin youthful qualities and a celestial glow, researchers seem to have no bounds. Trekking to alpine regions for apples encased in immortal peel, diving to watery depths where seemingly magical algae sleep, extracting venom from poisonous reptiles, culturing lethal toxins, and collecting avian poop are all de rigueur in the name of beauty. Being asked to test out products containing the current wonder essence, snail slime, didn't make me blink or cringe.
The slime or mucus secreted by these little mollusks that helps protect their exposed bottoms against cuts, bacteria, and UV rays contains a potent combination of elastin, proteins, anti-microbials, copper peptides, hyaluronic acid, and glycolic acid — all known beauty enhancers. Snail mucin is said to do everything from fading dark spots and scars to plumping creases and battling acne. The venom found in ocean-cone snails (as opposed to the garden variety) paralyzes its prey and is thought to relax muscle fibers that play a role in creating wrinkles.
Snails were first prescribed in ancient Greece as a topical treatment to reduce inflammation, and they began to crawl their way into creams and elixirs in South America when farmers handling escargot en route to France noticed their hands looked younger and smoother. Soon the beauty-forward Korean market picked up the trend, and it arrived in the U.S. market about five years ago. Now more mainstream high-end companies like RéVive and Peter Thomas Roth are releasing new products containing the holy snail, and both spas and doctors' offices are featuring facials that employ it.
Park Avenue plastic surgeon Dr. Matthew Schulman has introduced the Escarglow Facial, a $300 treatment that combines extracts of the slime with micro-needling to increase the product's penetration. "People originally used live snails in facials, but you can imagine how some people didn't like that,'' says Dr. Schulman. "There is anecdotal evidence that proteins in snail slime have anti-aging benefits, and clinical trials have looked at that, as well as reversal of sun damage, and shown improvement. Snail slime is not going to help deep folds, but it will improve skin texture and quality.'' The actual science behind these products is still somewhat inconclusive. Lab cell cultures had positive findings, and a study published in the Journal of Dermatological Treatment showed an improvement in burn patients who used snail mucin, but there have been no serious controlled clinical trials or long-term studies, so doctors are divided.
Dermatologist Francesca Fusco is a believer. "The hyaluronic acid and peptides in snail mucin have been demonstrated on cell cultures to stimulate the production of elastin and collagen,'' she says. Another New York dermatologist Dr. Howard Sobel is more skeptical. "I'm not sure if the active ingredients are in high enough concentration or get absorbed deeply enough to have a positive effect on the skin,'' he remarks.
Plastic surgeon Joel Studin feels that, while snail slime is intriguing, there needs to be better testing. "From a marketing standpoint, the ingredients sound compelling; however, there are no good studies that show it really works for anti-aging,'' he maintains.
Despite the medical debate, cosmetic companies are embracing the critters. Sharon Garment, a product-development consultant specializing in emerging brands and a former executive at Estée Lauder and Revlon, notes that the efficacy of snail-based products also depends on additional ingredients. "Snail extracts are heavily trending now, and many companies are requesting it in their new formulas,'' she observes. "While it's shown to have beneficial properties, its effectiveness is supported by other proven ingredients that contribute to ultimate performance and ability of these products to make the claims they make.''
Also at issue is the consistency of snail extract. According to Russ Grandis, chemist and chief scientific officer of cosmetics consulting company Architectural Beauty, it's hard to control potency levels because the creatures themselves vary.
"There's been a lot of hype about snail filtrate, which contains allantoin, proteins to improve smoothness, acids, and enzymatic properties, but the active components can differ depending upon the source,'' he says.
Snails come in many varieties: Products boast gastropods that hail from Brittany, regions of Africa, and Korea's Green Zone. The methods of handling them also vary; in some cases, the venom is simply cultivated in a chemist's lab. Resulting cosmetics range in price from as low as $25 to a steep $600, and facials run from $80 to $300. We decided to do the face work for you before you enter the world of slime, selecting six products and two facials. In the interest of time, they were judged on immediate, rather than long-term, effects.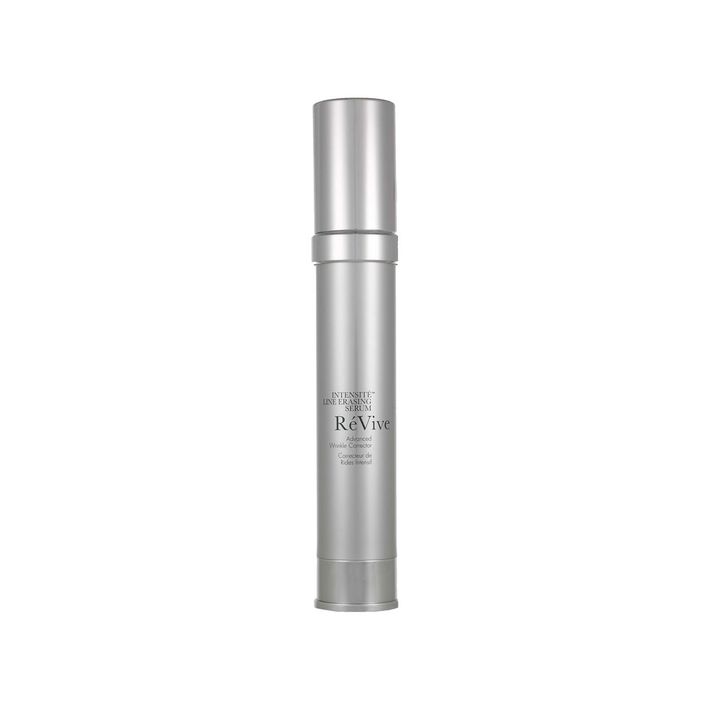 RéVive Intensite Line Erasing Serum, $600
What It Claims: Instant firming and tightening, improvement of density, more defined facial contours, increased elastin and collagen production, and radiance and wrinkle correction. RéVive founder and plastic surgeon Dr. Gregory Bays Brown says, "Within the dermis, there are wisps of muscle fiber that will relax wrinkles; that was what excited me.''  Key Ingredients: Lab-synthesized freshwater cone-snail venom, a blend of line-smoothing peptides, and the company's proprietary plant growth-factor formula. My Experience: The lightweight serum has a mild, pleasant fragrance and feels fresh on the skin. It absorbs easily and is not sticky. There was an immediate tensing, which produced a lifting effect, as well as gentle line-smoothing. I also saw an increased luminosity, which is partly due to the rapid cell turnover one can expect from RéVive products containing the line's growth-factor formula.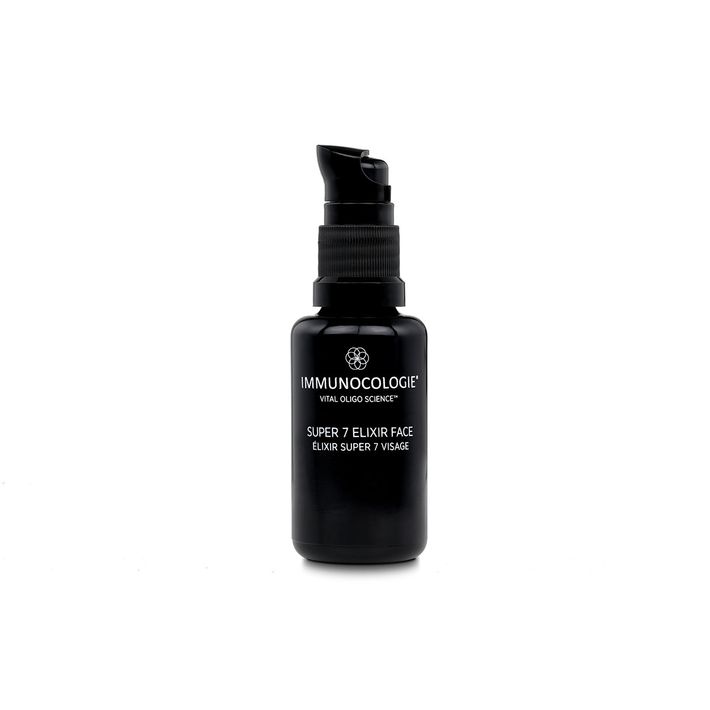 Immunocologie Super 7 Elixir, $300
What It Claims: Natural tightening, increased radiance, and diminished fine lines. Key Ingredients: "Beautiful creatures living freely on the coast of Brittany'' that "breathe the sea breeze and capture the negative ions from the sea'' are not harmed in the slime-collecting process twice a year as they slide on a special apparatus. Those negative ions are meant to help keep the skin in balance. Proteins from hibiscus esculentus and peptides from mammea americana also contribute to the skin's tightening. My Experience: A little sticky but still absorbent, this light lotion had a nice heady botanical aroma. There was a tingling upon application and a definite tightening effect. Fine lines appeared instantly filled in and my skin looked smoother, though not particularly radiant or hydrated. The scent lingered to the point that a friend later asked me what fragrance I was wearing.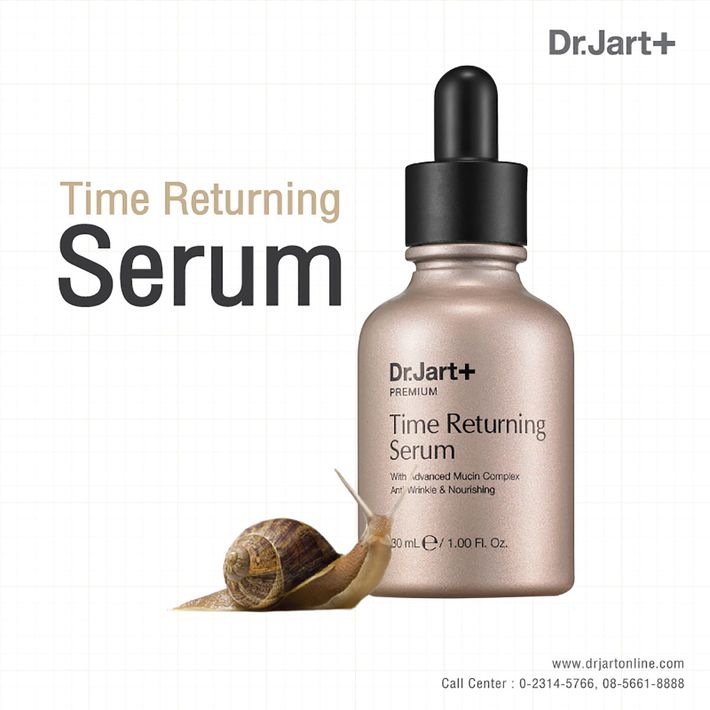 Dr. Jart Time Returning Serum, $54
What It Claims: Restores damaged tissue and replenishes moisture, maximizes elasticity, and minimizes wrinkles. Key Ingredients: 77 percent snail mucin, allantoin, collagen, elastin, glycolic acid, and ceramides. My Experience: Fragranced with natural extracts and oils, the serum was a bit slimy upon application, but it absorbed without residue or film. After about 30 minutes, my face was noticeably firmed, light wrinkles around the eyes were softened, and there was an increased radiance. It only fell short in terms of hydration.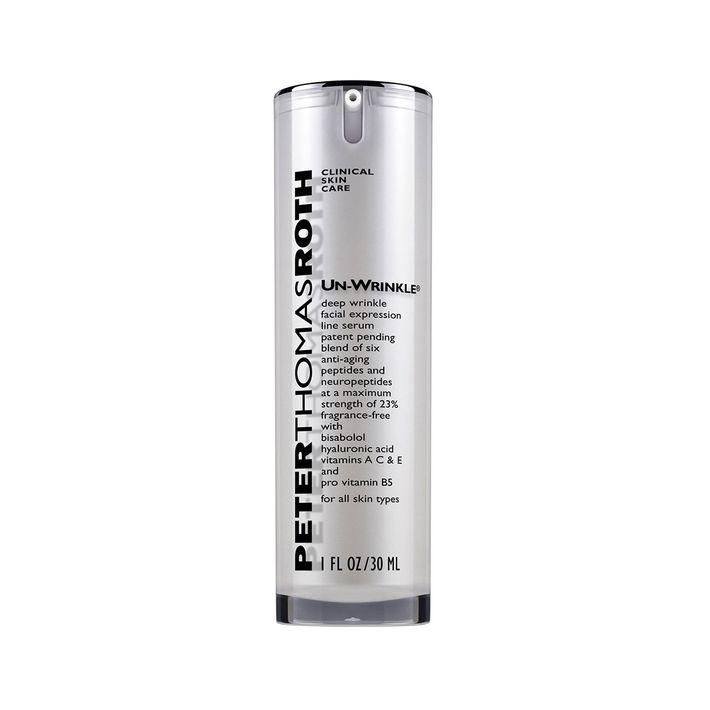 Peter Thomas Roth Unwrinkle Fast-Acting Serum, $120
What It Claims: Relaxes and smooths wrinkles. Key Ingredients: Synthetically reproduced snail venom, neuropeptides, and diamond dust. My Experience: The thicker gel emulsion had no detectable scent, had a noticeable tightening effect, and granted a gradual smoothing of wrinkles. There was also an increased radiance, partly due to the diamond powder.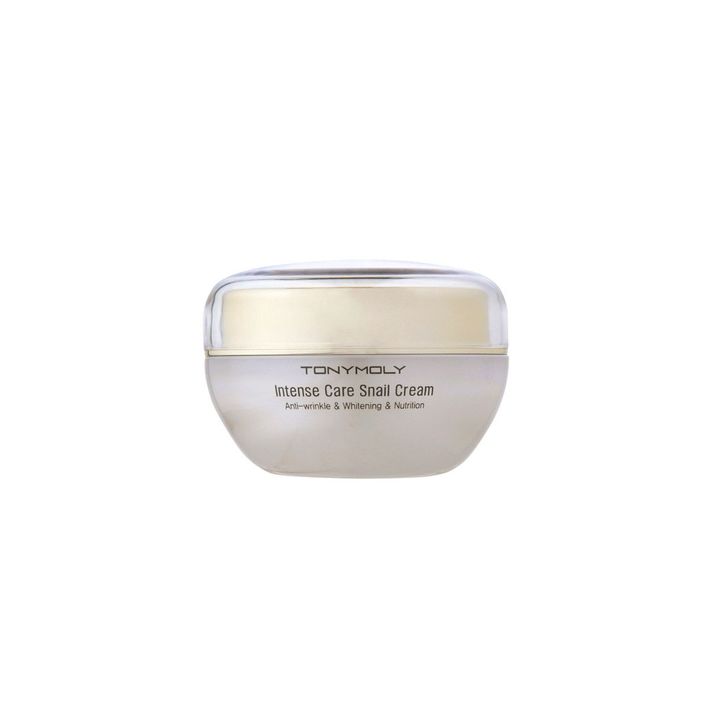 TonyMoly Intense Care Snail Cream, $49.99
What It Claims: The Korean company is so dedicated to snail slime that it has a complete line of products featuring it. The Intense Cream promises increased hydration and elasticity and help in repairing skin damage Key Ingredients: 70 percent mucin from Chungnam snails in the Korean Green Zone, plant-derived extracts to increase elasticity, and centella asiatica to improve damaged skin My Experience: The richest and most luxurious of the creams, this was the most hydrating product. It left skin soft and smooth, with a hint of radiance, but didn't have a tightening or lifting effect.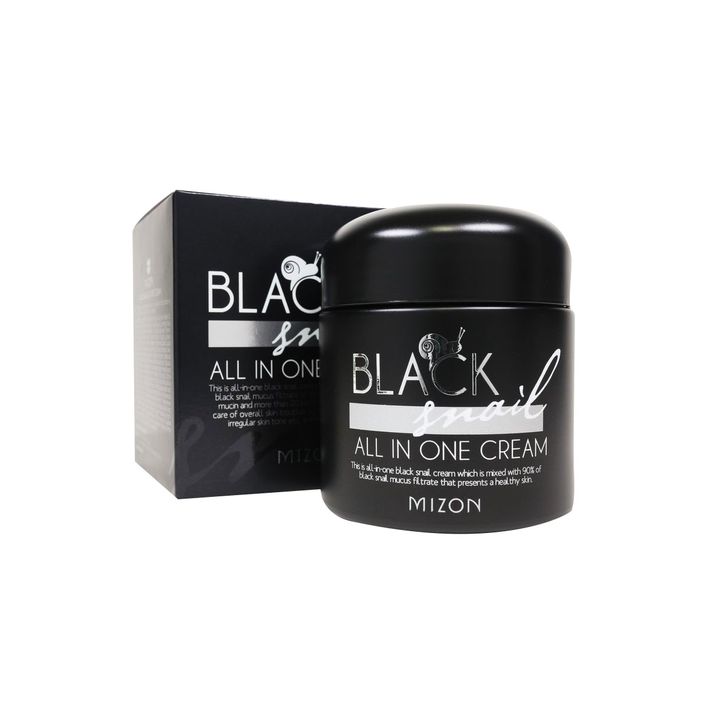 Mizon Black Snail All in One Cream, $54
What It Claims: Evens skin tone, decreases wrinkles, whitens complexion, clears blemishes, and hydrates. Key Ingredients: 90 percent mucus from African snails, which are known to survive particularly harsh environments (ipso facto, their protective ooze should be particularly potent), and extracts from more than 20 "black plants'' including cocoa, shiitake mushrooms, pepper, and stone seaweed. My Experience: The lightweight and scentless cream has a somewhat sticky consistency and isn't very easily absorbed. While there was no immediate lifting, skin looked a little firmer after half an hour, and my skin had a matte finish instead of a glow.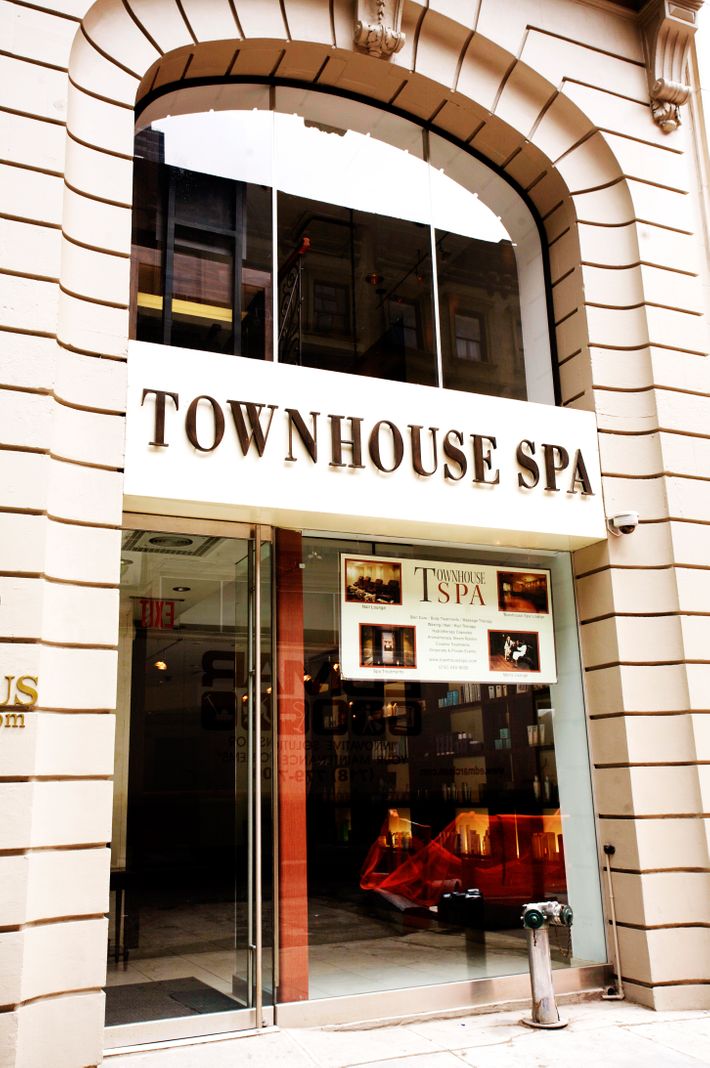 Townhouse Spa's Ultra Lift Facial (39 West 56th St., 212.245.8006), $275 for 75 minutes
What It Claims: Lifting, reduction of wrinkles, smoothing of skin, and soothing of any inflammation. According to the spa's owner, Jamie Ahn, "It's gotten very popular because the results are very visible and instantaneous. It helps after peels or lasers to calm skin, and also with acne and rosacea because it is anti-inflammatory.'' Process: After cleansing and massage, a snail mask by the Korean company Soo Ae is applied and a micro current is run over the face to stimulate muscles and help the mask's ingredients penetrate. Finally, LED lights are focused on the face to tone and calm any redness. My Experience: Skin was lifted and glowing after the treatment, and it looked like someone had ironed out the wrinkles.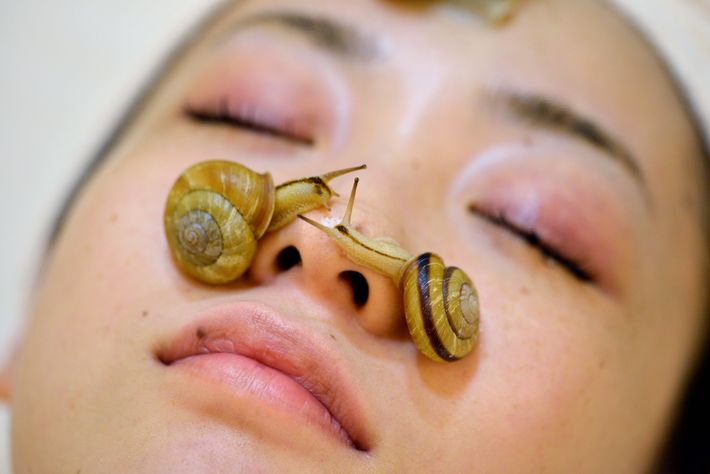 Snail Facial at Graceful Services (1095 Second Ave.; 212.593.9904), $80
What It Claims: Hydrating and brightening. Process: A traditional steam and deep-cleansing treatment is taken to another level with the final application of a snail mask from C & F Cosmetics. Note that, unlike the picture shown, you do not have live snails placed on your face.  My Experience: Apart from being an obvious bargain, the cleansing was very thorough and the mask gave my face additional hydration and luminosity. With so many encouraging results, we'd say it's worth making your way to a cosmetics counter — and not too slowly.