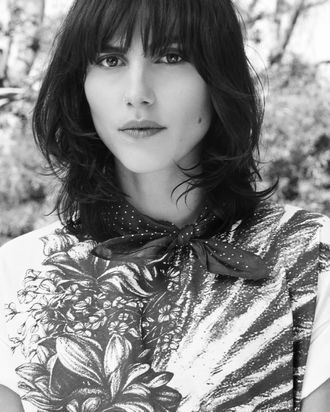 Photo: Courtesy of Sportmax
Langley Fox Hemingway might just be fashion's collaboration queen. Her past credits include designing cat-print T-shirts with Wren, tank tops with Everlane, a banana-themed tank with Elkin, shirts and tote bags with Forever 21, handbags with TL-180, and even socks in collaboration with Stance. And her CV keeps expanding: The model/illustrator has just released a nine-piece capsule collection with Sportmax featuring her nature-inspired pencil drawings. The collection marks the sixth edition of the brand's Carte Blanche artist collaboration (previous installments include collaborations with Kim Gordon and Chiara Clemente). "It's just a higher thing than I had done before," Hemingway tells the Cut. "They did more items and more prints than I think I've ever had before in one collaboration. It was awesome." The capsule, which has a limited run of 1,000, consists of three dresses, three sweatshirts, and three T-shirts, and even comes in boxes illustrated by Hemingway. It is currently available at the brand's Soho outpost.
Fashion has been having an illustration renaissance over the past few years, with Donald Robertson and Joana Avillez among those who've gained a following. Hemingway has a theory about why that's the case. In the Facetune era, "illustration comes back into play because it is a craft that's not at everybody's fingertips," she says. "We can all take a cool photo and try to manipulate it through some app and make it look awesome, but we can't all draw something." Most of her work is done in completely analog fashion — at one point in our conversation, she even dips into what she calls "nerdy pencil talk," discussing the varying gauges she uses.
Fox initially wanted to be "the next big fashion designer" but caught the sketching bug at Otis College of Art and Design. She took a life-drawing course where the students had to memorize the human skeleton — it wasn't until the second semester that they began to add muscles and skin. That went on to inform her anatomy-based, sometimes-macabre designs. For example, one of the prints for the Sportmax collection "has a feather wing on one side and florals on the other, and it kind of looks like a rib cage flying." She adds, jokingly, "Skeletons get a bad rap."
Hemingway, who is signed with Next, also models in the images for the campaign. "Anytime I'm not modeling, I try to be drawing. The minute you stop, you get a little rusty," she says. "If I'm traveling for two weeks, it's hard to draw other than weird doodles here and there. I'll come back and be like, 'Oh, cool, you don't know how to draw anymore.'" To avoid falling out of practice, she heads to the L.A. studio she shares with fellow illustrator Gemma Hayden Blest for four or five hours a day. "I figure if I'm not getting photographed or going on some trip, I should go to my studio. I think that art is going to take me farther than anything," she says. "It's like getting up in the morning and exercising. I actually have to do it."