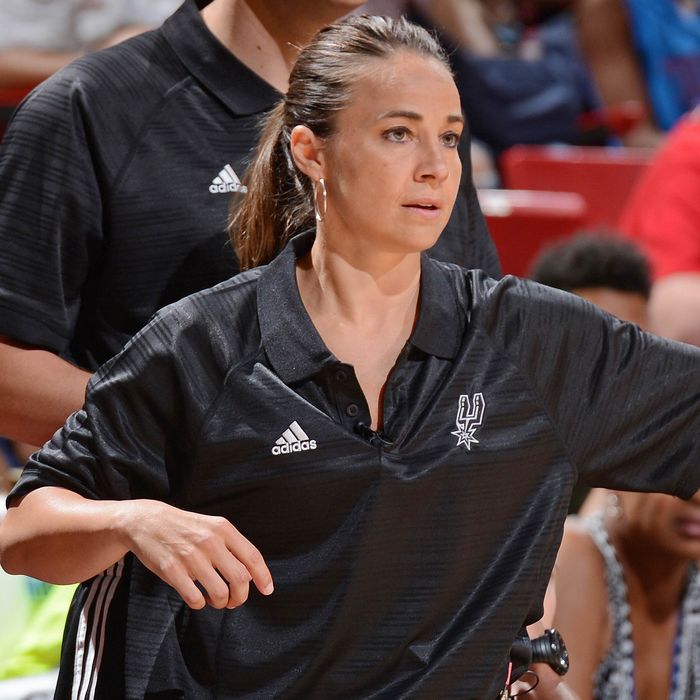 Photo: Garrett Ellwood/NBAE via Getty Images
The San Antonio Spurs' Becky Hammon is the first female full-time assistant coach in the history of the four major sports leagues, and the first woman to be named head coach of an NBA summer league team. Last night, she led the Spurs to a 93–90 win over the Phoenix Suns in the Las Vegas summer league title game.
"They listened and they played really hard for me," the former WNBA star told the Associated Press. "I just really appreciate their attentiveness and alertness." Guard Jonathan Simmons, who was named summer league MVP, said of his coach: "She did a great job with us. She was solid the whole way. She did what she was supposed to do. … It's always good to be a part of history. This day will go down in the books for years to come. … I love her. I barely know her and I love her already."
Spurs head coach Gregg Popovich has said repeatedly that he didn't hire Hammon because she's a woman; he hired her because she's good. "I don't know if her perspective is unique. It's women instead of men, but it's the same game," Popovich told the AP during the regular season. "Becky knows what to do on a pick-and-roll just as much as what Tony Parker knows." Yesterday, just like any other winning coach, Hammon got a Gatorade bath. How refreshingly normal.