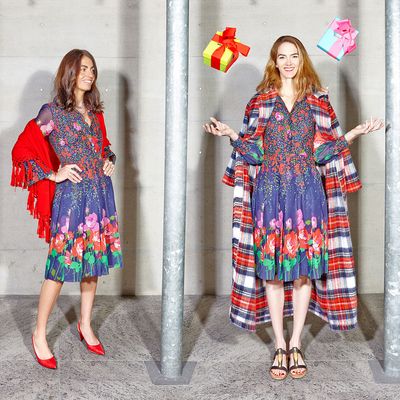 Photo: Courtesy of La Double J
Earlier this year, we called La Double J — the e-commerce site created by J.J. Martin — our favorite vintage shopping site on the web. Part of its appeal has to do with Martin's ability to scout one-of-a-kind vintage pieces and put them on Milanese women in their perfectly appointed homes, and part of it is the thrill of seeing vintage clothes mixed together with current-season pieces. La Double J makes 50-year-old items look like what you need to wear now. 
The site's new recurring feature, Vintage Wars, elaborates on that theme: What happens when you give a single vintage piece to two stylish women and ask them to wear it however they want? Every Friday, we'll bring you a new installment: one piece, styled (and modeled) by Martin and her impossibly chic friend Viviana Volpicella. This time, a 1970s bright navy-and-red floral dress.
J.J. Martin: Let me start by saying that my outfit was so much better in real life than it is in this photo. In this picture my fuzzy vintage plaid bathroom looks crazy-pants with this lovely gauzy cotton dress.
Viviana Volpicella: I love your look. The colors totally go together. You look like you're going out to buy newspapers in New York.
J.J.M.: I'd like to see what the New Yorkers have to say about that.
V.V.: And I want to steal your bathrobe. I'm crazy about it. Will you give it to me?
J.J. M.: No way. I found it in the bottom of a junk bin at sunrise at the Rose Bowl Flea Market in L.A. I drove 55 minutes in the dark, for Chrissakes, to have that coat. The vintage dress on the other hand, is light and gauzy and pure bliss. I have to say I love your look. It's so Southern Italian.
V.V.: It's my Capri look! You need a shawl at night in Capri — I always bring them. I have this one in red, black, or beige. The red is perfect here. I love this dress so much. I'd wear it every night in the summer.