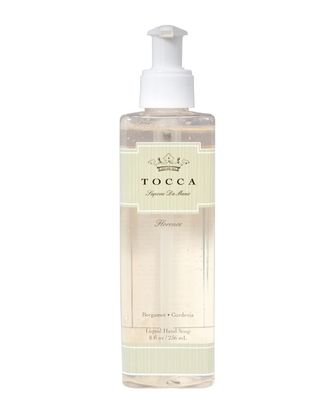 Tocca's Florence Hand Wash.
Photo: Tocca
Washing your hands is a hygienic act my college roommate could never master. Maybe she was put off by our bathroom's chemical-smelling soap. If that's the case, I wish I had known about Tocca's Florence hand wash, which is perhaps the best-smelling around. Florence, which is curiously inspired by old-world Paris, is a little fruity and a little floral, with notes like apple, pear, gardenia, and tuberose. A green fragrance that's just faintly sweet, it smells like a magical intersection of the Whole Foods' fruit and flower aisles. For a hand wash, the fragrance is extraordinarily long-lasting and leaves a spark of scent on your hands for about two hours. It's a happy kind of scent that makes you want to wash your hands, even if the only thing you did to dirty them up was touch a dusty book. With a generous amount of aloe in the bottle, the soap isn't drying, either, allowing me to eschew a glob of moisturizer after each wash. Since ushering Florence into my apartment, hand-washing has somehow morphed into a totally entertaining activity. It's something to keep in mind if, say, your hand-washing game could use a fragrant boost.
Tocca 'Florence' Hand Soap, $18 at Nordstrom.