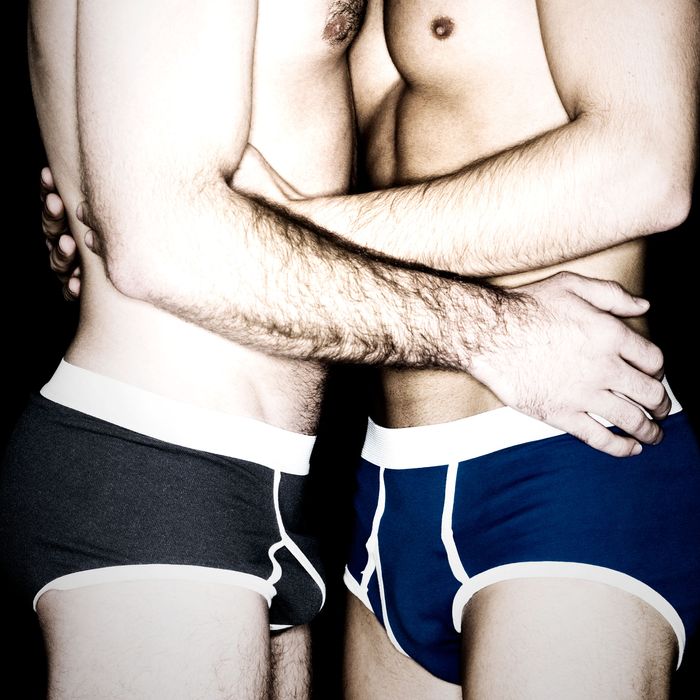 Photo: picturegarden/Getty Images
New York's Sex Diaries series asks anonymous diarists to record a week in their sex lives — with comic, tragic, often sexy, and always revealing results. This summer, the Sex Diaries will appear on the Cut as a special edition. Check back Tuesday afternoons for your weekly peek behind doors left slightly ajar. 
This week, a man in a new relationship who seeks spontaneous sex from strangers and Fire Island flings: male, 27, Brooklyn, television industry, in a three-month relationship, gay.
DAY ONE
7:50 a.m. I wake up horny (as usual) but hold off on getting off because I have a party that night.
12:45 p.m. At work I sit at a computer on a communal table all day long. I work in a glamorous industry, but more the "scheduling, budgets, and paperwork" side. I go to the bathroom and turn on Grindr. The guy around the corner whom I occasionally blow on my lunch break wants me to come by. He calls me "baby" and I pretty much just do it for that reason … I'm all for being admired.
6:30 p.m. I finally leave work to kill two hours until the party starts. I go shopping for cute/sexy underwear. Retail therapy works on me. Too well.
7:45 p.m. I grab two beers at some bar around the corner. Part liquid courage; part because I had more time to kill.
8:35 p.m. I ring the buzzer and the owner of the sex-party apartment lets me up. I'm part of this gay sex-party circuit, the places change, but some faces stay the same. I open the door to his Chelsea loft and there are already about 100 guys there. Tonight will be fun!
8:45 p.m. I have stripped down and checked my clothes. I say hi to a few of the guys I see at every party and then spot a gorgeous, tall, Latino guy looking at me across the room. We make out, I go down on him. He returns the favor and then says he wants to fuck me. I tell him maybe later.
9:45 p.m. This is the most crowded I have seen this party! It's hard to move around without bumping into everyone, which is all part of the fun. I end up talking to this random guy about my job and how stressed I am. Sometimes, it's more about the mind than the body. In other words, to be so exposed, you feel like you can say or do anything. I do end up blowing him for about 15 minutes in the middle of the big room.
10:30 p.m. Me and Mr. Gorgeous-tall-Latino end up fucking on one of the couches in the back and I can tell we drew a big crowd. I don't pay attention to it, but I do enjoy feeling eyes on me.
10:55 p.m. I shower, get my clothes, thank the host, say I will see him next month, and leave. I get a slice of pizza before hopping on the subway.
DAY TWO
7:50 a.m. Wake up horny.
12:45 p.m. Back in the bathroom, back on Grindr. My "boyfriend" texts me so I close the app and answer. We've been together for three months and we are allowed to basically do anything we want. It's a nonmonogamous relationship but that might change as things progress; it's still early in the relationship and we're figuring it all out. We're young and don't need to rush things. We chat for a bit about upcoming weekend plans.
7:45 p.m. I get home and watch a movie. The two male characters start making out. I pause and jerk off to some porn.
DAY THREE
1:15 p.m. I go to the guy from Grindr's place. He is two blocks from work. I walk in and he pulls down his pants and pushes me to my knees. I suck him off for about ten minutes until we move to the bed and he comes all over his stomach.
1:45 p.m. At a salad-bar lunch with my friend from work, I ask her if my constant need for sexual attention is a bad thing, She tells me it is definitely a way to inflate my ego, but not necessarily a bad thing … I kind of agree. For me, it is definitely nice to get that attention, but it is also about getting more comfortable with myself. It's been about a year now since my first sex party. I have become so much more confident and open (hello, I am keeping a public diary of my sexual escapades!) since going to parties and orgies and I do not feel ashamed about embracing that side of my sexuality. It is not as if I am unsafe or careless. 
DAY FOUR
8:00 a.m. I meet my boyfriend and we head to Fire Island for the weekend. We spend the morning on the beach drinking beers with our friends. Everyone here is hot. I can't stop staring. So. Many. Speedos.
1:30 p.m. I see a flyer for an underwear party. I make it my goal to convince everyone to go.
11:45 p.m. We finish our drinks at the house and head to the party. I am mad I don't have cuter underwear on …
12:15 a.m. There are so many guys in their underwear and I am so drunk and horny. This is heaven.
1:30 a.m. We discover the "back room" area (a section of the bar with a sheet separating it and no lights). Everyone is naked and sucking and kissing and fucking. We all stand around one guy on his knees as he sucks us all in turn. As he turns to me I realize he is a friend of mine. We say hi, kiss on the cheek, and then he is back on his knees. My boyfriend comes and leaves the area.
1:40 a.m. I wander around the back area and find this insanely hot, bearded guy. He has a gorgeous dick and is jerking off and I give him head for about 15 minutes then we both finish together.
1:45 a.m. I find my boyfriend and our friends and we head back to the house. My boyfriend says he is mad at me because I stayed after he left, but I tell him I didn't do anything he didn't … and I think he gets over it.
2:15 a.m. We stumble upon a party in the dunes where a bunch of people have set up a generator to play music. There are lights and guys dancing everywhere. Guys in fairy costumes run around pouring shots in people's mouths. I feel like I am at Burning Man.
4:45 a.m. Finally make it home and pass out.
DAY FIVE
9:30 a.m. Wake up hung-over, but happy. Get breakfast and head to the beach, where we spend most of the day rehashing the night before, laughing at how crazy life can be. For me, I lie on the beach feeling really happy to be in such a good place emotionally. My social life makes me really happy right now.
1:30 p.m. At lunch we all continue to discuss last night's events and laugh. We are a really open group and it is always nice to be able to talk openly.
3 p.m. The rest of the day is a wash. More food, naps, joking around, teasing each other.
7 p.m. Boyfriend makes us a delicious dinner and we pass out extremely early. People are going out, but I don't have FOMO (fear of missing out) tonight.
DAY SIX
12:45 p.m. Back home. Horny recapping the past few nights for this diary. I never would have thought I'd be having this much fun in my sex life; it's nice to really process that for a second.
8:15 p.m. Get a text from a guy I met on Grindr saying he wants to come by.
9:30 p.m. He is so much taller in person and sweats like a shower while he fucks me, which I kind of love. He is rough and spanks me a lot and I never thought I would like that, but ohmygosh do I like it.
DAY SEVEN
7:50 a.m. Wake up not horny.
12:50 p.m. Work is rough today after that amazing weekend! I have a ton to catch up on, which is always terrible. I get a text from a friend who asks if I would have a threesome with "this guy" and sends me pictures of his dick from various angles. I say, "Looks good to me!" We make a plan for next Thursday.
10:30 p.m. Keep looking at the pictures my friend sent and thinking about how hot that would be. Jerk off to some threesome porn and pass out early.
Want to submit a sex diary? Email sexdiaries@nymag.com and tell us a little about yourself.