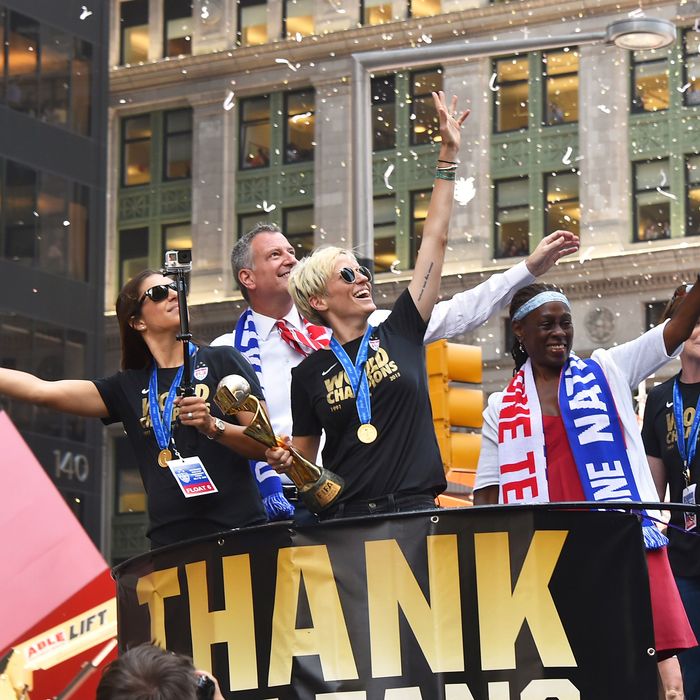 Photo: Theo Wargo/WireImage
It's Friday afternoon, the sun is shining, and Taylor Swift's in town. Let's kick off the weekend early with eight actually good things that happened this week.
1. New York held its first-ever ticker-tape parade for a female sports team. Thousands attended the parade down the Canyon of Heroes in lower Manhattan on Friday to celebrate the U.S. women's soccer team taking home the FIFA World Cup.
2. We discovered Swoll Drake. Drake has been bulking up for some time, but this week was the week we finally realized: Dude is swoll af!
3. The global-poverty rate is down, and the number of girls enrolled in school worldwide is up. According to a new U.N. report, the extreme-poverty rate in developing countries decreased from 47 percent to 14 percent over the past 15 years. We're also close to reaching gender equality in primary-school enrollment: In Southeast Asia, for example, there are now 103 girls for every 100 boys in primary school, up from 74 girls in 1990.
4. Taylor Swift donated $50,000 to a young fan suffering from leukemia. The pop star gave the money to 11-year-old Naomi Oakes after learning she would have to miss the 1989 tour because she'll be hospitalized. The money will go toward her medical expenses.
5. There's a village in Japan that's inhabited solely by foxes. And I kind of want to move there?
6. We got a peek at John Legend's naked butt. Truly #blessed.
7. A new study found that the Health Care Act has saved women a ton of money on birth control. The savings from the pill alone were $1.4 billion in 2013.
8. Birdyoncé strutted her stuff. A truly irreplaceable performance.