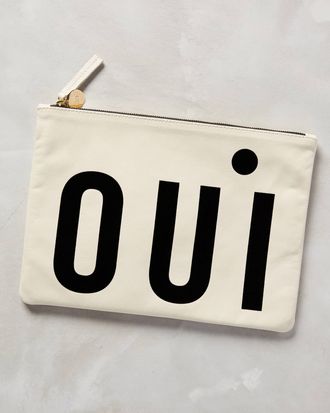 As cool as you pretend to be, sometimes you want to just give in and embrace all things girly, sparkly, and, well, basic. This week celebrates that desire with absolutely no regrets.
Notes sound better en français, so why shouldn't clutches instantly feel chicer with a bit of French flair? Case in point: This roomy graphic pouch by Clare V that features the word Oui. It's the kind of accessory that's made for Instagram, ideally lying flat with a few beauty products casually spilling out of it. Use it to garner those extra likes or just carry it on the weekend when you want to feel like a pulled-together Parisian.
Clare V Oui Pouch, $199 at Anthropologie.