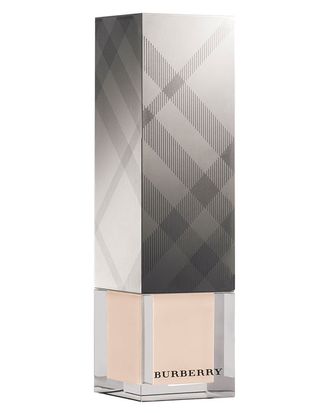 Burberry's Fluid Base.
Photo: © undefined Nordstrom
So what if you've spent much of the summer huddled indoors, basking in the glow of your laptop and a steady stream of Netflix? There's a new highlighter that masks your hermit tendencies, brings a healthy radiance to your face, and even fakes the glow of a sunny getaway. Burberry's Luminous Fluid Base may just be the best highlighter on shelves right now.
The highlighter, and what Burberry calls "a fluid base," is a super-thin, viscous serum with a trace amount of pearlescent shimmer. It's available in two shades: Nude Radiance and Golden Radiance. The former is a Champagne shade, while the latter is darker, a chocolaty brown. I prefer the Nude Radiance shade, which — though several shades lighter than my skin color — creates a more natural-looking highlight than Golden Radiance, which delivers a warmer bronze glow.
You can use it alone over clean skin, or mixed with foundation wherever you want to add a highlight. I only use the fluid base above my cheekbones and down the bridge of my nose for "strobing" (because my oily skin can only handle so much shine). Since the formula is thinner than most liquid highlighters, it leaves a dewy glimmer around my face that looks like that magical, just-barely-there sweat. The highlighter is subtle, relying on opalescence instead of overwrought glitter, plus it dries quickly and stays put. Even after a day's worth of use, the highlighter won't melt and slide down my face. Whenever I wear the the fluid base, I feel like I just stepped out of a jewel-lined sauna. I glow in all the right places, even though that glow was most likely applied in my bedroom with the cool hum of my laptop buzzing in the background.
Burberry Luminous Fluid Base, $48 at Nordstrom.