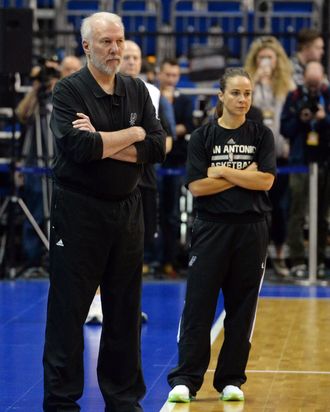 Photo: Jesse D. Garrabrant/NBAE via Getty Images
Becky Hammon, as you may be aware, is the 16-year WNBA vet who was hired as an assistant coach for the San Antonio Spurs last August and led the team to an NBA summer league title on Monday. Hammon got the assistant job after observing the team's meetings during her recovery from a 2013 ACL injury she suffered as a point guard for the San Antonio Silver Stars.

During the regular season, Spurs head coach Gregg Popovich had said he didn't bring Hammon in just to make news, and he was even more transparent about the staffing decision in a radio interview on Wednesday, ESPN reports.
"I hired her because she was in my coaches meetings for an entire year because she was injured. She's got opinions and solid notions about basketball. Obviously, she was a great player. As a point guard, she's a leader, she's fiery, she's got intelligence, and our guys just respected the heck out of her, so she's coaching with us, she's running drills. That's why we made her a full-time coach and gave her the opportunity to coach at summer league."
Popovich acknowledged that some people might think it's a stunt. It's not.
"I don't even look at it as, well, she's the first female this and that and the other. She's a coach, and she's good at it. I think some people thought this was some kind of gimmick or we were just trying to be cool. I'm glad she's there. I respect her opinion, I enjoy the give-and-take with her, and when she went to the summer league, that stuff's about development. … That was her purpose at summer league, and she did a great job trying to make guys play the way we wanted them to play."
"Pop" is one of the most well-respected coaches in the league — he's one of only nine NBA coaches to win 1,000 games and he has five championship titles to his name — and he continues to class up the joint with statements like these.