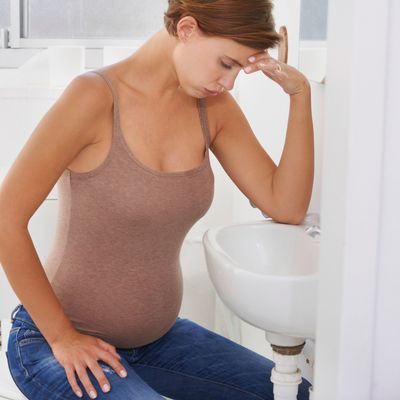 Photo: NS YAPR/Getty Images
Last night, Kim Kardashian posted on Instagram that she's taking Diclegis, a prescription morning-sickness drug to help with the nausea she's still experiencing while carrying Yeezy Jr. As she told Us Weekly at the CFDA awards in early June, "I've had really bad morning sickness, day sickness, night sickness — I can barely get out of bed." Diclegis is the only FDA-approved drug to treat morning sickness, known in the medical community as Nausea and Vomiting of Pregnancy (NVP). Kardashian wrote, "I felt a lot better and most importantly, it's been studied and there was no increased risk to the baby." The photo is drawing criticism both because Kim recently said that her Instagram account is "off limits" to advertisers, and since the drug has a controversial past.
Diclegis, which is a combination of OTC antihistamine doxylamine and vitamin B6, was pulled from the market in 1983 following lawsuits claiming it caused birth defects, ABC News reported. Manufacturer Merrell Dow maintained the drug (then called Bendectin) was safe, but discontinued it in the face of prohibitive insurance and legal costs. Numerous studies have confirmed its safety since then and the U.S. Food and Drug Administration approved Diclegis — the same formula made by a different company — in 2013 as a Pregnancy Category A drug, which means the medication failed to demonstrate health risks to the fetus in well-controlled human trials. It's the highest rating available, and some experts believe the drug shouldn't have been discontinued in the first place. Case in point: The Canadian company Kardashian is partnering with, Duchesnay, has manufactured a generic version of the drug since 1983.
"Diclegis is really safe," says Jill Rabin, M.D., professor of obstetrics and gynecology at Hofstra North Shore-LIJ School of Medicine. "It's absolutely the only antinausea medication approved for use in pregnancy by the FDA." Other drugs, like Dramamine, Zofran, and Thorazine are Category B, Dr. Rabin says, meaning there's no known risk in animal trials but no adequate studies in pregnant women. And she points to studies that found the rate of birth defects in the U.S. stayed the same after Bendectin was discontinued, while hospitalizations for morning sickness doubled.
"'Morning sickness' is a misnomer because 95 percent of women with NVP experience symptoms beyond the morning," Dr. Rabin says. "It can have a huge impact on people's lives." And, yes, you could buy Diclegis's two active ingredients at the drugstore, but she cautions against it. "There are medication errors possible because there are multiple active and inactive ingredients in the separate forms." Plus, Diclegis is a time-released formula that peaks five to seven hours after you take it, so going the DIY route wouldn't help you when you wake up feeling like death.
As with any medication, caveats apply. Duchesnay USA says Diclegis hasn't been studied in women with hyperemesis gravidarum, the rare, hellish form of morning sickness with vomiting so persistent it can lead to weight loss. (Kate Middleton had it in both of her pregnancies.) And they advise that pregnant women try to manage their morning-sickness symptoms. It should be used with caution in women who have asthma or other health conditions, and shouldn't be taken with alcohol, sleep aids, or other antihistamines.