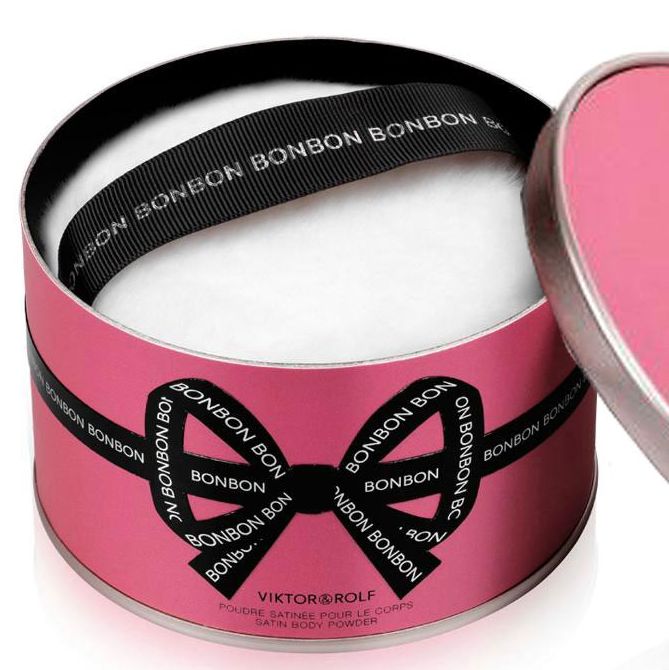 Photo: Courtesy of Viktor & Rolf
A scented powder from Viktor & Rolf's newly expanded body collection could make the next few balmy months feel a bit less miserable for everyone. Finer than run-of-the-mill drugstore powders, Bonbon powder evokes the smooth and creamy essence of the eau de parfum, but in a slightly less potent form. Harping mainly on the fragrance's prominent orange and caramel notes, it's perfect for the person who wants to smell sweet yet not overbearing — like a Ladurée bakery instead of a Krispy Kreme.
A flicker of the powder puff releases the baby-pink formula evenly over skin. It absorbs easily and leaves behind a faint trace of shimmer — so faint that it's appropriate for both a dive bar and the office. You can dust it all over your chest to prevent boob sweat, swamp-ass, and a perspiring gut because it not only makes you feel cooler, but also soaks up sweat like a sponge. And the scent lasts virtually all day.
At $80, the price is steep, but think of it this way: Bonbon powder is a cooling agent, a shimmer dispenser for an illuminated complexion, and a lasting fragrance in one. Also, with a powder this dainty on your dresser, just dare someone to tell you that you aren't classy as shit.
Viktor & Rolf's Bonbon Powder, $80 at Neiman Marcus.