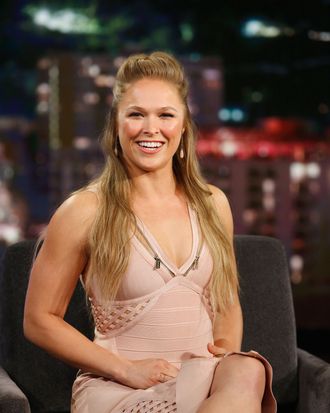 Photo: Randy Holmes/American Broadcasting Companies, Inc.
Ronda Rousey, the undefeated Ultimate Fighting bantamweight champion and the World's Most Dangerous Woman, is known for a brutal signature move where she hyperextends an opponent's elbow, but she got her start in a sport that forbids punches or kicks. Judo was supposed to be the path for the 28-year-old, whose mother AnnMaria De Mars became the first American, man or woman, to win the World Judo Championships in 1984. But after winning a bronze medal in the 2008 Olympics at age 21, Rousey didn't want to continue the all-consuming, spartan lifestyle of judo training, so she walked away, to the dismay of both her coach and her mom.
It's working out pretty damn well for her. She became a professional mixed-martial-arts fighter in 2011 and is on an 11-0 tear, including her two most recent victories in which she dispatched her challengers in just 16 and 14 seconds each. Rousey also seems to revel in playing the bad girl. As she told Jimmy Kimmel last night,"If I make the fight fast, that means I like you. That's me at my most merciful." For her next bout against Brazil's Bethe Correia on August 1, she won't be so kind. "With this next chick that I don't like, it's not going to be like that," Rousey said. "She's going to walk out looking different than she did walking in."
The Cut caught up with Rousey at the launch of Reebok's UFC Fight Kit uniform on Tuesday and talked about confidence, acceptance of women in the UFC, and going after her dream job.
Where does your confidence come from?
From years of proving myself to myself. It didn't come out of nowhere. I remember my first judo tournament at 11 years old being scared to death that I would embarrass myself, and the second one being like that. And the first time I fought out of the novice division, and I fought like green belts and blue belts, and the first time I fought in the senior division — every single little step forward that I made was terrifying to me. And every single time that I overcame those little terrors I gained more and more confidence in myself until I got to the point today where I'm like, "What else is there?" I really do believe I can do anything. It didn't come from nowhere, it came from not proving myself to other people, but to myself.
How did you talk yourself out of that fear when you were coming up the ranks?
My mom would tell me all the time: "No one has the right to beat you, no matter who they are." Even if the other person has more experience or they're older than you or they're bigger than you and all these other things, it doesn't matter because the scoreboard starts at zero. They don't start with an extra point ahead because they won the last tournament or something like that. She would always look at me and she wouldn't say, "Oh, my little baby, I'm going to love you no matter what." She would look me in the eyes and she would say, "you can win" and send me out there, and I believed her.
What are the comments you read and hear firsthand about women in a sport like this?
What I hear mostly is just real, universal acceptance. There will be the loud minority that will make a fuss, but overall everyone has been extremely supportive about it. The women are really at the forefront of the sport right now. That's the great thing about the UFC. It's such a young sport that it's not bogged down in so many decades of tradition where it can't be changed. It's really malleable right now. I love that we can really shift it from going extreme to now we're a mainstream Reebok brand and now we have women headliners. It's not something that would take too long for people to accept because there isn't really a long-established norm there yet.
You're a two-time Olympian in Judo but you realized that the Olympics weren't a career. Was joining the UFC partly a business decision?
Coming to the UFC, I wanted to find something that I loved to do and actually be able to make a living doing it, and there were very few things out there for me. I narrowed it down to two options: I was either going to be a rescue swimmer for the Coast Guard or be a women's MMA fighter. That job didn't really exist so I decided I would try to create it first, and if that failed I would go to plan B. Thankfully, plan B was never needed.
You've had roles in The Expendables 3, Furious 7, and Entourage. Is acting a plan B for you now?
One thing I learned from the Olympics is that nothing lasts forever. And I'm not stupid enough not to realize that in MMA you have a very short shelf life. I can't do this forever. I'm not going to make that same mistake the day after the Olympics of being like "now what?" In order to prevent that, I really want to, by the time I'm done fighting, have enough experience in acting to be able to act full-time and be decent at it, and actually be able to give myself an opportunity to be very, very good at it. I never want to be mediocre at anything. I'm kind of juggling right now, trying to do both at the same time, and of course fighting is the priority, but having longevity and happiness and being able to continue to work [is also important]. I mean, I could retire for the rest of my life right now and I don't want to, I want to keep doing great things. I want to find that next great thing to do.