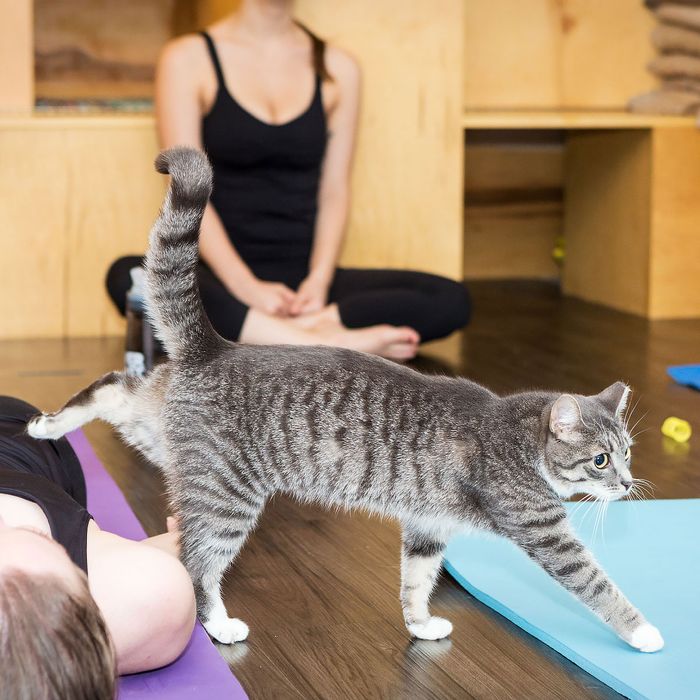 "I like to start with Cat Pose for this class," says Amy Apgar, a Prana Power Yoga teacher who's sitting in front of a ten-person yoga class at Meow Parlour, a "cat café" on the Lower East Side. Though the space is typically used for people to socialize with adoptable cats while chomping on cat-face macarons, Meow Parlour shuts down for an hour and a half every Tuesday for some cat-themed exercise.
Apgar is appropriately flanked by two cats: one who's sleeping in a board-game box above her head, and another who sits in a cubby beside her, eyeing its human prey. Today's class is all women, because — and I mean this as a sincere compliment to us women — there are very few men who would pay money for the privilege of exercising in the vicinity of cats. As a proud cat lady, I'm situated among these fearless femmes, pretending the room doesn't have the faint smell of a giant litter box.
Yes, cat yoga might seem absurd when you consider it's something you could do at home, with your own cat and your YouTube yoga videos, for free. But you don't go to cat yoga because your regular exercise class was overbooked. You go because it's a unique experience, and will probably be a funny story to tell later on, and because when you mention you went your friends will say, "But do the cats, like … do the yoga with you?" Or, in the case of one woman who attended, "You're doing yoga with cats? That's disgusting." 
Each hour-and-a-half class consists of 30 minutes of cat bonding, 45 minutes of yoga, and 15 minutes of saying good-bye to your newfound feline friends. Of course, the thing about cats is they sleep for 12 to 16 hours a day, so there's a really good chance that any time you visit a cat café they're all going to be napping. That was the case here — but you can always sidle up to them and gently whisper that they're sooo cute and I just wanna take you home and OMG look at your cute little paws as they try to sleep.
It was after we rolled out the yoga mats and were sitting atop them with our eyes closed doing breathing exercises that I remembered I'm technically allergic to cats, a pesky medical fact that I always conveniently forget until it's too late. And though breathing is pretty much the central pillar of yoga, it's also the part I'm the worst at, because the second you tell me to focus on my breath is the second I discover I suddenly forgot how to breathe. As the allergic asthma and breathing anxiety kicked in simultaneously, I wondered if I had made the right choice, exercising covered in cat hair on a mat covered in cat scratches. But this was for Journalism — or at least a good Instagram selfie — so as long as I didn't break out into hives, the show must go on.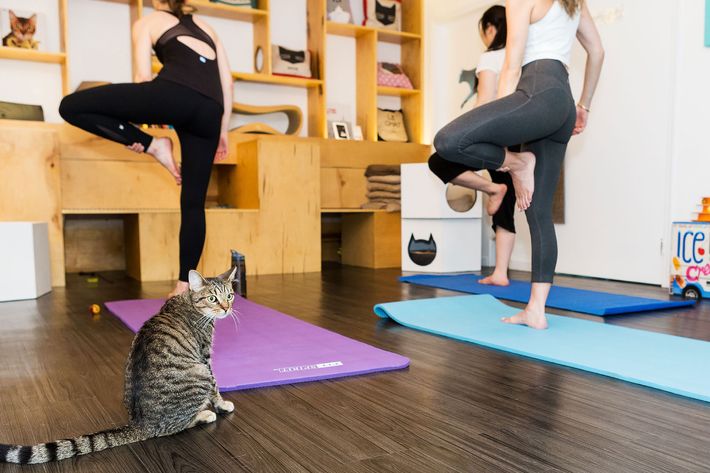 Though our downward dogs were intermittently interrupted by cats chasing each other through the maze of attendees or sharpening their claws on the corners of our mats, their participation largely amounted to suspiciously eyeing us from high perches. Part of me had pictured cats climbing onto your belly during wheel pose or weaving in and out of your wrists as you plank, but that was more of a pipe dream, something I will have to act out with my own cats at home.
We closed the class with savasana, our palms turned up toward the sky, cats blinking at us like, "You guys done yet?" As it turns out, cat yoga is perfect for people who spend regular yoga classes thinking, "I wish I was hanging out with cats instead." And who among us hasn't done that at least once?