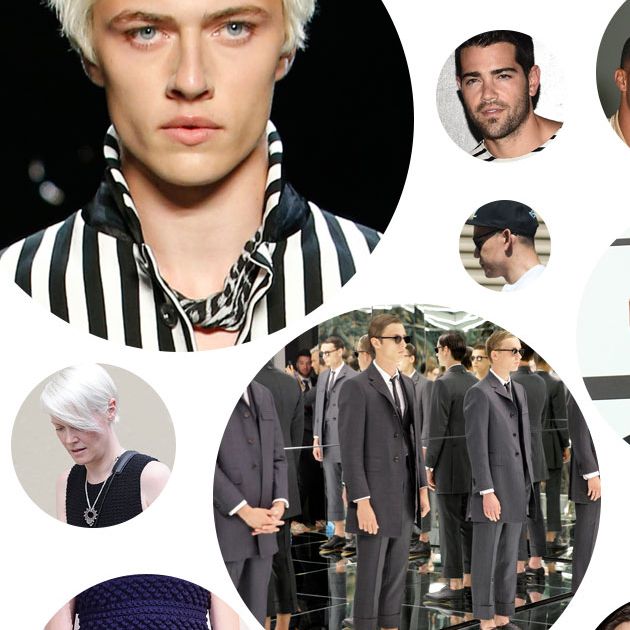 Photo: Getty Images, Corbis, Theory/Instagram, Rag&Bone/Instagram, BFAnyc
Having covered 25 women's fashion weeks and zero men's weeks, I was a little unsure what to expect when I set foot in Skylight Clarkson Square, the HQ of the inaugural New York men's fashion week. It was a lot like Bizarro World, fashion edition: unfamiliar players, a preponderance of professional athletes, and many, many, (SO many) appearances by Joe Jonas. But, as my menswear sherpas explained to me, the men's world is a friendlier, more low-key, we're-all-in-this-together sphere than the high-stress juggernaut that is women's fashion. (Yes, this might be the one industry in the world where men can be considered underdogs.) Going in with very low expectations, I ended up having a blast. Here, a dozen delightful, funny, and weird moments from the four-day extravaganza.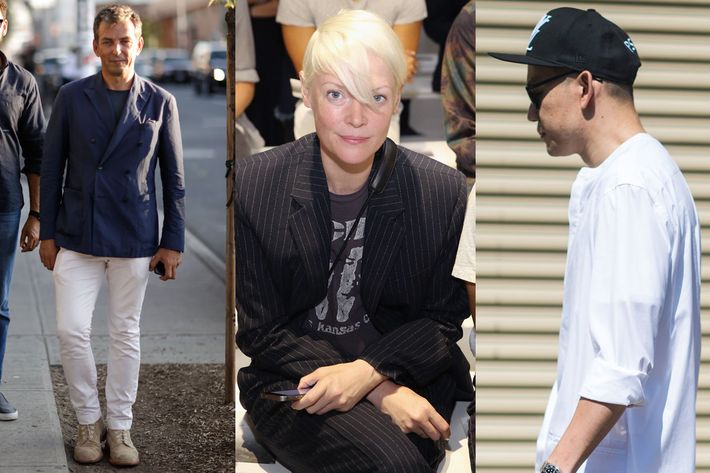 I contracted serious menswear envy.
Women's street style is often so over-the-top that I don't find it terribly relevant to my own life or wardrobe. But its men's equivalent made for some  A+ sightings. After seeing Details' Eugene Tong's minimalist white tee-and-cap look and Nick Sullivan of Esquire's extensive jacket wardrobe, I'm beginning to consider shopping in the men's department. Maybe I'll make like Maxim EIC Kate Lanphear, who was serving menswear-as-womenswear realness throughout the week.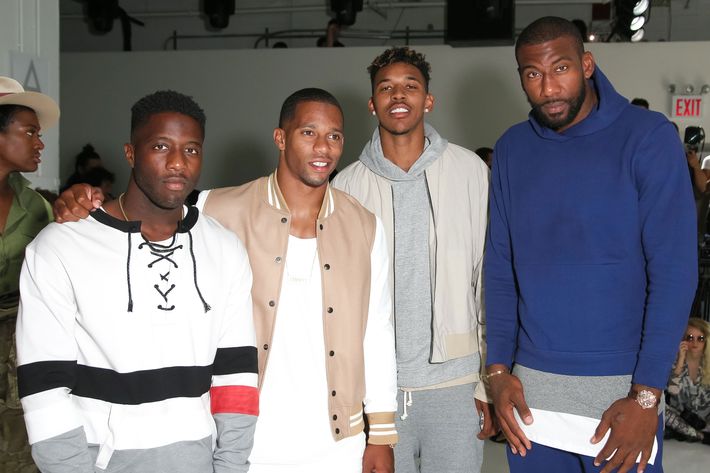 I "got into sports."
After hearing I'd be at an event with the Giants' Victor Cruz, my boss texted me to ask if I could get an autograph for her son. Cruz couldn't have been sweeter and even included a little message. By the end of the week, I was conversant with all the athletes gathered at the shows, from Nick Young to race-car driver Lewis Hamilton, not to mention the parkour stars flipping impressively outside the Rag & Bone presentation.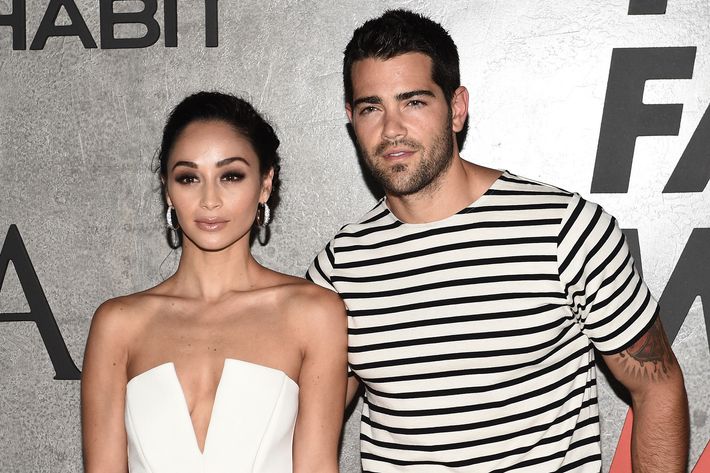 I sustained a number of bizarre micro-friendships.
At fashion dinners, members of the fourth estate are usually grouped together, away from the VIPs, as though journalism might be contagious. So I was surprised to find myself seated across from Jesse Metcalfe at the Esquire supper. He offered me some of his shrimp cocktail and we talked about country music. Metcalfe and his charming wife, Cara, and I then entered into one of those miniature turbo-friendships that exist only during cloistered multiday events like this, where we'd see each other at shows and greet one another like long-lost relatives. Later, at the John Varvatos show, a middle-aged guy spotted me in the second row and came over to chat with me about my T-shirt. I later learned he was Chad Smith, drummer for the Red Hot Chili Peppers. I also developed short-but-intense bro-ships with various menswear editors and buyers as we got thrown together at the shows. These kinships may have all had the shelf life of a bodega banana, but that doesn't mean they weren't real.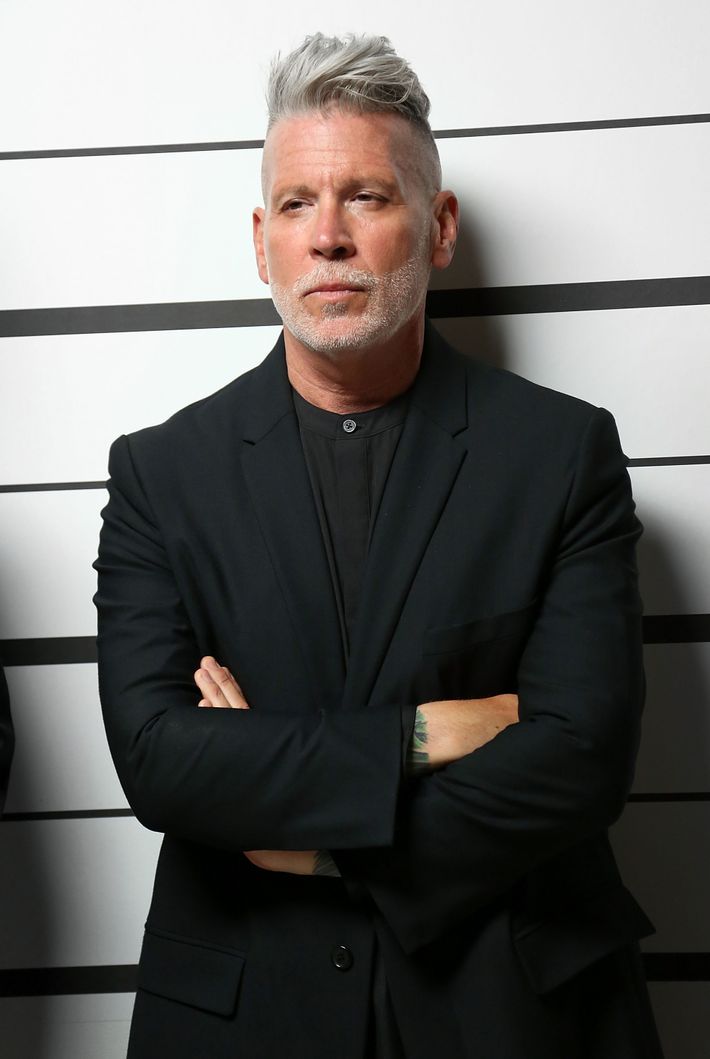 I bowed down to the Woost God.
Street-style supernova Nick Wooster was everywhere — modeling in the Public School show, wearing a seersucker shorts suit in the front row. I now understand why everyone is so obsessed. Do you know any 55-year-olds who can pull off a raised middle finger and an elaborate leg tattoo this well?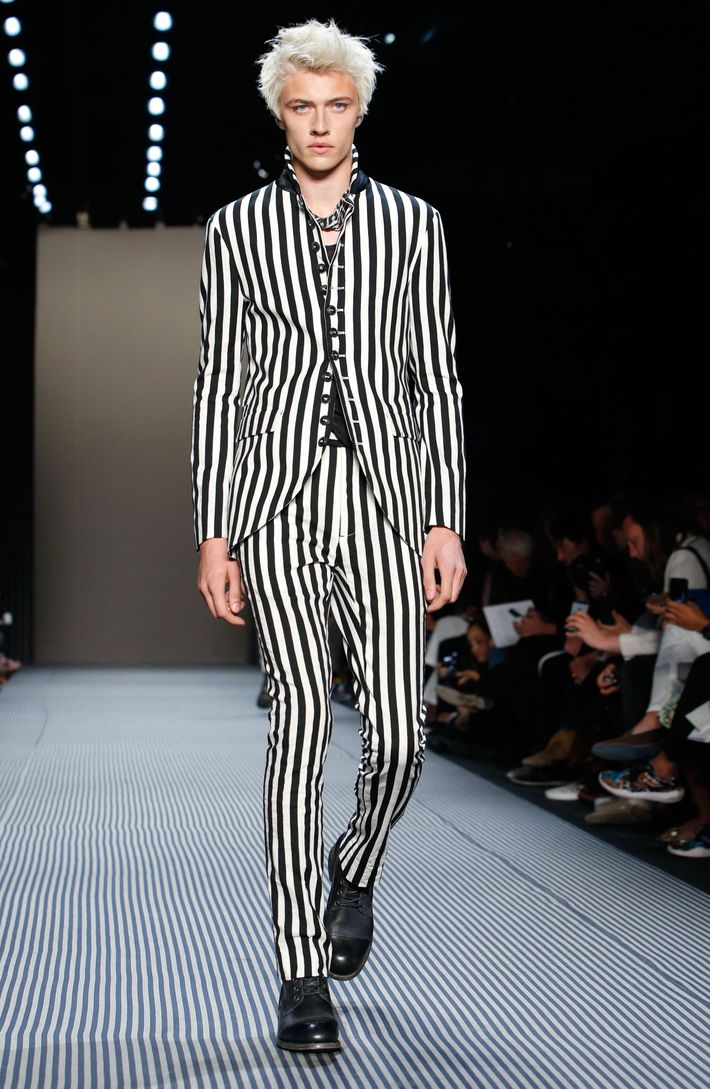 I can finally ID (some) male models.
Lucky Blue Smith, whose platinum hair and searing blue eyes are hard to miss, was already a known quantity, but Michael Lockley's signature blonde Afro and Felix Gesnouin's sense of humor (check out his silly Instagram presence) are equally appealing features.

The inspirations were all over the place.
Fledgling label Boyswear was inspired by the Manson family and the von Trapp family. Gypsy Sport, which just got a well-deserved CFDA/Vogue Fashion Fund finalist nod, showed a collection titled Jade Helm. What's next, a collection themed around chemtrails? Actually, that sounds like it could be cool.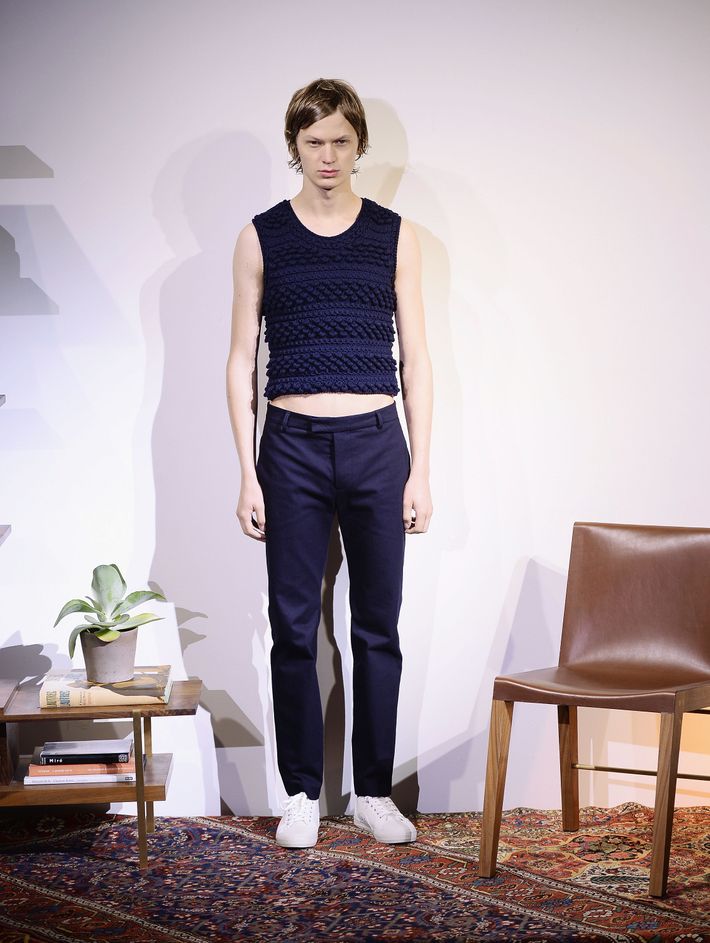 Crop tops for men were on hand.
Apparently, Orley wants you to show off your midriff for spring 2016.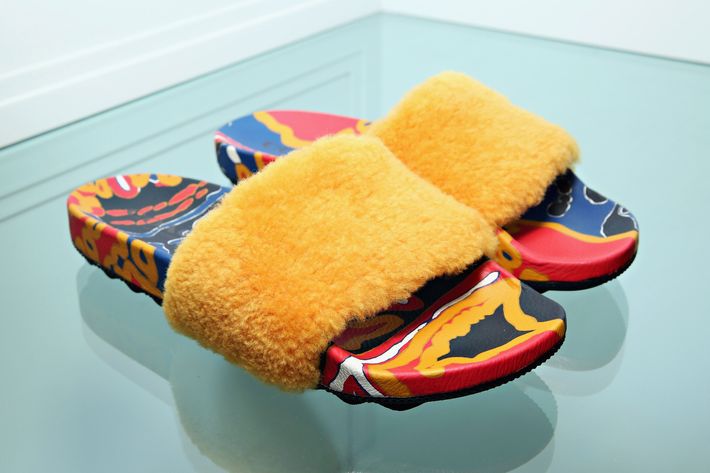 Coach showed fuzzy orange shower slides.
Creative director Stuart Vevers told me he was inspired by Matt Dillon in The Flamingo Kid. That extended to riotous camolike prints and shearling-embellished pool slides. "The parameters of men's are still narrower," the designer admitted, "but I think with more established, iconic things like a sneaker or a slide, there's more room for design intervention."

The swag was strange.
One day I went home with a premium vaporizer and a large container of jam. Weekend plans, here I come?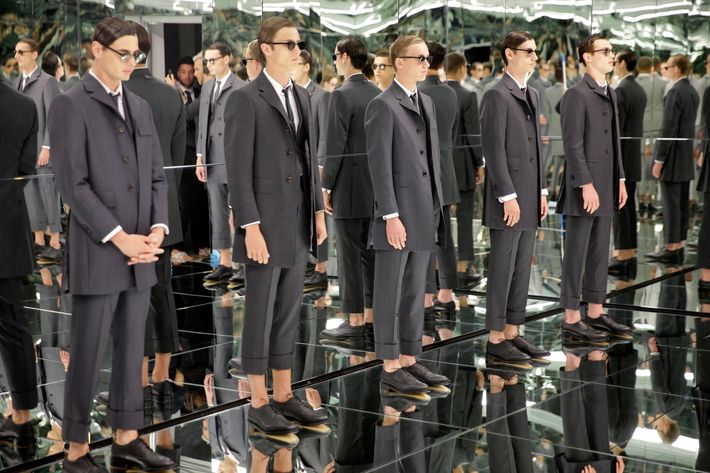 The highs were high— 11 stories, in fact.
I battled vertigo at the Theory presentation, where male and female models showed off the brand's menswear on a Meatpacking District rooftop. Presumably, the models, who stood atop gigantic risers, were warned, "Don't look down." It was even more disorienting than the mirrored box set at Thom Browne.
The parties were NUTS.
Or so I hear. Public School had co-designer Dao-Yi Chow on the ones and twos, while Wilhelmina Models' after-party involved models boxing in underwear wearing wrestling masks, suggesting that many of these party themes are created via Mad Libs.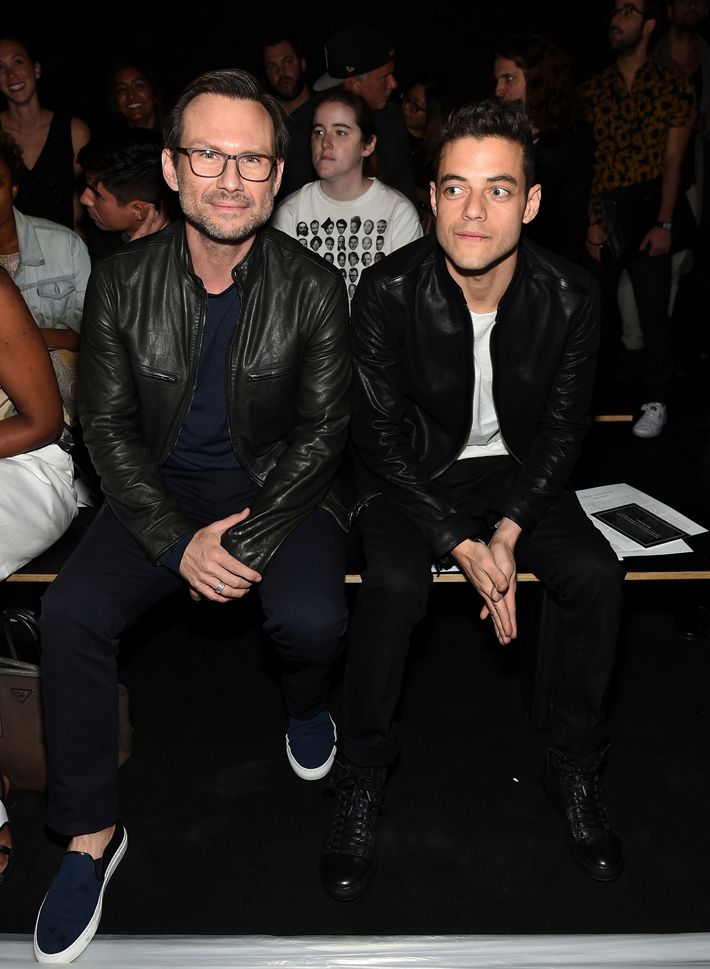 I witnessed a meeting of the minds.
I had the best seat in the house at Varvatos — right behind my No. 1 all-time crush Christian Slater. While I tried to think of something to say — "I hear Mr. Robot is pretty great, but I haven't actually seen it?" "Our love is God, let's go get a Slushie?" — Slater turned to Bill Cunningham, who was sitting next to him, and they started up an animated chat. It might have been the most unlikely pairing in a week filled with them.