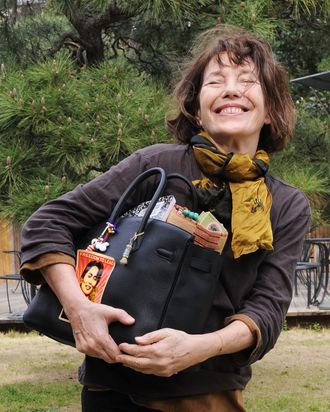 Photo: Jun Sato/WireImage
Jane Birkin has been associated with her namesake waiting-list-commanding Hermès bag for more than 30 years. (The brand's late chairman Jean-Louis Dumas was inspired to create it when he sat next to the style icon on a plane.) But it sounds like that might not be the case for long. As reported by Yahoo! News, the singer-actress has taken issue with the luxury house over the Birkin Croco style, made from crocodile skin, on animal-rights grounds. So much so that she wants the company to take her name off the bag.
Birkin released the following statement: "Having been alerted to the cruel practices reserved for crocodiles during their slaughter to make Hermès handbags carrying my name … I have asked Hermès to debaptize the Birkin Croco until better practices in line with international norms can be put in place."
Update: We reached out to Hermès for a comment, and they responded with the following statement:
Jane Birkin has expressed her concerns regarding practices for slaughtering crocodiles. Her comments do not in any way influence the friendship and confidence that we have shared for many years. Hermès respects and shares her emotions and was also shocked by the images recently broadcast.

An investigation is underway at the Texas farm which was implicated in the video. Any breach of rules will be rectified and sanctioned. Hermès specifies that this farm does not belong to them and that the crocodile skins supplied are not used for the fabrication of Birkin bags.

Hermès imposes on its partners the highest standards in the ethical treatment of crocodiles. For more than 10 years, we have organized monthly visits to our suppliers. We control their practices and their conformity with slaughter standards established by veterinary experts and by the Fish and Wildlife (a federal American organization for the protection of nature) and with the rules established under the aegis of the U.N.O, by the Washington Convention of 1973 which defines the protection of endangered species.