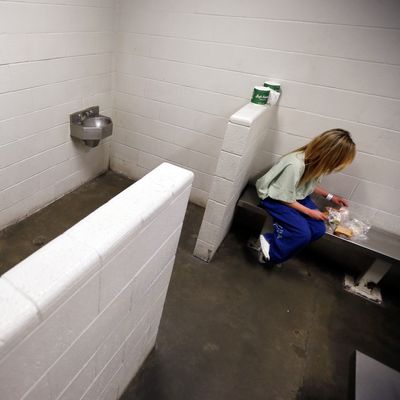 Photo: Lucy Nicholson/Corbis
A new report compiled by the Human Rights Project for Girls, the Georgetown Law Center for Poverty and Inequality, and the Ms. Foundation for Women details some of the terrible ways in which the juvenile justice system fails young girls, the majority of whom are impoverished girls of color. The report found that though a shocking number of girls in the juvenile system are victims of abuse, the system is ill-equipped to address and treat their traumas, and instead exacerbates their suffering and pushes them back to the behavior that landed them behind bars in the first place.
The report calls this the "sexual abuse to prison pipeline," and it works like this: A girl may be sexually abused at a young age, leading to unaddressed trauma or mental illness and spurring a reactive behavior that can land her in juvenile detention. Once inside, her trauma symptoms are triggered or she's subject to new forms of abuse, leading her to eventually be released not only untreated for prior trauma but suffering even more. She then resorts to the trauma-coping behaviors that landed her in jail in the first place, or she's simply returned to the original unsafe environment, whether it's foster care or living with an abusive relative. Once she acts out again in reaction, she's arrested again, and the cycle starts anew.
Worse, girls are being punished simply for being victims of sexual abuse. The Times reports that some states allow girls as young as 13 to be arrested for prostitution; they're then funneled into the system and treated like criminals, instead of what they really are: victims of abuse and sex trafficking.
"When law enforcement views girls as perpetrators, and when their cases are not dismissed or diverted but sent deeper into the justice system, the cost is twofold: Girls' abusers are shielded from accountability, and the trauma that is the underlying cause of the behavior is not addressed," concludes the report. In a multistate study, the report found 31 percent of girls in the system have been sexually abused, but in specific states that number is much higher. In Oregon, 93 percent of girls had experienced sexual or physical violence; in Florida, 84 percent.
So what can be done? In addition to policy changes, including strengthening the Juvenile Justice Delinquency and Prevention Act and providing gender-specific physical and mental health care inside the system, we need to make an effort to learn more about the girls' plight. Very few studies focus on or even include girls, since they make up a much smaller proportion of kids in the juvenile justice system. According to the report, "When we lack the most basic information about girls' unique needs and what is happening in their lives, especially against the backdrop of high rates of sexual violence, the battle to develop effective strategies for their health is an uphill one."