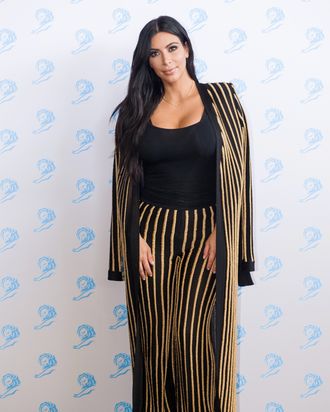 Photo: Francois G. Durand/Getty Images
Like all the guys you dated in college, Kim Kardashian just doesn't like labels. On Tuesday during an onstage interview at the prestigious Commonwealth Club of California with LaDoris Cordell, Northern California's first female black judge, Kardashian said a lot of people call her a feminist, but "I don't like to put labels. I do what makes me comfortable." (Update: In a Rolling Stone interview released Wednesday, however, Kim makes the same comment about no labels, but adds, "I think you would call me a feminist.")
Though Kardashian doesn't officially label herself a feminist, she does support one woman who does: When asked if she thought Hillary Clinton should be the first female president, Kardashian responded, "I hope so!" She also proffered her opinions on gay marriage (pro) and gun control (also pro), as well as admitting that people sometimes discount her business acumen because of her sexiness.
"I think people still look at me as the persona that's portrayed on the show," she said. "The show doesn't video my boring work meetings throughout the day. It's hard when people want to put you in a certain box or a certain way. I don't pay much attention to it."
Even if Keeping Up With the Kardashians did record the mundane inner workings of the Kardashian business empire, a bajillion people would probably still watch.