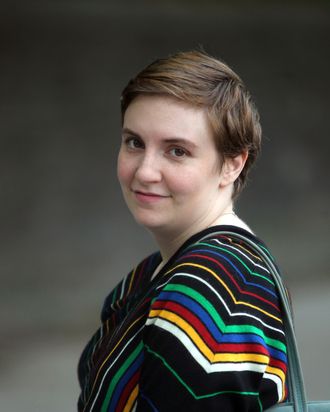 Photo: Steve Sands/GC Images/Getty Images
The Lena Dunham experience is getting another brand extension: Starting in September, Dunham will add "newsletter publisher" to her résumé, right above "Emmy-nominated TV producer" and "Taylor Swift bestie." Along with Girls showrunner Jenni Konner, Dunham plans to launch Lenny, a weekly email newsletter that will offer advice, essays, and product recommendations to millennial women. "Lenny is your over sharing Internet friend who will yell at you about your finances, help you choose a bathing suit, lamp, president … AND tell you what to do if you need an abortion," reads the newsletter's mission statement.
Under the direction of Jessica Grose (a veteran of Slate and Jezebel), Lenny will publish a collection of voices on everything from politics to relationships to fashion, aimed at women ages 18 to 34. Dunham and Konner are funding the newsletter themselves, and the team will start small — along with Grose, the Lenny employees will be Benjamin Cooley (CEO), Laia Garcia (associate editor), and Doreen St. Félix (editor at large) — but will also solicit paid contributions from outside writers. Audrey Gelman will serve as an outside adviser. Eventually, they plan to expand into e-commerce, focusing on artisan products created by women.
Dunham told the Cut she came up with the idea for Lenny on the tour for her book, Not That Kind of Girl, during which she met hundreds of young women who were "inspiring me with their sense of community and their deep, deep desire for intelligent, politically liberal, thoughtful content that would speak to them." Dunham and Konner saw a newsletter as the ideal incarnation of that editorial space: a place where they could expand beyond Twitter's character limit but also not feel burdened by daily updates. Plus, Grose added, "a newsletter seemed like the perfect opportunity to grow, but it doesn't have this pressure of pageviews."
The newsletter plans to target an audience that is more diverse than, say, the first-season cast of Girls — it won't just be for "straight, white cisgender women," Dunham told the Cut.
"We want it to be an inclusive space," she said. "We're not making any assumptions about your identity. We're making the assumption that you're passionate and you care about other people's emotions and style and you just want to live a more connected life."
And though it's following in the footsteps of other celebrity lifestyle projects, don't call it Goop (Lenny will target the young and the broke, as opposed to the parental and the privileged) or the anti-Goop.
"We don't see Lenny as the anti-Goop, even though we realize that our readers may not have the same income in their lives," Dunham said. Plus, Konner added, "We worship Gwyneth. She has literally been the most supportive person of this project of anyone we've spoken to."