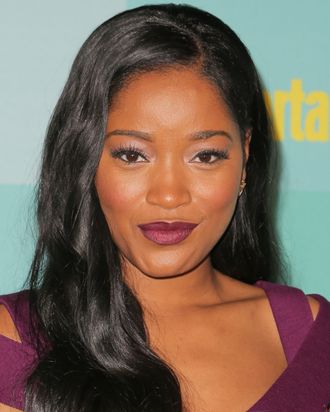 Keke Palmer.
Photo: Chelsea Lauren/WireImage
Keke Palmer is something of a unicorn: Even setting aside the fact that she's a successful actress, singer, and Broadway star, she's also a seemingly totally normal child turned adult star. Her latest projects include a role in Ryan Murphy's highly anticipated new series, Scream Queens, and a partnership with Playtex Sport to encourage women to stay active.
Palmer spoke with the Cut about being a fixer, how she rises above online bullying, and what Rihanna writes to her in her Twitter DMs.
You recently cut your hair into a pixie. What prompted the change?
I've been meaning to cut it for a long time, but in the industry it's really difficult because everybody wants a specific look. I feel like I've been known for having long, black hair, so when I took all my extensions out and cut my own hair, it was the most freeing thing, I think, I've ever done. That was my 21st year: I cut my hair, I was doing Broadway, I was living in New York, and I was really having a moment of becoming my individual self and it was amazing. My hair is still short, but every now and then I have to wear my little wig.
Some people weren't fans of the haircut. How do you rise above online critics?
I don't know if I handle every situation perfectly. I'm very hard on myself but always try to come from a place of how can I fix it, how can I stop the problem, as opposed to escalating it further. If I'm this asshole back to them, then they won't ever see that they were an asshole to me.
Where did you learn that kind of maturity?
I think I just experienced a lot of weird dynamics at a young age that caused me to dig a little deeper into how to handle things. As a kid, when you're getting paid more than adults, it can cause things to be very weird. I had to deal with a lot of awkward situations, working situations, and even sometimes family situations because of my career.
How do you stay focused on your career?
I definitely meditate and work out, and I'm always honest with myself about how I feel. My type of personality is that I like to be focused. I think I was blessed at a young age to find my passion and I realized how meditative that was within itself — having something you love that you can lose yourself in. I have a tattoo on my arm that says: "We are what we repeatedly do. Excellence, then, is not an act but a habit." I truly believe you are what you repeatedly do. You can change. You can become anything that you want to become because you are the one who chooses the habits that you do every day. You can make them all positive, or you can make them all negative.
What motivates you to work out?
Do you love yourself? That's what I ask myself, because after I broke up with my longtime boyfriend, I took a lot of time to realize and understand the concept of truly loving myself — literally treating yourself with care. That doesn't mean just making sure people aren't mean to you, or making sure you have good friends, but also physically loving your body and doing right by it. For me, it became motivation simply because it's not so much about looking nice but more about feeling good. It feels good when I work out. It makes me have energy. When I'm eating well, I'm able to deal with things better. When I started realizing the benefits to my body, health-wise, that's really what motivated me. I don't want to be limited by my body because I'm eating poorly or because I'm not exercising and I don't have the energy. I want to be able to live life to the fullest and so my love for life is what motivates me to keep myself going.
Do you see yourself always in entertainment?
I love acting, I love doing music, but I feel at some point I'll want to be even more of service. I'll want to be the one helping an artist or finding young talent. I feel like so many people put time and effort into me, and so many people offered me opportunities. When I think about people like Queen Latifah, who literally found a script for me to star in, that's what I want to be for somebody. When you look at someone like Queen Latifah, or you think about the Will Smiths, those people are multifaceted. They do so many different things, but most important, they give back.
When I was 15 or 16, I was going through a lot of stress because my life was starting to change in a major way and I didn't know how to deal with a lot of the changes. I remember talking to my attorney, and he was like, "I've worked with Will Smith for a really long time and he shared some similar things when he was going through The Fresh Prince of Bel-Air." Literally a week later Will Smith called me. He was like: "I just wanted to call you and let you know …" I'm like, Will? Will? He was in China with his son as he was shooting Karate Kid. That's unbelievable! I want to be like that for somebody. He didn't have to do that. Same thing with Rihanna. I adore her and I remember one time I DM'ed her and I was like: "I love you. You're probably never going to read this but I'll always have so much love for you and I love what you do." She hit me back and said, "You are such a beautiful spirit, continue embracing God's grace."
I feel like I've been very blessed to have people encourage me, or spend some time with me. Growing up in the industry, sometimes you can feel as if you're not having a normal childhood, but I feel like my parents involved me with a lot of people who made things as "okay" as they possibly could. I think that's another reason why I like to involve myself with things like what Playtex is doing with Fit to Play, because I always want to be somebody who can stress the importance of anything that I feel has gotten to help me.
This interview has been edited and condensed.