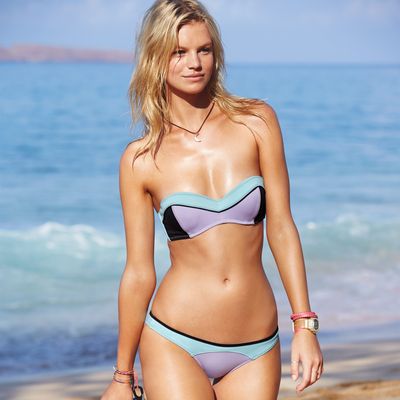 The catalogues come like clockwork, sometimes more than once a week. On every page, now-familiar faces stare out at me: Candice, Lily, Elsa, sometimes Alessandra. The gang's all here! the full-color spreads say. You can join them, too! You can look this sexy in one of our bathing suits!
This is a wonderful bit of aspirational fiction, of course. Not only are the women in these photos models, and therefore professionally sexy, but they're Victoria's Secret models — which is to say that they're extra professionally sexy. I am a writer. I am not expected to kneel in sand with wet hair in some state of near-ecstasy. Yet every year, I pick out the suits that I like, silhouetted on those perfect bodies against the beaches of Tahiti or Puerto Rico, and I send away for all of them.
I grew up in Los Angeles, never far from a pool. After school, my siblings and I would swap our uniforms for Lycra and do a few laps, even in December. We knew that chlorine would ravage even the nicest fabric in due time, so we maintained drawers full of suits to rotate. To this day I can't fathom the idea of spending even close to $100 on one swimsuit, let alone half of a bikini.
Of course, expensive suits aren't really for swimming. Whenever I see women in Hervé Léger one-pieces and heels, or other high-end bits of neoprene and mesh, they're usually lounging around a hotel pool at the kind of party where few people actually get in the water. Even if it wasn't taboo to take a dip, the various straps and triangle tops send a message: "There's no way I'm getting this wet."
As children, we'd stock up at Target and Pink, with maybe an Abercrombie or American Eagle suit thrown into the mix. Nothing ever cost more than $75, and that was considered extravagant to the point of silly. The best finds were the ones that fit a color scheme already in our bathing-suit drawers, so we could mix and match as much as we pleased. But the holy grail of swimsuits were from Victoria's Secret. They came printed or solid with so many variations on cut and color and details and straps and coverage that your odd tan lines would eventually cancel one another out.
It's been ten years since I bought my first VS suit, and my body has changed considerably. But they still do me justice. Victoria's Secret creates lingerie for the Everywoman, and knows what she looks like when she's almost naked. What is a swimsuit besides socially acceptable underwear? I don't worry about my boobs or my butt, and I can relax knowing that there are different cuts for whatever anxiety my hips or waist or stomach is giving me that day.
Keep your fancy designer swimwear, your neoprene, your laser-cut edges. If you tell me to spend $110 on a bikini top and an extra $85 for a bottom — mere square inches of fabric, all told — I will laugh in your face. And then I will wait another season for Victoria's Secret to churn out a similar approximation. Because they will make it. And I will buy it. And I will wear it into the surf and the pool and the ground.