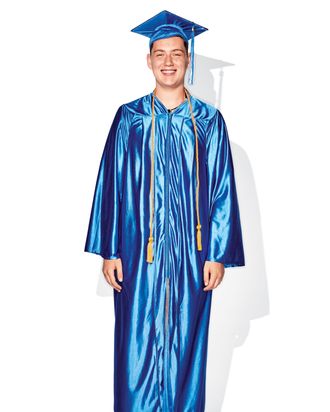 "I'm going to Brooklyn College next year as part of the Macaulay Honors College."
Photo: Bobby Doherty
Benjamin Karasik, Student
Congratulations! What are you graduating from? High school. I'm valedictorian — well, not really. My school actually doesn't do that stuff, but if they did, I would be. I had the highest GPA: a 4.0, a 96-point-something. I'm going to Brooklyn College next year as part of the Macaulay Honors College.
Would you ever live anywhere other than New York?  Maybe France. I lived there when I was in middle school, in the Charente-Maritime region. I liked the fresh air, and the stars, and the quiet nights. And I loved snails.
Big summer plans? I'm probably going to Russia to stay with my grandmother, who's a really old-fashioned babushka type of lady, for a few weeks in a small house in the middle of the woods, without internet, without TV. I want to spend some time in nature before college.
Lightning Round
Neighborhood: Upper East Side.
Favorite subject: AP English.
Last good book read: To the Lighthouse.
Last good movie seen: Nightcrawler.
Preferred social media: Snapchat. "You don't have to take the best or most perfect picture, like with Instagram, just what you're doing at the moment; you can just show yourself."
*This article appears in the July 13, 2015 issue of New York Magazine.