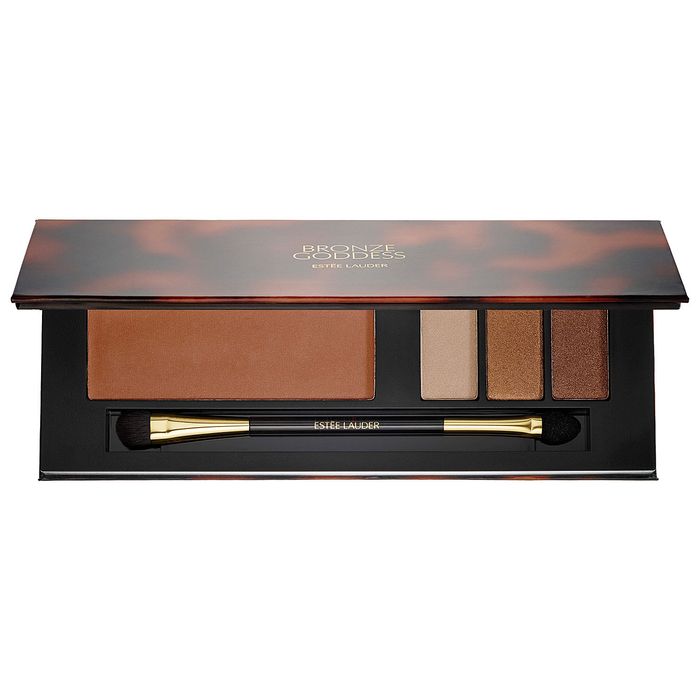 Estee Lauder Bronze Goddess Shimmer Nudes Palette.
Photo: Courtesy of Estee Lauder
Estée Lauder's Shimmering Nudes Face and Eye Palette, the newest extension of the company's Bronze Goddess line, is an eye shadow and bronzer combination that will totally change your mind about owning a makeup palette. First there's the bronzer, which is anchored by a brown-reddish base that nearly mimics a tan. For lighter complexions, it sculpts cheekbones, foreheads, and jawlines; and for darker complexions, it adds an overall warmth to the face. It has a little shimmer, won't make your face look shiny or muddy, and plays up a healthy summer glow.
Alongside the bronzer are three neutral eye shadows that enhance any eye or skin color. The lightest shade is a stone-meets-champagne hue, which, by dotting a tiny amount in the inner corner of my eyes, I use to highlight my gaze. A golden shade sits next to that, which I use for the center of my eyelid, and a chocolate brown shade next to that, which I use for the outer corner of my eyes. Like the bronzer, all three shadows have a little bit of shimmer, but it's a grown-up shimmer that doesn't look too sparkly. The colors, which stay put all day, even on my especially oily eyelids, are also buildable in intensity: One swipe delivers a subtle wash of color, while three coats deliver a pigmented and acutely bold color. Changing the narrative of most makeup palettes (since there are typically only two useful colors), the Estée Lauder Shimmering Nudes Face and Eye Palette is perfectly curated with realistic, viable color options. It could convert even the most ardent makeup-palette hater, which, in this case, was me.
Estée Lauder Bronze Goddess Shimmering Nudes Face & Eye Palette, $55 at Sephora.