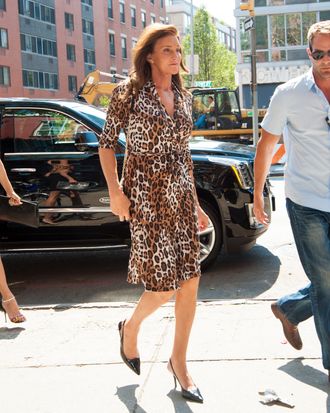 Photo: NorthWoodsPix/Corbis
Like an LGBT-minded Taylor Swift, Caitlyn Jenner has wasted no time reaching out to influential members of the trans community and ushering them into her girl gang. Now an outspoken trans activist, Jenner has surrounded herself with LGBT advocates and allies whose inspirational stories she plans to share in her new WhoSay editorial series. But who exactly are these "power trans ladies"? Meet Caitlyn Jenner's super-squad, composed of badass women who together have been advocating for trans issues for decades.
(Pictured above l-r: Candis Cayne, Caitlyn Jenner, Chandi Moore, Geena Rocero, Allie Hoffman, Trace Lysette, Barbara Carralles, Kate Bornstein, Sam Feder)
A Hawaiian-born trans actress and performer, Candis Cayne became a fixture on the New York nightlife scene in the '90s through her performances at gay bars around the city. Cayne scored recurring roles on shows like Dirty Sexy Money and Nip/Tuck, and frequently appears on RuPaul's Drag Race. Jenner attended a performance of hers during Pride Week in New York, before the two sat down to dinner with several other trans activists. They also hit up the Broadway show An American in Paris together. Here are Cayne and Jenner arriving at the show:
A Filipina model and speaker, Rocero is the founder of Gender Proud, a transgender-rights advocacy group. Rocero famously came out as transgender during a 2014 TED Talk on International Transgender Visibility Day. "I really can't imagine going through this by myself," Rocero told the Cut in 2014 of her journey as a trans woman. "It's a sisterhood."
Here Rocero poses with Jenner (left) and Cayne (right):
Lysette plays the yoga instructor Shea on the Amazon series Transparent, and was interviewed alongside Orange Is the New Black's Laverne Cox for a New York Times feature about being transgender in Hollywood. Lysette spent many years in the closet in Hollywood going out for cisgender roles, and only recently began publicly identifying as transgender. Now she stars alongside childhood idols like Patrick Stewart in multiple TV series:
"Queer and present danger" Kate Bornstein is a longtime performer and LGBT advocate who identifies as gender nonconforming. "Auntie Kate" has written and edited several anthologies on gender theory and was recently the subject of a documentary made by New York–based filmmaker Sam Feder. Ze (Bornstein's preferred pronoun) also has a really cute cat. Here's Bornstein kissing Rocero on the cheek during Pride:
Carrellas is an author, sex educator and the longtime partner of Bornstein. She teaches tantric sex workshops and lectures about sex at universities across the country. She also can think herself into an orgasm.
Chandi Moore
Moore is a member of the award-winning group Trans Girls in Action Divas, who are "educating, empowering and enabling the world to see that we are." A community health educator in Los Angeles, Moore also pals around with fellow trans-advocate Janet Mock and hung out at Caitlyn Jenner's Malibu home.