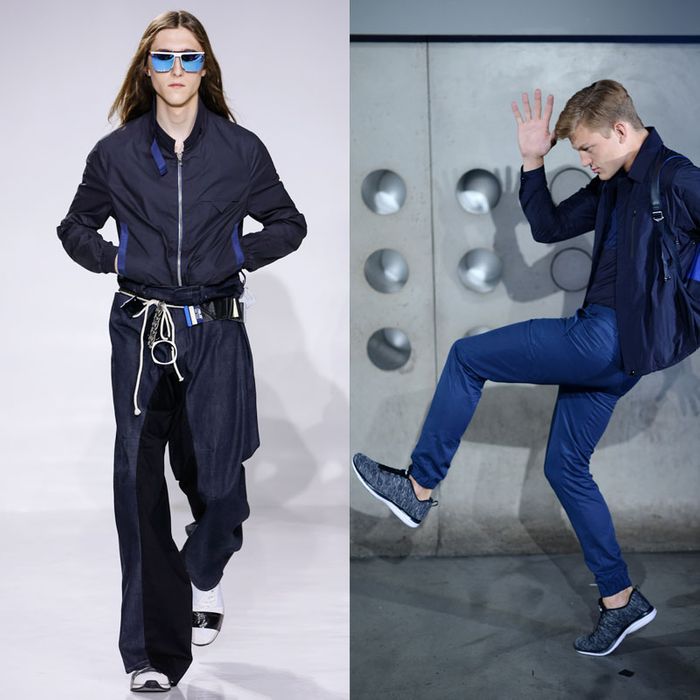 Photo: Courtesy of Polo Ralph Lauren, Getty Images
Performance fabrics were once the province of the less-than-chic, fleece-y brands of the world. But, combined with wearable tech, they've found a firm foothold on the men's runways this season. As New York men's fashion week wrapped up yesterday, one practically needed a STEM background to follow the technological patter. Polo Ralph Lauren makes a compression shirt — introduced on ball boys at the last U.S. Open — embedded with a fitness tracker so you can shed your wrist device of choice. The presentation also included plenty in the way of high-tech outerwear, athleisure, and sport apparel, in the form of the RLX line, housed in its own separate room.
While sporty-fabric technologies are creeping into the women's fashion space — Alexander Wang explored the concept for his wildly successful H&M line — this seems like one of the arenas in which menswear has us lapped. Maybe it's a reaction to the dominance of smartwatches: Yesterday's collections were full of clothes that don't just sit around looking pretty, but that work hard, too. And womenswear designers ought to be taking notes. Plus, if we've learned anything this summer, it's that women play just as hard as men.
Luis Fernandez, a former architect, was early to the athleisure trend with his previous line, NUMBER: Lab. "Functionality has always been a big thing for me," he says. When plotting out Craft Atlantic, his three-season-old brand, he asked,"What's your perfect travel outfit that can get you through any situation?" Thus, everything, from the relaxed shorts suits to the two-tone polos to a windbreaker with an Escher-inspired print, is lightweight and packable, with many pieces converting into zippered pouches. This season, the designer looked to the past — specifically, the optimistic '60s modernism of the Lúcio Costa and Oscar Niemeyer–designed city of Brasília — and the future, in the form of Interstellar-style space travel. His was also one of the best-dressed audiences of the week, with Lorenzo Martone and Peter Som among the dapper guests. "A lot of the guys coming through, I'm like, 'Great, thank you, go take your place,'" Fernandez joked, gesturing to the model lineup.
Technology of a different kind was used at Siki Im, where the theme was Youth Museum. We're talking about those Jurassic things known as CDs. Decorated with Sharpie'd bubble letters, they dangled from the designs, as did all sorts of assorted flotsam — motherboards, thumbtacks, lengths of lanyard. Explained the designer backstage, "This collection is about my teenage years. You know, you carry certain charms with you. Every little thing has some certain value, like mix CDs. It's about using references from the past, but moving on, and moving forward." That said, he wasn't above a few nods to the current craze for all things sport and performance, like a cycling-style jersey stamped with a very coveted logo: "Le Corbusier."