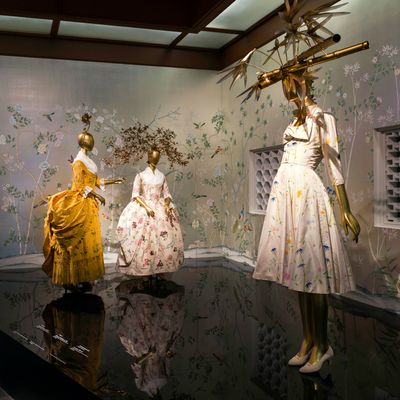 Photo: Metropolitan Museum of Art
Still haven't seen the Met's "China: Through the Looking Glass" exhibit? Well, you're in luck, because the museum has extended its run through Labor Day due to high attendance. WWD reports that the Met has had 500,000 visitors come through since opening day on May 7. At this rate, "China: Through the Looking Glass" is set to outpace the insanely popular Alexander McQueen exhibit, which saw 661,509 people in a span of 15 weeks, produced super-long lines, and extended its hours on the final weekend.
While the exhibit's ability to provide context and critiques of cultural appropriation is up for interpretation, that definitely hasn't stopped the swarms of eager visitors, especially those of Chinese descent. On a recent visit, it seemed like more than half of the crowd was excitedly exclaiming in Mandarin or Cantonese, reflecting far more diversity than prior exhibits. Just goes to show: Fashion definitely knows the power of the Chinese market.