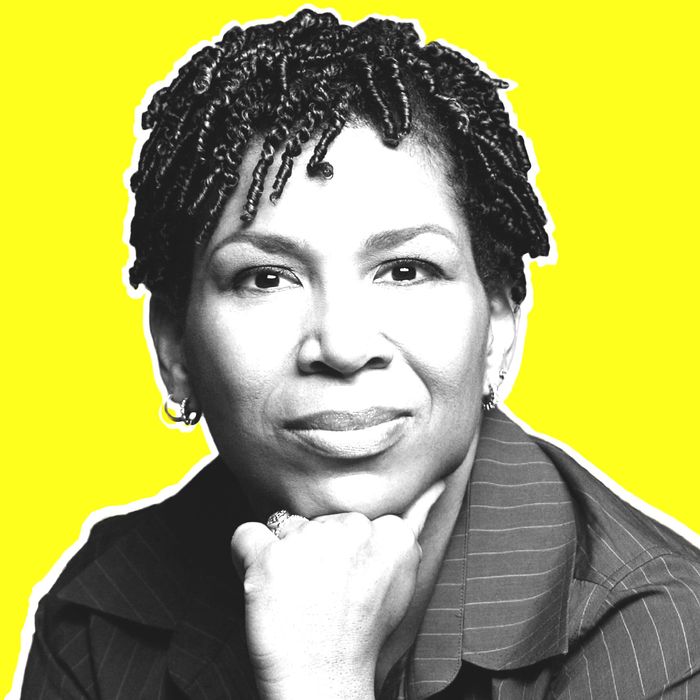 This week, the Cut is considering what it means to be a woman who leads. It's a conversation that Michel Martin knows well. She herself has made a boss journey up the media ranks, first as a reporter at the Washington Post, then a White House correspondent for The Wall Street Journal. She was a correspondent for ABC News before launching NPR's show "Tell Me More," and this fall, after eight years at the helm there, she'll be the host for the weekend edition of "All Things Considered." And through her own professional experience, she's all too familiar with the ways in which black women are excluded from talk about "having it all" — a topic she wrote passionately about last year in The National Journal.
"Some would say this is a statement about diversity," says Martin. "To me, it's not! I see it as a statement about good management. It's a statement about people not allowing demographics to get in the way of appointing people to the jobs they should have based on their skills and their track records and accomplishments."
A recent report from the Center for Talent Innovation suggests that, unfortunately, demographics are getting in the way. According to the paper "Black Women Ready to Lead," while black women demonstrated more ambition than white women in the workplace (22 percent of the black women surveyed reported wanting leadership positions while only 8 percent of white women did), they were more likely to report feeling stalled in their career and/or that their superiors didn't recognize their talents.
The Cut talked to Martin about the way managing ambition and workplace politics is different for women of color, the unique set of difficulties and expectations women face, and how women of color have been leaning in this whole time.
Last year you wrote a piece for The National Journal ("What I've Left Unsaid; On Balancing a Career and Family as a Woman of Color") in response to Anne-Marie Slaughter's 2012 "Why Women Still Can't Have It All." Tell me about what inspired you to write that.
I'm actually a big fan of Ann-Marie's. We had a speaking engagement together in Hartford, Connecticut, before she wrote it. I remember being surprised by how blunt she was about it but I remember thinking, even then, Okay, there is something missing here. She has a right to write about her own experience and I found it very compelling and I really appreciated the candor, but then I went to a couple of forums where they talked about [the piece] and it was all about a lot of similarly situated women like her, asking, "How can I get what I want? How can I individually get what I individually want? How can my daughter get what she wants?" And I didn't hear anything about the ways the systems are messed up. I was glad we were having that conversation, but there is a whole other conversation. So, The National Journal came to me and said, "I heard you have some thoughts," because I was not secret about them. And I was like, "Yes, I do."
You had a great line in the piece: "A consequence of this thinking has been to maintain the status quo of making white men's experiences the standard to which all others are compared." How does this make it difficult for women of color to get ahead?
I think that sometimes being an outsider, as it's traditionally defined, can give you greater insights — and by definition, African-American women, and women of color in general in the workforce have been outsiders. The rest of the country is catching up to where a lot of other people were first. I find that millennials, for example, and the way that they look at their careers, often have the worldview that a lot of people of color — especially women of color — were kind of forced to have early on. So, we made a virtue of necessity, and I think now other people are free to just experience the virtue.  
What are some examples of making "a virtue of necessity"?
There's a study about multicultural women at work, which was conducted by the Working Mother Research Institute. It reinforces, again, that the experiences of multicultural women at work are different from those of white women. And it says that 51 percent of white women feel that their talent is the first thing noticed by colleagues when they walk into a room, while only 39 percent of multicultural women do, and that 54 percent of black women, 36 percent of Asian women, and 40 percent of Latino women feel that race is the first thing people notice about them. Talent and gender came after that.
What was interesting to me about that study was that only 41 percent of the white women surveyed said that they wanted to have a job with greater responsibilities, compared to 55 percent of Asian-Americans and black people, and 58 percent of Latinos. It makes me think about why the whole Lean In, Sheryl Sandberg thing didn't resonate with a lot of black women. A lot of them were saying, "Gee, if I lean in anymore, I'm going to fall over. I'm already leaning in as far as I can lean."
What has your own professional experience been as a woman of color? Have you been fortunate to find managers who see talent first?
Before I got to NPR, there was one African-American woman I worked for, as a supervisor. And that was at the very beginning of my career when I first started at the Post. And her name was Vivian Aplin-Brownlee. She's no longer alive. She was tough as nails. She was a great boss. I think there were people who were very open to what I had to offer in the way that they understood it and sometimes that was a very narrow view, and sometimes that was a more expansive view. In my career, I've actually had the opportunity to say this to a previous manager: "It's disappointing to me that you don't see yourself in me. But you expect me to see myself in you. I feel that I am a lot more like you than many of the other people you invest a lot more time in. And I want to know why that is." And he had the decency to say, "I don't know why." I knew why. And as a manager, I try to be different from that. I try to see myself in people who are nothing like me. Because I think if you do, you often find that there are ways, and then we can benefit.
With that in mind, is there a difference in the way you consider leadership as a black woman? At NPR, you led a team at "Tell Me More" and will do so for "All Things Considered."  
I would say yes, if I were speaking honestly about it all. First of all, it goes back to the reality that many people will never be managed by an African-American woman. You don't necessarily know what expectations they are bringing to that relationship. You just have to be mindful of that. Like, I remember, I covered Barbara Mikulski's first race for the Senate and I covered her a little bit after she went into the Senate. She talked about the fact that sometimes people had expectations from her, as a female manager, that they wouldn't have for men — "You're here to take care of me" as opposed to "I'm here to work for you." Sometimes that can happen.
What are other perceptions?
Sometimes people do believe certain stereotypes that pop culture has perpetuated — like the one about aggression. You think you're saying, "I'd really like you to do x, y, and z." And what they're hearing is the neck going and the finger up in the air. Also, there's this expectation that no matter what amount of abuse, black women can take it, and you're never supposed to get your feelings hurt. I think that's the benefit of working in a small shop, like the ones I've been in. Working closely with people, they get to see you as a person, and that's one of the benefits of it. People get to see you cry, you laugh, and you bleed, just like everybody else.
It's hard not to get slightly disheartened that it's 2015, and we still have to remind people that black women are people with feelings. Why do we still have to work to humanize a black woman leader? Do you find that disheartening?
Well, yes and no. I kind of feel like, that's a little bit your worldview — we're all absorbing information without being aware that we are. I know this is going to sound ridiculous, but when I came to D.C., I didn't realize that black people could get allergies. I know that sounds ridiculous, but I never met anybody who did. Partly because there were no trees where I grew up. So when I got down here and realized there were so many black people with allergies. I was like, "Really?" I thought it was like an immunity thing we had. You don't even know what kind of stupidity you're absorbing until you're confronted with it.
I think the trick is to not be so invested in countering a stereotype that you don't get to be who you are, or want to be. If you're so obsessed with people thinking that black people are loud that you only speak quietly, then you're still reacting to something that isn't your choice. I try to walk that line. How much of this do I want to engage in and how much do I want to resist, right? I had a colleague at a former news organization where I used to work — he's an expert on Slavic languages and is African-American, and he would never do any stories that engaged the question of race because he did not want to deal with it. He wanted to be focused solely on the work that was pertaining to being a Slavic-language expert. And I understand that. That's a reasonable choice for him to make, but it's not a choice that I would make. I understand drawing that line. That's just not a line I want to draw.
So you think it's necessary to engage in questions about race in the workplace?
Part of what I feel I try to stand for, at least at this point in my life, is offering a different perspective that people may not have considered but which needs to be heard. When I think about the things that my colleagues and peers and my forbears had to put up with — I worked at ABC News, I was privileged to work with Barbara Walters, who was a door-breaker in so many ways. I remember her telling us at a meeting with some of the women who worked there — and she later talked about this in her memoir — how she had had three miscarriages and she never said a word to anybody. In fact, there was one instance where she had a miscarriage on Friday, and went to work on Monday, and said not a word to anyone, because she didn't feel that she could, because she felt that they were already looking for ways to diminish her and put her in her place. And you know, they didn't even have maternity leave when Carole Simpson started working at ABC News, when she came back to work after having her first child and adopting her second child, people had the nerve to ask her, "Why are you here?" Because of them, that wasn't the world I had to be in — it was their job to make sure we had maternity leave, and now it's my job to make it so that people don't have to ask you whether black people comb their hair. I can handle that.


This interview has been edited and condensed.