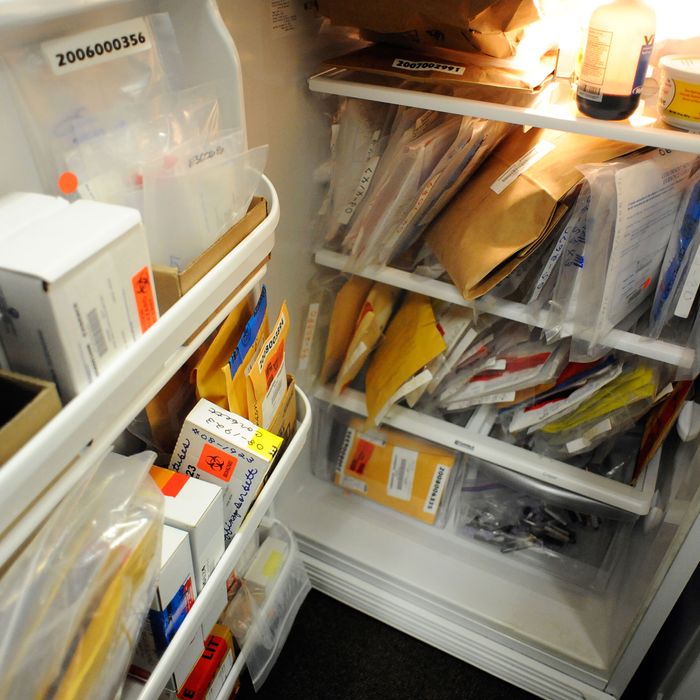 Photo: RJ Sangosti/The Denver Post
In recent years, increasingly startling reports have surfaced on the number of untested rape kits sitting in storage across the country. In 2008, 11,000 untested rape kits were found in an abandoned police storage unit in Detroit. Since then, over 9,000 untested kits were counted in Memphis, 4,000 in Las Vegas, and over 6,000 in Houston, many of them over three decades old.  A new study conducted by USA Today found over 70,000 untested rape kits in storage at law-enforcement agencies all over the country — and estimates that the national total is likely in the hundreds of thousands.
In March, Joe Biden made headlines when he backed a $41 million budget proposal aimed at reducing the rape-kit backlog. Yet the USA Today report suggests that the problem isn't just the result of insufficient funding. Over the past decade, over $1.2 billion in federal funding has been allocated for DNA-testing needs — including taking inventory and testing rape kits — yet it's often put toward other expenses, such as more general DNA-testing improvements or administrative expenses.
According to Scott Berkowitz, the president of the Rape, Abuse, and Incest National Network, the issue isn't a lack of funding, but rather that not enough of the funds are being put toward casework — and ensuring that labs have the capacity to test rape kits. Congress took a stab at addressing this issue in 2013, when it passed the Sexual Assault Forensic Evidence Reporting Act (SAFER Act), which requires that at least three quarters of federal funding for sexual-assault kits is put toward testing and taking inventory of kits. However, USA Today reports that the Department of Justice has failed to comply with numerous provisions of the act.
Intended to address nationally inconsistent rape-kit-testing policies, the SAFER Act required that the DOJ publish a description of protocols for effective, timely processing of DNA evidence in sexual-assault cases by September of last year. Yet the DOJ still hasn't done that — and hasn't given any indication of when it plans to do so. As a result, decisions about whether or not to test rape kits remain entirely up to the discretion of investigating officers — meaning that decisions are often based on whether the police find a survivor's account credible, and, unsurprisingly can be pretty biased and arbitrary.
After the 11,000 untested rape kits were discovered in Detroit, a study funded by the DOJ faulted the police for "negative, victim blaming beliefs." According to the study's authors, "rape survivors were often assumed to be prostitutes, and therefore what happened to them was considered to be their own fault." Currently, testing a rape kit costs around $1,000, so it's not surprising that, with little oversight or accountability, police departments often leave them sitting in storage. Yet rape kits contain evidence that's essential for prosecuting rapists — and especially repeat offenders: Among the first 2,000 kits that were tested in Detroit, 188 serial rapists were identified.