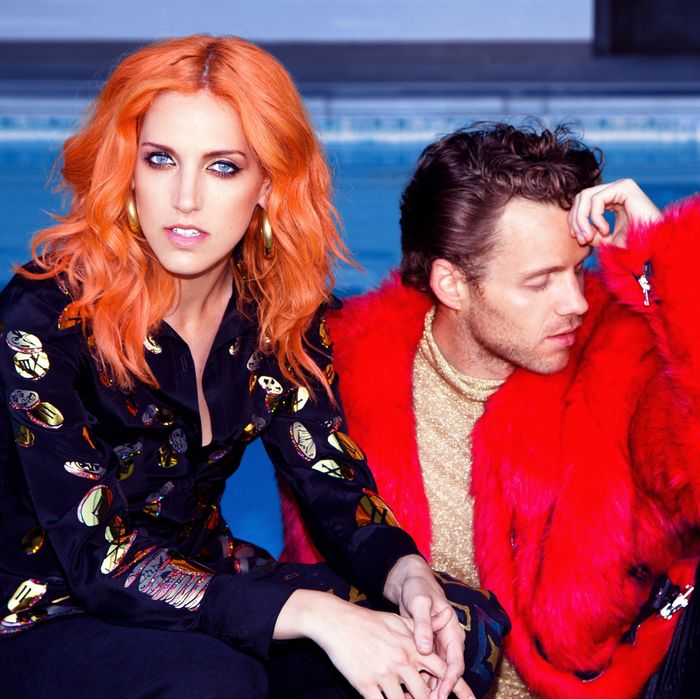 Photo: Charlotte Rutherford
Why would a band signed to Columbia choose to record their sophomore album in a derelict Bushwick studio without heat? "We get off on thriving in constraints," responds singer Lizzy Plapinger, who shares an uncanny resemblance to Katy Perry in fur pom-pom earrings and Kool-Aid-red dyed hair. MS MR's DIY mentality can be traced to Vassar College, where Plapinger founded Neon Gold Records in her dorm room as a thesis project, and decided to try making music with her best friend, Max Hershenow. It might seem surprising the band formed just four years ago, in 2011: The two finish each other's sentences, covering everything from their mutual love of film (they cite Stanley Kubric as the inspiration behind their latest video) to gender politics.
"We're a part of this community of artists redefining the mainstream-pop landscape," Plapinger said of the label, whose artists include Charli XCX and Marina & the Diamonds, she still oversees from the road. The duo sat down with the Cut ahead of their new album, How Does It Feel, which is no less heartfelt than the first (Secondhand Rapture), and has a few more dance tracks to balance out the sads. They discussed the perks of their platonic relationship, the civil responsibilities of reaching artistic success, self-empowerment, and more.
Do you want to tell me about what it was like to make this album?
Max Hershenow: When we came into this, we knew we wanted to dance, we knew we wanted to move; we wanted to be strong and sexy and powerful and the most exuberant versions of ourselves. To approach the writing process from that was a really different perspective, and exciting.
Lizzy Plapinger: A curious challenge to us was: We want to make an album we can move to, but let's explore all the elements of movement. What's a song where you can be sensually grinding up against your partner while you're getting down?
There's been such a long history of female-male couple duos, and there's usually a romantic connotation. Max, I was reading your Caitlyn Jenner op-ed and wondering if you ever feel pressure to fall into the role of "gay best friend."
M.H.: I think my being gay gives us an enormous freedom to be super-intimate with each other and emotionally raw.
L.P.: Without it ever being sexually charged or inappropriate.

In that piece you wrote you sometimes feel like being gay works to your advantage with your fan base.
L.P.: You give them someone to look up to.
M.H.: It's fun to have younger gay boys at shows. If I had had someone in my position to look up to … that's amazing! It's so cool to have 13-, 14-year-old boys who are already out and excited to be part of it.
L.P.: I think it's also about — not intentionally — a new kind of canon of relationships in pop music. We're sort of a unique situation, where it's completely platonic and respectful. That's something that allows us to be empowered in our own spaces, genders, and identities without conflating because of a romantic underlie or something.
Did you choose the name MS MR based on gender titles?
M.H.: That was part of our conversation. We initially started out trying to think about being less gender-specific. We both feel a lot queerer than when we first started the band. There's a freedom in doing what we're doing.  
I saw that the ticket proceeds were going to support Third Wave Fund. How did you land on that organization?
M.H.: Third Wave Fund isn't just trans rights, it's for feminist organizations and all sorts of organizations that promote alternative spaces for gender expression. That's important for us; self-empowerment was a big theme, especially, writing this album. As an extension of our core ethos as a band, Third Wave Fund felt like it's not flashy — it's super-grassroots, nitty-gritty, changing people's opinions little by little. That felt like something we wanted to be a part of more than an established, celebrity-driven organization.
Your looks in the video "Painted" are super glam rock, was that the inspiration? Do you work with a stylist?
M.H.: We don't work with a dedicated stylist.
L.P.: We take a lot of pride in putting ourselves together, it's something we enjoy doing. It's a very honest extension of who we are, so I think it's really nice that we don't have a stylist, that people know we're not being made up and put together to be presented. It's definitely us.
This interview has been edited and condensed.