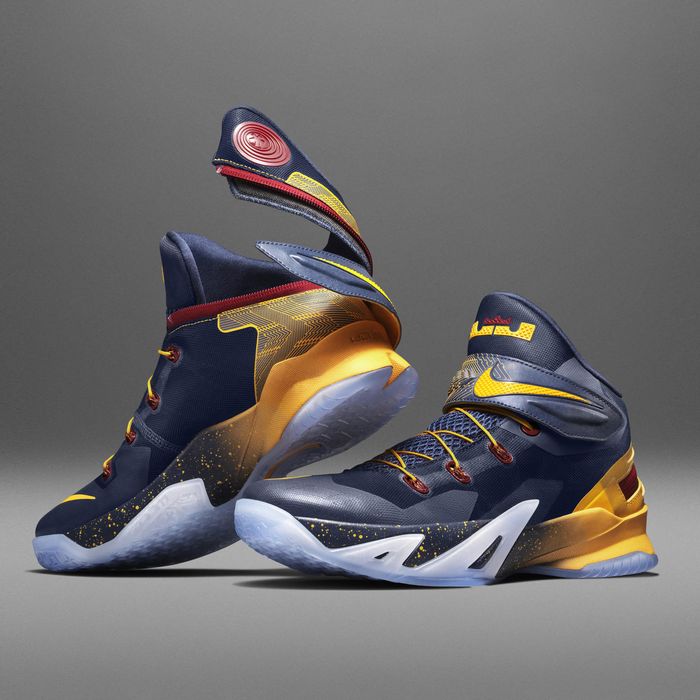 Nike's new LeBron Zoom Soldier 8 Flyease basketball shoe boasts a wraparound zipper and redesigned lacing system that allow wearers to get them on and off with one hand. But these features weren't personal requests from LeBron James, nor were they created to help players look cool after pickup games: Nike designed the shoe with people with disabilities in mind.
Tobie Hatfield, Nike's senior director of athlete innovation, was already working on an easy-entry footwear system when a 2012 letter to the company's CEO from a Florida teenager with cerebral palsy went viral. In it, then-16-year-old Matthew Walzer explained that basketball shoes provided great ankle support without the blisters of leg braces, but since he only had flexibility in one hand, he couldn't tie them on his own — his parents had to do it. Walzer wrote that this "frustrating" and "embarrassing" fact made him concerned he wouldn't be able to live independently at college.
The letter made it to Nike CEO Mark Parker and also to Hatfield, who Skyped with Walzer and sent him prototypes to test. Hatfield wanted not only to address the lacing issue, but also make the high-tops easier to get on for people with various levels of mobility. (He's worked with Special Olympians and Paralympians; the Flyease project actually began seven years ago, after Nike's first-ever employee, Jeff Johnson, lost the use of the right side of his body following a stroke.) The final product design involves a zipper that unwraps the heel like an orange peel so wearers can slide into the shoe like a clog, then zip up with one hand. A cord lacing system holds the foot in.
"Writing my letter three years ago, I honestly wasn't expecting much at all, maybe a polite letter from customer service," Walzer told Mashable. "I couldn't be more proud that people will be able to have this long overdue independence." The company is sending the Zoom Soldier 8 Flyease to two U.S. basketball teams competing in the 2015 Special Olympics World Summer Games in Los Angeles, which start on July 25.
While it's an accessibility game-changer, Hatfield says the shoe also has broad appeal, telling Fast Company that it's helpful for getting through airport security. The LeBron Zoom Soldier 8 Flyease will be available in limited quantities starting tomorrow on Nike.com, and the brand is already working on Flyease shoes outside of basketball, too; Hatfield told the Huffington Post that a running shoe is in development. The project underscores the words of Nike co-founder Bill Bowerman: "If you have a body, you are an athlete."