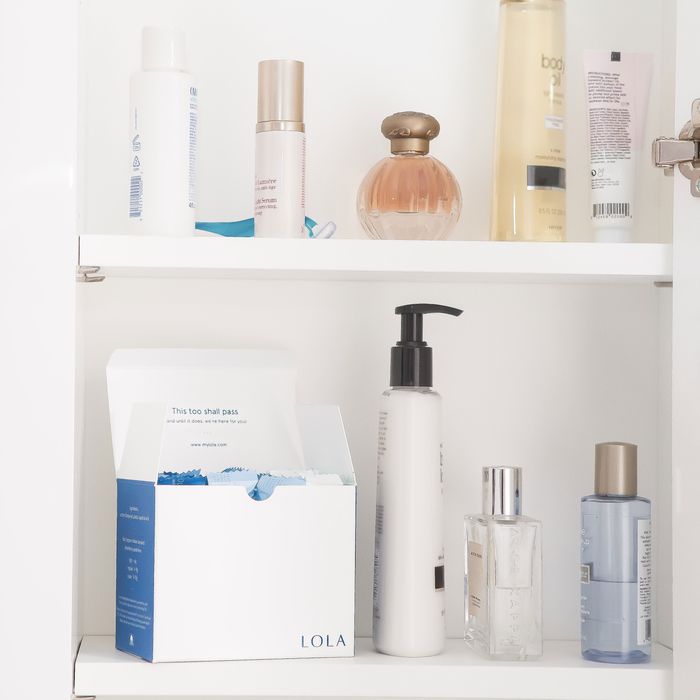 Subscription boxes exist for practically everything nowadays, and feminine care products are no exception. But when entrepreneurs Jordana Kier and Alex Friedman launched Lola this week, they didn't simply add another tampon service to the mix — they created a cheaper, no-bullshit one that doesn't come with chocolate or surprise gifts or pink, flowery packaging. How'd they do this? By thinking about how they wanted to be treated as consumers, and by sourcing their own cotton tampons from a European company.
"Originally, it was a delivery concept," Friedman told the Cut. "But then the more we looked into tampons in general, the more we realized we wanted to sell a product we stood by, that we knew what was in it, and we couldn't figure out what was in the other tampons on the market." Tampons sold in the U.S. are typically made of blends of rayon and cotton, according to the FDA.

Lola tampons are 100 percent cotton with no chemicals or dyes with a compact plastic applicator that's BPA-free and recyclable. Unlike other tampon makers, they list the "ingredients" right on the box. As Kier says, "we want to know exactly what we're putting in our bodies versus not knowing. We'd pick that ten times out of ten."
They chose soothing blues for packaging and picked a tampon design that expands widthwise instead of lengthwise. "It's a little more comfortable," Kier says. "When it does expand lengthwise, some women can feel it once it's fully saturated. Can you imagine pitching this to investors? We were like unwrapping tampons, soaking them in water, we got the best questions." (Lola has received $1.2 million in seed funding to date.)
The other part of the founders' goal: To put monthly tampon-buying on autopilot. The subscription service allows you to customize your assortment of absorbencies (a mix of 18 light, regular, or super, or all of one type) and you can pause or change your subscription at any time at no cost. It's $10 per box or $18 for two with free shipping anywhere in the U.S., and new subscribers can get a two-box order for $9.
And attention tampon-haters: Racked reports that the company is looking to expand into other feminine care products in the future.