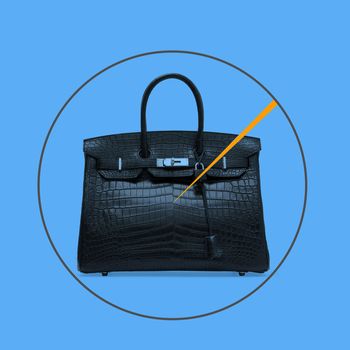 Photo: Photo Illustration. Photo by Christies/Hermes
Here's a strange postscript to the Jane Birkin–Hermès controversy earlier this week. (To recap: Birkin asked that her name be taken off the bag's Croco style, due to what she considered a cruel production process at one of their purported suppliers' farms. Hermès responded, in part, that "this farm does not belong to [us] and that the crocodile skins supplied are not used for the fabrication of Birkin bags.") Now, PETA, the organization that released the video that spurred the actress's activism, is engaging in some activist behavior of its own. Per Fortune, the animal-rights group has bought a single share of the company — which will set you back about $300.
While this doesn't make PETA any sort of high roller in the company, of course, it does allow them an entrée to the luxury house's shareholder meetings. In a statement, the group's executive vice-president, Tracy Reiman, noted "PETA will be campaigning outside the company, and, as a shareholder, also working from the inside to demand a ban on exotic animal–skin accessories, including crocodile-skin bags and alligator-skin watchband." In other words, the group intends to become what is known as an activist shareholder, using their sliver of the company to advocate for an agenda.
We've reached out to Hermès for a comment on the matter, and will update this when we hear back.