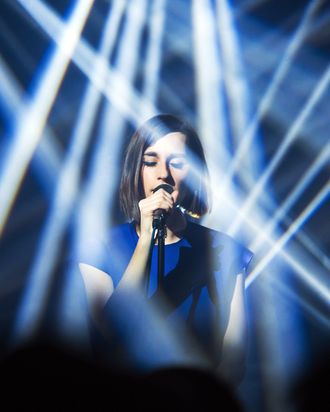 Photo: Mat Hayward/Getty Images
French electropop group Yelle has been fighting to be themselves since 2005, when they hit the scene with "Je Veux te Voir" and major labels kept insisting they sing in English. They refused, but since then have managed to navigate the pop world without taking anyone's advice to tone it down, landing studio time with Dr. Luke — the producer credited for making Katy Perry and Nicki Minaj hits — and playing Coachella earlier this year. They're happy to arrive on their own terms, because, as frontwoman Julie Budet put it, "Not being in a certain category makes me feel more comfortable."
In their latest single, "Ba$$in," Budet sings, "when I meet men I make circles with my hips," which could just as well be the lyrics to a Top 40 hit, but it's the subtle tongue-in-cheek delivery that sets them apart. The video is a trippy, beautiful mess reminiscent of early computer-glitch art. "We wanted something strong, colorful, we wanted this 3-D, future weird thing," Budet, who often favors the avant-garde in her videos, said of the concept. In it, she wears a bright cutout dress by 2015 LVMH special prize winner Jacquemus, who told the Cut he's open to creating custom pieces for her down the line. "Yelle has such a singular, well-thought universe that she'd obviously be part of the creative process — she would throw the first idea, I'd execute!" designer Simon Porte Jacquemus says. "There's a common ground in our influences and the super-pop and fun approach of what we respectively do."
Rather than sticking to a calculated formula for new material, Yelle is playing a few shows this summer, thinking about collaborating with unexpected artists (like indie rocker Mac Demarco, she hopes), and seeing where it all goes. While she was enjoying time off at the beach in Brittany, France, gearing up to come back to the U.S. to headline New York's more adult electronic music festival, Full Moon, next month, Budet spoke to the Cut about what drew her to Jacquemus's clothes, being open about sex in her music, and the myth of French chicness.
You wore a dress by Jacquemus in your latest video, how did you link up with him?
When we started touring in the U.S., I think it was in October, the last big tour, I left home without a lot. I knew we were starting the tour in New York, I was thinking about going to Opening Ceremony. I found some really cool stuff in the store and a dress made by Jacquemus. I'm super-shy, so it's always really hard for me to ask a brand something like, "Can you give me some pieces because I'm going to wear it onstage?" I'm uncomfortable with that, so I thought, I'm going to buy that dress and we'll see what happens. I wore it at a lot of shows, he saw a picture and sent me a message like, "I'm a big fan of your music, I'd be happy to give you more pieces!" It started like that. He's a really nice guy. I really like the way he's driving his career — it's simple, he comes from the south of France, he's really inspired by his family and nature.
I was wondering what you're trying to get across with your songs, they're pretty provocative. Your first hit was "Short Dick Cuizi," and there's some phallic imagery in the "Complètement Fou" video.
I know people can think I'm super-provocative, but I think I'm just normal. I'm just trying to express myself, and, yes, if I want to say "dick," I just say "dick," and if I want to, I have a song about rolling my hips. For me, it's just a question of being myself and trying to have fun. I like to think we can write a song and you can sing it like you are talking in your everyday life with your friends — talking about boys, talking about parties, talking about sex, talking about life in general. You know, for me, it's important to have this strong and simple way of expressing myself. So maybe you know, for example, a lot of people told us that, "Oh your new record is really about sex, you're really talking a lot about sex," but you know, when I'm reading the lyrics, of course I'm talking about sex because it's a part of my life. It's not an obsession. It's one of the main subjects of the life of a 30-year-old woman. Not to talk about sex or love or you know, it's not the normal thing.
We want to keep singing in French, it's really important for me to keep the French and be precise in the way I'm talking about things. Even if maybe we are losing some people because they don't understand and they don't care and they don't want to know what we're talking about, that's okay with me. I just want to continue my thing and if it works, it's cool; if it doesn't work, it's okay, I move on, I'm going to do something else. But it's really weird to see how people want to put you in boxes, for example, we are not on big radios in France because they think we are weird.
Maybe this is around the world, but especially in America, we're very obsessed with the concept of French beauty — the Cut did a whole French pop-up blog. Do you feel like you have to fulfill a chic French role?
It's funny, because when I do photo shoots or interviews about fashion, people are always talking to me about that French thing and most of the time I don't think I have it. I realized throughout the years that it's really about good food, drinking water a lot, and being happy, actually.

I think my parents really educated me in this way of having fun in life and enjoying the moment — enjoying food, enjoying having a drink, having a beer, having a glass of wine, you can smoke a cigarette but don't smoke 20 cigarettes. Balance. If you're crazy on a day, the day after you just have to be a little more aware, and it's okay.
This interview has been edited and condensed.
Yelle will be performing in New York at Full Moon Fest on August 1.