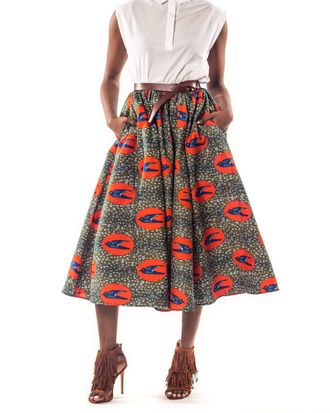 Photo: Demestiks New York
Since the fall 2015 couture shows are this week, we're highlighting independent designers creating carefully crafted, made-to-order pieces from all over the world.
When he started his line in the summer of 2012, designer Reuben Reuel aimed to create a collection that successfully mixed classic African patterns with vintage-inspired silhouettes. His work eventually caught the eye of Beyoncé, proving that Reuel's company, Demestiks, is among the many designers effectively using Etsy to promote high-quality, small-batch design. One standout is this printed midi skirt with a dynamic bird print. Try it with a tucked-in button-down during the weekdays to channel 1950s glamour, or dress it down with a T-shirt and slip-ons on the weekends. 
Demestiks New York Skirt, $140 at Etsy.