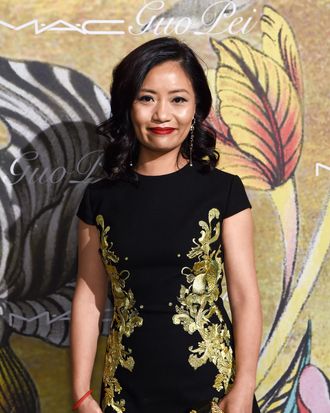 Photo: Dimitrios Kambouris/Getty Images
One meme-friendly dress can open a lot of doors. After Chinese haute couture designer Guo Pei's handiwork was seen around the world on Rihanna at the Met Ball, the designer sounds like she's enjoying the newfound attention. Already famous in China, the designer has now been vaulted onto the international stage. She is the subject of an upcoming exhibit at the Musée des Arts Décoratifs in Paris, which will run during the couture shows next week. The couturier keeps a massive studio in Beijing, but recently opened another studio in Paris, and tells Women's Wear Daily that she plans to show in next season's couture week.
However, Guo says she can't take credit for Rihanna's outfit choice."I actually didn't think the dress was the right one for her," the designer recalls. At 55 pounds, "I thought it would be too heavy and too hot, but she was so touched the moment she put it on." That's the Rihanna effect for you.