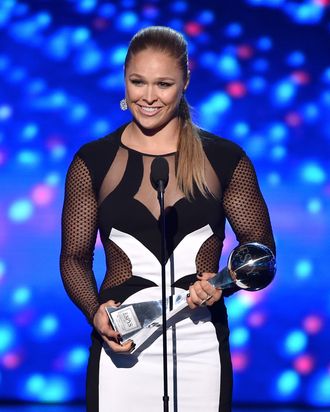 Photo: Kevin Winter/Getty Images
Ultimate Fighting bantamweight champion Ronda Rousey had quite a night at the 2015 ESPY Awards, taking home two awards and sending sports fans on Twitter into a frenzy over comments about Floyd Mayweather.
The 28-year-old mixed-martial artist, who defended her UFC title with a brutal 14-second takedown in February, was equally ferocious after winning the award for Best Fighter. When handed her trophy during the preshow red-carpet coverage, she took a jab at fellow nominee Mayweather's history of domestic abuse, saying, "I wonder how Floyd feels, being beat by a woman for once."
She later won Best Female Athlete for the second year in a row and was more diplomatic in her prime-time acceptance speech. She thanked the other nominees (including Serena Williams, Lindsey Vonn, and three-time NCAA champion Breanna Stewart) and all women at the ESPYs for "being the change we want to see in the world." Rousey ended with a dose of her signature confidence: "I'm living such a lucky and blessed life, and I'm trying my best to deserve it, so thank you. I'll be back here, just you watch." Trust us, we will.