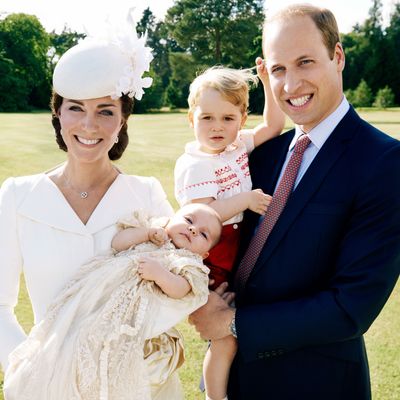 Photo: Mario Testino/Art Partner/Getty Images
Are you expecting? Have you thought about how you'll introduce your little one to the world at large? You're going to create a graphic announcing the baby's birth on Instagram. Obviously. Then, when your future self wears a jaunty hat, and your cute hubby happens to be wearing a suit, and your baby isn't drooling, you're going to Instagram it again. Why even wear a jaunty white hat while carrying a baby, if not for the likes?
The Royal Family, they're just like you! They've been dutifully recording highlights of Princess Charlotte's young life on the official Kensington Palace Instagram account, and today they've shared images from Charlotte's christening. The #blessed event occurred on Sunday, making this baby's first ever #TBT.
The photos were shot by Mario Testino, because when your grandmother is the queen, you can't ask her to take the photo for you.
And, not one to be left out, big brother George was snapped "playing" with his father at Sandringham Estate — because even when you're in line for the throne, the key to a good Instagram shot is to look casual and candid, even when the photo is entirely posed.
We're still waiting patiently for an official baby hashtag or personal account.