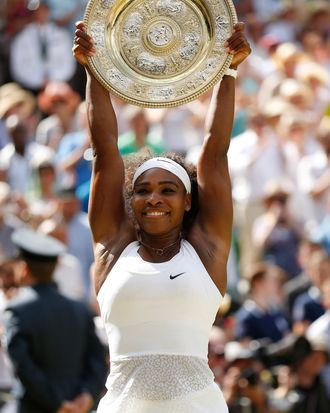 In an unfortunate New York Times story published on Friday — the day before the women's Wimbledon final — a male reporter talked with top female tennis players about balancing the desire to have a "feminine" body type against the reality that it takes a strong physique to be a successful professional athlete. Andrea Petkovic said she hates looking at photos that show her bulging arms, while Maria Sharapova said, "I always want to be skinnier with less cellulite; I think that's every girl's wish." Even Serena Williams said that though she's much more comfortable with her body than she used to be, she uses Thera-Bands instead of weights, which make her bigger.
The Times writer says that Williams's "rivals could try to emulate her physique, but most of them choose not to." Because she is very muscled, and, of course, muscles are masculine. The story rightfully caused an uproar on Twitter, where readers pointed out the racist and sexist undertones. Sports reporters don't ask male athletes to stand in front of a mirror and outline their body-image struggles.
Maybe women players should try to look more like Serena, since it's clearly working for her. Or maybe coaches and players (and fans) should realize that how an athlete's body looks when they're at the top of their game is not the point, it's what their bodies can do, like knock out serves at more than 120 mph. Either way, Williams is cementing her name in the record books. On Saturday, she won her sixth Wimbledon title, marking her 21st Grand Slam championship. If she wins September's U.S. Open, she'll become the first woman since Steffi Graf in 1988 to complete a true Grand Slam and claim all four tennis titles in a calendar year.
After Williams's victory over Garbiñe Muguruza, tennis fan J.K. Rowling tweeted "#SerenaSlam! I love her. What an athlete, what a role model, what a woman!" A German guy named Rob replied: "Ironic then that main reason for her success is that she is built like a man." Not one to allow the body-shaming conversation to continue, the author eviscerated him with 13 words and a photo.
The Times' public editor Margaret Sullivan has since questioned the story's message, lamenting that it didn't challenge the views expressed by Sharapova and others. For her part, Serena knows what's up. "I'm really happy with my body type, and I'm really proud of it," Williams told the Times. "Obviously it works out for me." It definitely does, both on and off the court.