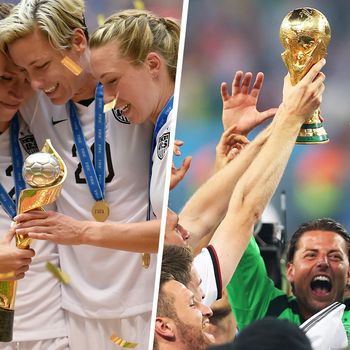 Following the United States' dominant World Cup victory over Japan, Twitter was flooded with glorious photos of the Americans' Champagne-soaked locker room — and also with impassioned debates about the prize money awarded to the victors. The U.S. Women's National Team would take home $2 million, 16.5 times less than the $35 million given to the German men last year. And that's an improvement from the $1 million Japan received for winning the 2011 Women's World Cup. Meanwhile, men's teams that lost in the first round in 2014 made $8 million, on top of the $1.5 million given to each team for "preparation costs." How is this possible?
Some argue that the newer women's tournament (which began 60 years after the men's, in 1991) has a smaller audience and thereby doesn't bring in as much revenue to governing body FIFA to warrant equal prize money, says Rachel Allison, Ph.D., assistant professor of sociology at Mississippi State University. But we learned yesterday that the women's final crushed viewership records: Nielsen estimated that the broadcast averaged 25.4 million viewers on Sunday, making it the most-watched soccer game (men's or women's) in U.S. history. And then there's FIFA's racketeering scandal and failed $27 million documentary to consider.
It seems that FIFA has the money, it's just giving the women's game short shrift, says Allison, whose research focuses on the intersection of gender and societal institutions. (She's currently exploring the marketing of professional women's soccer in the U.S.) The gender inequality was epitomized by the discrimination lawsuit over women having to play on turf, an inferior surface; it was filed by a group of 40 players last year but eventually withdrawn when it became clear the organization wouldn't budge. Yet, it's not all FIFA's fault — it's a cultural problem that spans media coverage, advertising, and long-held attitudes about women in sports.
There's a continued perception that women's soccer isn't as valuable, which stunts its growth. "There's a cyclical relationship between cultural value and material resources," she says. "I think we see a lot of evidence that it's extremely valuable, and it has social and cultural meaning." We know that the sport is popular, and it's come a long way (there was no FIFA prize money at all until 2007), but discrimination persists. "The fact that they call it the Women's World Cup is a gender mark. It's emphasizing that it's different, it's 'other than,'" she says. Even the trophy is different — it's a smaller, feminized version of the men's trophy.
Allison does think change is coming, especially as we continue to question the sexism at FIFA. "This is a conversation that we didn't have in 2011," she says. "We're turning our scrutiny to gender equality. I think we're going to see results. FIFA has already committed to grass fields for the 2019 World Cup."
It's important to think about this issue beyond the World Cup, too. "The prize-money gap is part of the larger picture, which includes the salary gap between men's and women's professional teams," she says. And wage inequality doesn't just affect soccer: It's also pervasive in basketball and golf. (Women's tennis has equal prize money at the Grand Slam tournaments, as Mary Pilon writes on Politico.)
In the meantime, Allison says fans can help change the idea that people aren't interested in watching women's soccer — or women's sports in general — by attending games and consuming sports stories about women. "A lot of media coverage of sports has gone online, and we know that clicks matter," she says. "So go online and find that content. Click on it, comment on it, share it, participate in the conversation."