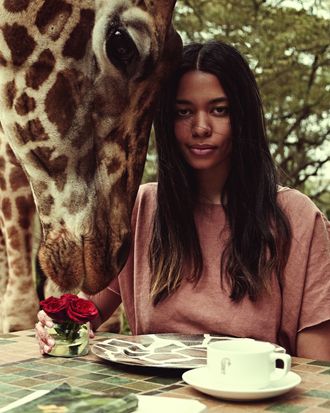 Photo: Jason Eric Hardwick
It's not often that you hear "shoes" and "female empowerment" discussed in tandem, but that's the subject of conversation at the eclectic South Street Seaport storefront where Aurora James sits perched on an ottoman. "I think it was Christian Louboutin who said he created shoes to lift women up and empower them," says James, the founder and creative director of Brother Vellies footwear and a newly minted CFDA/Vogue Fashion Fund finalist. "It's something I've always thought about."
Raised outside of Toronto, James traveled extensively and developed an early interest in indigenous apparel, collecting the winter mukluks and clogs her mother would give her. It was when she lived in Jamaica for a few years, though, that "my eyes were opened to the diaspora in Africa," she says. Her connection to the culture deepened through the African children her grandmother would sponsor, ones who became James's pen pals. As a teenager, she wanted to find ways to help these people, but had no resources to do so.
Having studied fashion and then journalism at Toronto's Ryerson University, she moved to L.A. for a few years, eventually relocating to New York. There, she pursued creative projects in fashion, even producing Hood by Air's first show, but wasn't entirely fulfilled. Enter Brother Vellies.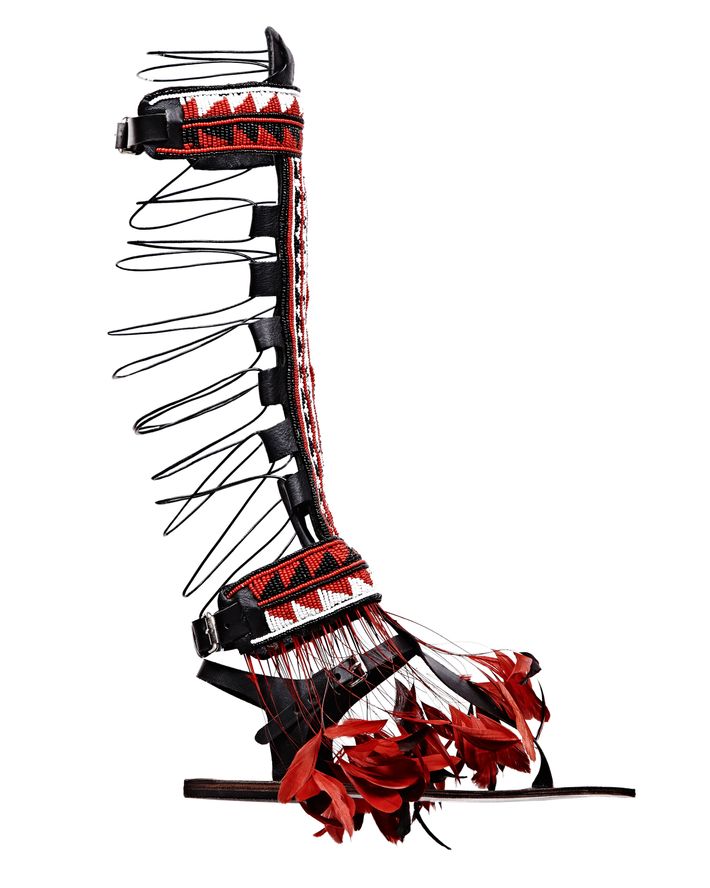 "I wanted to find another way to support other people through doing what I love," she said. "And when I found out more about how traditional craftsmanship is dying out in Africa, it felt like a great opportunity to develop my love of shoes and also help people in the process." Brother Vellies began producing kudu-leather desert boots in South Africa in 2013. (Vellies is a shorthand term for the velskoen, or desert boot, a traditional form of footwear in South Africa.) Inspired by other traditional footwear shapes, it swiftly ventured into one-of-a-kind sandals and mukluks with fur details, beading, and dye-work perfected in Kenya, Morocco, and Namibia.
You can now see her designs on street-style stars like Rachael Wang, though Brother Vellies's CFDA nod in 2014 for sustainability also helped put James on the map. Her designs sell at the brand's new flagship on the Seaport, whose storefront shares a wall with her close friends and collaborators, William Okpo designers Lizzy and Darlene Okpo. "We were talking about cutting a circle through our store so that you can walk in and look through. And we were like, 'Would that be too much? Does that mean we're too good of friends?'" Brother Vellies also counts photographer Todd Selby and New York artist Mickalene Thomas as collaborators, though the biggest partnership yet has been with Madewell; a selection of her sandals began selling there this summer. In the near future, expect "crazy" lace-up gladiators for fall, along with colorful, furry slides and a new selection of sandals crafted from recycled tires.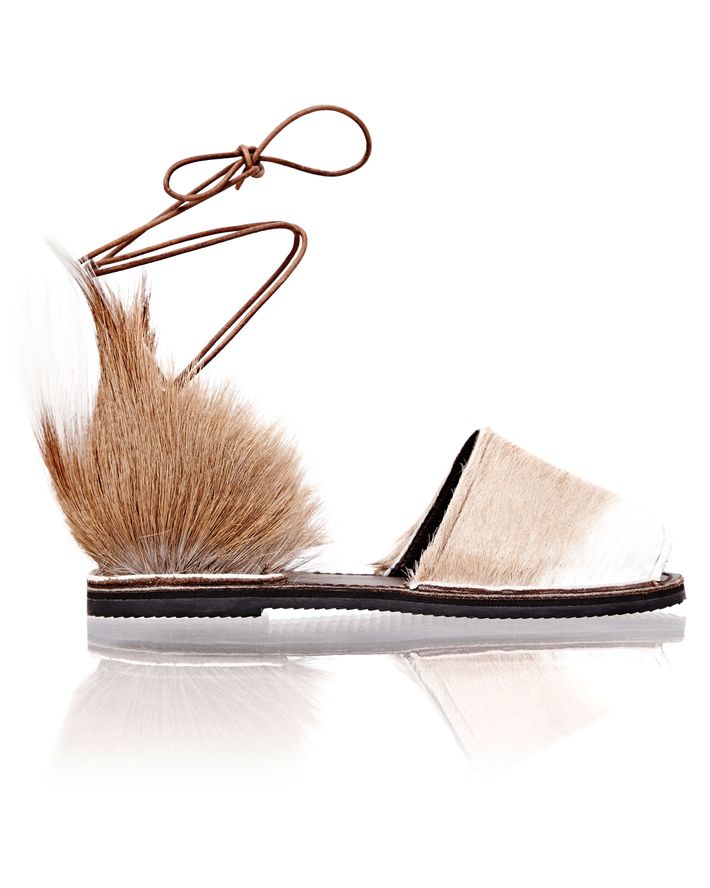 The women who wear these shoes, James says, are the ones who say, I don't care. I love it. Fur on the back of your foot? Yes! If her customers are anything like the designer herself, though, they also value craftsmanship and ethics. James ensures that her "forever shoes" — made to last a lifetime — are ethically produced, sourced by local farmers, and crafted by local artisans. One of the goals of producing locally was to support communities where manufacturing has mostly shut down.

Meeting James — she happens to be one of the less than .05 percent of Americans who are black female entrepreneurs — has even inspired some of the artisans' daughters to stay in school and continue learning traditional craft techniques. "People are so thrilled by that concept. That someone of color would be running a company in America," says James. "Talk about empowerment. There are minds blown by the idea that something that they made can actually hold a value in America, which to them is put on a pedestal. It's amazing."
James answered our Taste Test to gauge some of her fashion and culture preferences.
Culottes or overalls?
Overalls.
Tea or coffee?
Coffee.
Summer linen or denim?
Linen.
Nina Simone or Ella Fitzgerald?
Nina Simone.
Nails painted or bare?
Bare.
Rugby or football?
Football.
Favorite shoe brand besides your own?
Dieppa Restrepo. Soludos is also good because they do one thing and they do it really well.
Dream collaboration?
Lisa Bonet or Erykah Badu.