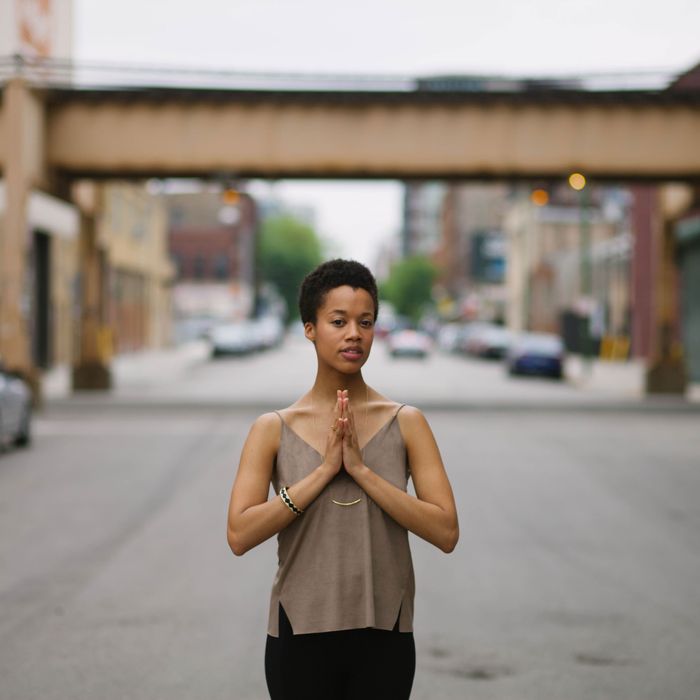 Lauren Ash, founder of Black Girl in Om.
Photo: Tamon George
Is a community really your community if you can't culturally or racially relate to any of its members? That was probably the question going through Lauren Ash's mind before she launched Black Girl in Om, a Chicago start-up that hosts yoga, healthy-eating, and other wellness-centered events catering to people of color. Looking to bring more faces that look like her own into yoga classes, Ash started Black Girl in Om last fall in the hopes that she could deliver a greater sense of community for people of color in the wellness space. She spoke to the Cut about her venture, the lack of attention in popular culture paid to wellness for people of color, and working out with black hair.
What is Black Girl in Om (BGIO)?
We promote holistic wellness and inner beauty for women of color through our online publication, as well as various pop-up yoga and meditation events. We speak to encouraging more self-love and self-care for communities of color. Most of our classes are $15. We're really intentional about providing accessible, affordable classes, while also simultaneously stressing the importance of investing in yoga. I personally believe that if you want to be well in a holistic sense, then you really must invest time and money in it too.
We started in November [2014], in the living room of my mentor's place. Since then, it has spiraled out of control in the most beautiful of ways. There are people all over the world who are inspired by what we're doing and how we're going about it. Yesterday I got an email from a woman in South Africa. Last week, I got an email from a woman in Texas.
What are some Black Girl in Om–led events?
Our longest running series is Wednesday Recharge — that's guided yoga. It's a really intimate setting. The third Wednesday of each month, we offer yoga nidra (yogic sleep), which is particularly restorative and meditative. We always have intentional time for dialogue and authentic connection.
We have a monthly food pop-up that we call Food Church. We partner with someone really passionate about food, and it's an opportunity for people to really think more consciously about what they're putting into their bodies. For example, our first Food Church was all raw. We created a raw meal together and enjoyed it around this beautiful 11-foot dining-room table. We've had other Food Churches that focus on nostalgia and healing, Southern food, and aphrodisiacs.
There's also Sol: Stay Woke, a yoga and music pop-up featuring a local DJ and a BGIO instructor guiding an energizing Vinyasa flow, and Get Your Life Visioning Sessions, a monthly session focused on identifying the vision you have for your life ten years from now, and putting intentions and goals into place.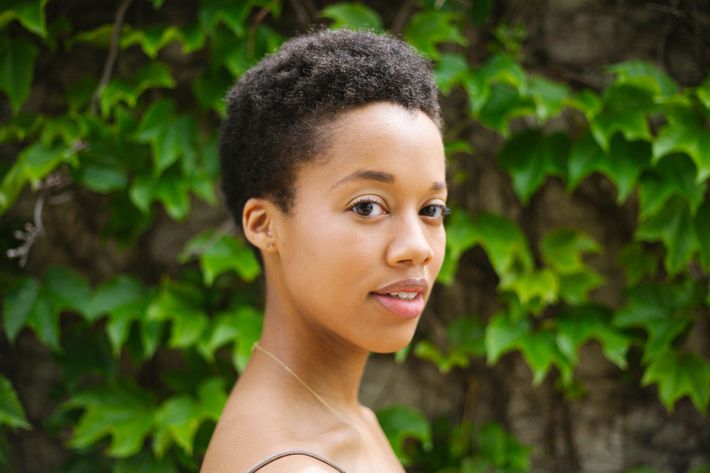 What's the demographic of Black Girl in Om attendees?
The No. 1 reason why people show up at our events is because they want to connect with other women of color. I would say that it's currently more black women, which is obviously because of the name, but I use that [Black Girl in Om] mostly to refer to me. I identify as a black girl in om, a black girl who is cultivating wellness. I've seen friendships form, potential romantic relationships form. It's really about community.
Have you always had this approach to wellness?
Not always. Throughout college, I dabbled in yoga, and at that time it was purely for physical benefits. When I went to grad school at Purdue University, I saw myself feeling very isolated culturally. I found this little yoga studio called Community Yoga — it's where my first interest and passion for a yoga community was birthed, even though that space was predominately white yogis. I was able to fall in love with yoga for the more spiritual and emotional benefits. I had recently gone through a breakup and I found my yoga practice to be something that became way more personal and important to me.
Fast-forward three years, I moved to Chicago and I started to consider yoga teacher training. I was working at a nine-to-five job that wasn't really fulfilling and made the decision to invest in the training. That really served as a catalyst for Black Girl in Om, because I was constantly thinking of yoga, community, and my decision to invest in this program. I thought about how I can merge all of my passions, including wellness, cultivating community, and art.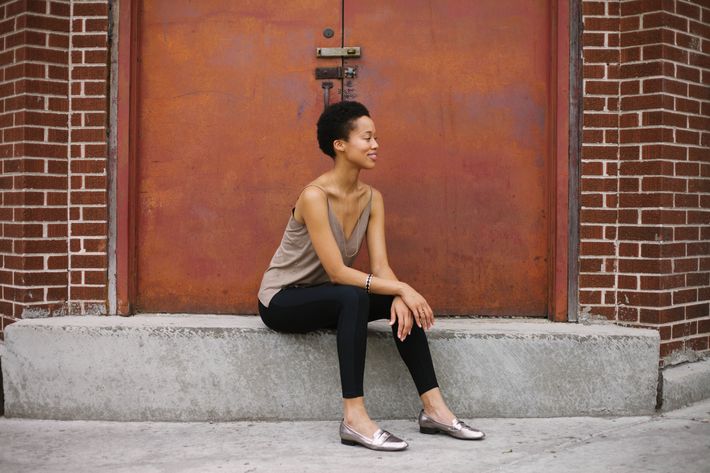 Do you feel frustrated that there is a lack of attention or perceived lack of attention to encourage people of color to focus on wellness in media or popular culture?
No — if it was highlighted more in pop culture or in media, then it would be done in a way that wasn't conducive or in our best interest. What I am really into is making sure that there are more spaces, like what Black Girl in Om is cultivating right now. But I don't think it needs to be out there; I don't think it needs to be shown in the media per se, because I don't necessarily trust the media all the time.
Do you feel a greater call to do what you're doing because women of color are disproportionately affected by health issues like diabetes and hypertension?
That was one of the reasons why we had our third Food Church event focus on healthier alternatives to Southern dishes. The person we had for that event was originally from Mississippi, which has the highest or second highest rate of obesity in the United States. He shared his experience growing up surrounded by people who were relatively young, but suffering from things like high blood pressure and heart disease. We learned how to make mustard greens without adding ham, and making other things with a healthier twist. Holistic wellness is really a preventive measure, whether we're talking about food or yoga.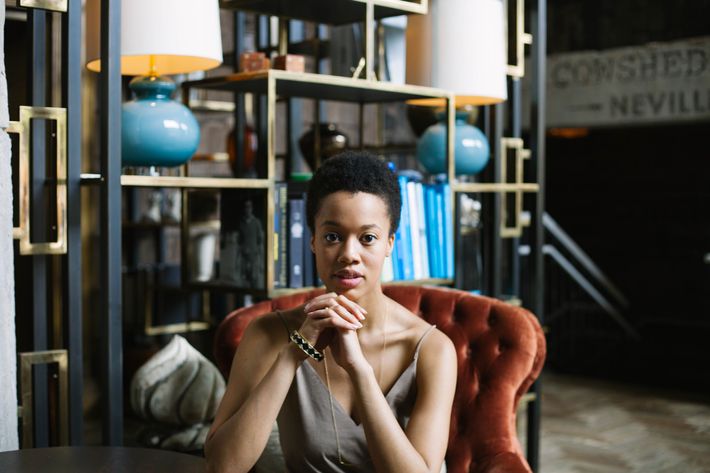 What are your thoughts on how some black women are discouraged to work out in fear that they'll ruin their hairstyle?
I personally don't know women like that. Most of my friends wear natural hairstyles. I believe that we've arrived at this beautiful moment, thanks to the natural-hair movement, where we feel confident in embracing ourselves in our most natural state. That many of the women in the BGIO community wear their hairs in protective styles signals, for me, the heart of what we are trying to cultivate within BGIO: self-love and self-care for ourselves.
You mention self-care a lot on your website. What is self-care to you?
Self-care is really holistic. I'm a huge advocate for therapy. I think every person on this planet should be taking therapy because there are all sorts of things that we were taught at an early age that aren't good for us to carry. Also, we should be mindful of what messages we're allowing to get inside of ourselves and how it impacts how we view the world. Self-care is also physical, obviously, but it's just one aspect. I think that also there's a spiritual dimension. We're all spirits floating inside of these human bodies. What it means to be able to relate to each other with love and empathy — that looks different to everyone, but to me it means cultivating your own way and to be able to care for yourself and care for those you are interacting with every day.
What do you hope to achieve with Black Girl in Om?
I hope more women of color will be able to center with self-care and self-love in their own lives, and not make it a marginalized thing that you only do on a Saturday or think about on a Wednesday. I really believe in the economic enfranchisement of women of color, so allowing more women of color to be employed as yoga instructors by Black Girl in Om. New York City is our first stop along what will be an incredible journey. Continuing to build and grow and connect and inspire are my goals.
This interview has been condensed and edited.