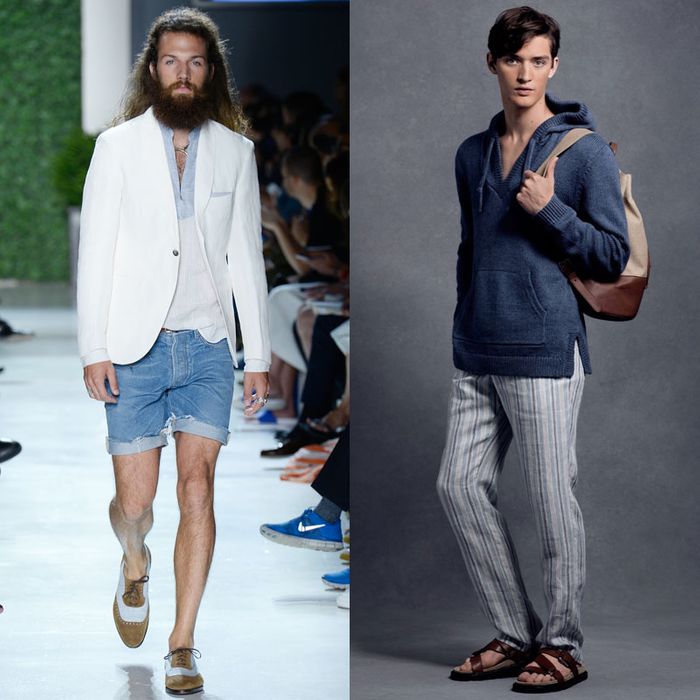 Photo: Getty Images, Courtesy of Michael Kors
Michael Kors is a fan of the "politeness" of men's fashion week. "It's not the brawl and fistfight of the women's collections," he said yesterday, at one of his old-school presentations where he alternates witty narration with sips of a venti ice water. Whether or not that judgment's warranted, it did seem like yesterday's round of shows celebrated all things low-key. At Richard Chai, all the fashion stoners enjoyed the premium vapes on every front-row seat, seemingly the perfect accessory for the designer's unevenly buttoned pajama shirts and wavy watercolor prints. But this wasn't your typical Big Lebowski stoner style. Laughing backstage with fans Joe Jonas and Victor Cruz, Chai summed that up as follows: "It was always like a Hacky Sack and a little embroidered knitted bag." Instead, Chai delivered the chic versions of your favorite burnouts. A few hours later, the Belgian-born menswear designer Tim Coppens showed sweaters emblazoned with neon mushrooms — psychedelia for guys who read Fantastic Man.
The message was clear: Dress down, but don't get into "schlub" territory. Kors pointed out that if you're going to wear a backpack, make sure it's leather. His boys channeled comfort in the form of track pants, pajama-style suits that he christened "Schnabel chic," skinny shibori scarves, and Baja-style pullovers — upgraded in linen to completely erase any lives-in-a-van-by-the-beach connotations. It's Island Life, if your island is Capri. "This is the color of what you've been drinking too much of," Kors said of a rosé-hued outfit. He eschewed linings and shoulder pads, and even ultrasmoothness — his steel-reinforced denim was intentionally rumpled. Things got dressier with the addition of an aviator jacket in what the designer, ever the smooth-talking salesman, called "vanilla l'orange lambskin." (Yum.)
And at Michael Bastian, his preppy aesthetic presented surprisingly casual thanks to some time on the West Coast. It was L.A., specifically Bel-Air, that charmed him. "That kind of California glamour that has nothing to do with surfing, nothing to do with the beach," the designer effused after the show. "You go to a restaurant, you hang out, and you see these people that are just so chic, and they may not be celebrities, but they are swirling around that industry. They're like the agents, or something. I just thought, They have a kind of glamour that we don't have on the East Coast in particular — it's like its own subset, its own little evolutionary step." He also showed his first-ever women's looks in a small capsule interspersed into the menswear, something he called a "baby step," with more to come next season.
Thankfully, it wasn't all easy-breezy. Fashion's freak flag really found its apotheosis in two of today's more outré shows. Alexandre Plokhov, whose shuttered label Cloak has joined Andreas Melbostad's Phi as a much-missed industry favorite, went full goth — we're talking models' faces and fingers dipped in black and red paint. This was far too expertly tailored to be Hot Topic fare — a bat-themed graphic T-shirt aside. Gypsy Sport, designed by Rio Uribe, could best be described as athleisure on acid. The models wore eccentric combos of basketball nets, mesh sports jerseys, wide-legged denim, and cowrie-shell-crusted whistles around their necks. It was an androgyny-friendly lineup, full of baby pinks and blues. "I think people with progressive style are really trying to push the boundaries. For some guys, it's wearing a dress," the designer told the Cut, "and for others, it's simply wearing a pink shirt." It wasn't Uribe's only victory yesterday — he was also just named a finalist for the CFDA/Vogue Fashion Fund. This time around, six of the ten nominees design menswear in some form, a sign that the fashion cred of the men's market continues to expand.
See the full Michael Kors spring 2016 collection here.
See the full Gypsy Sport spring 2016 collection here.
See the full Alexandre Plokhov spring 2016 collection here.