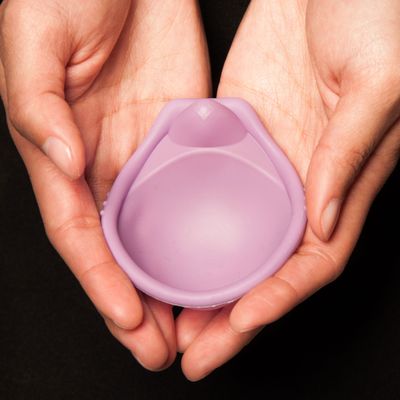 Photo: Patrick McKern/PATH property
The diaphragm is beloved as a non-condom, non-hormonal, reversible birth-control method, but in recent years, some U.S. manufacturers have discontinued production and devotees say they can't find their size anywhere anymore. Now there's a new option that may be even better than its predecessors. Caya is a single-size diaphragm (a.k.a. one size fits most), which means you won't need a fitting appointment or have to pray that your pharmacy stocks your size. It's able to fit a range of women thanks to a flexible nylon spring under the contoured rim. It also has a finger dome, which makes it easier to remove. And like the original versions, it can be used for up to two years.
Though it's the first new design to enter the U.S. market in 50 years, the brand is marketed in more than 25 countries. Caya was approved for use in the U.S. last year by the FDA and became available by prescription late last month. Your health-care provider can explain how to insert it and use it effectively. Though it's non-hormonal, there are still risks associated with diaphragms, including increased risk of UTIs and toxic shock syndrome. (PSA: Diaphragms cover the cervix to prevent semen from entering the uterus, but they must be used with spermicide to be as effective as possible, according to Planned Parenthood.)
Cheers to having even more options on the menu of birth-control choices, even if it is a contraception classic!