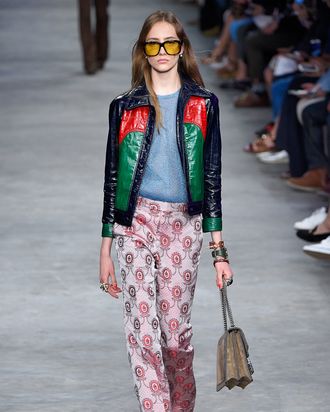 Photo: Victor VIRGILE/Gamma-Rapho via Getty Images
Alessandro Michele's brief tenure at Gucci has been, for the most part, critically acclaimed, with his eccentric, individualistic vision of style providing a fresh varnish on the house's image. And his approach couldn't be further from departed creative director Frida Giannini's jet-set boho mood. But when you turn away from quirky embroideries and delicate lace and into the far more prosaic world of accounting sheets, it's still too soon to determine whether his revamp has been a commercial success. Bloomberg reports that the brand, which has struggled, has experienced an upswing for the first time in two years. But Michele can't be credited with a tunaround just yet.
Instead, the gains can be largely chalked up to markdowns on designs from the Frida Giannini era — which drove sales, notably in China, where some pieces from her collections were more than half off. (Additional revenue came from Chinese tourists' purchases in Europe and Japan.) We'll have a clearer picture this fall, when Michele's first collection for the house actually hits stores — which, luckily for the fate of the furry shoe-heavy lineup, coincides with the season when people start to experience chilly feet.